Traditional aubergine or layered Mediterranean vegetables in any order you like, with a lean turkey meat sauce, this guilt free meal will have you going back for more. You can go traditional with the use of aubergine for more even layers, but I personally love mixing it up with other grilled vegetables. See the recipe for my easy turkey moussaka below!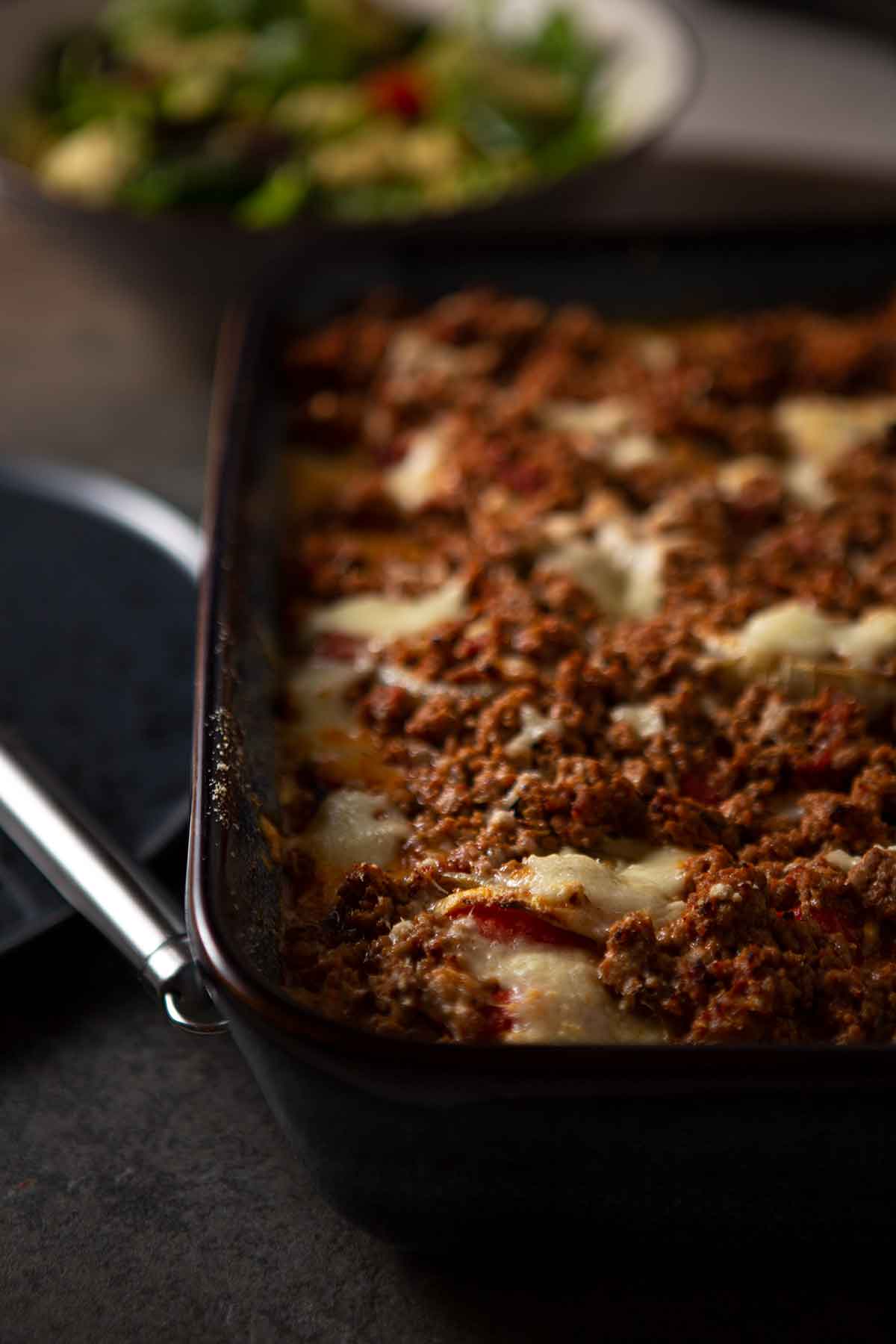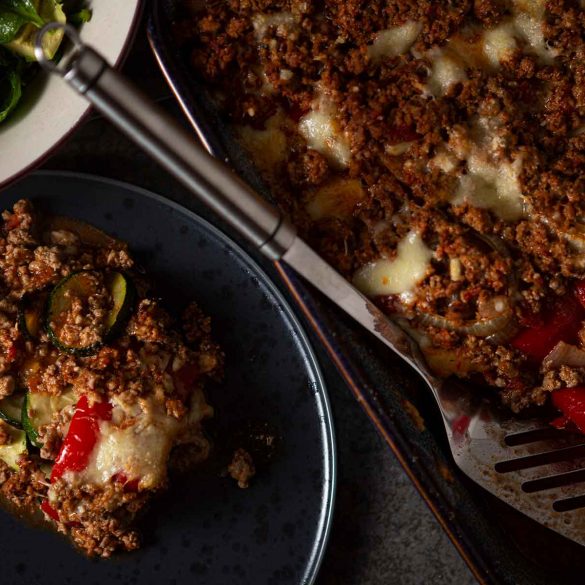 Ingredients
1kg lean turkey mince
1 tsp oregano
1 tsp cinnamon
1 tin chopped tomatoes
3 garlic cloves
2 tbsp of tomato puree
200ml water
Chicken stock cube or stock pot
2 tbsp of olive oil
2 large aubergines OR 2 large courgettes, 3 red peppers & 2 large white onions
200g fresh mozzarella (torn)
A handful of grated cheese to finish (parmesan, mozzarella or cheddar)
Salt & pepper
Instructions
Preheat the oven to 180C, Gas Mark 4.

In a large pan, fry off the garlic, followed by the turkey mince until browned. Add oregano and cinnamon and combine. 

Stir through the tomato puree, followed by the tin of tomatoes, water and stock cube and simmer for approximately 20 minutes until combined. Season well.

Slice your vegetables (aubergine OR mixed veg) until they are as thin as they can go without falling apart. Lay them on a baking tray, drizzle with oil and a bit of salt and pepper. Grill them in sheets for a couple of minutes on each side, flipping once so both sides are softened and golden but not burnt. Repeat until all the veg is done, set to one side.

In a lasagne dish or shallow baking dish, layer no more than ¼ of the meat mixture. Top with a layer of one of the vegetables (if using a combo of mixed vegetables - you can do a layer of each or mix them up if you prefer!). Add ⅓ of the torn mozzarella. Repeat for another 2 layers until you have used up all your veg, mozzarella and finish with a final layer of the turkey mince meat. Finish with a grating of parmesan, mozzarella or cheddar, to your liking.

Pop into the preheated oven for 25-30 minutes to melt the cheese and combine.

Remove from the oven, serve up & e

njoy!
Notes
This recipe works great with a simple side salad to keep it fresh and healthy!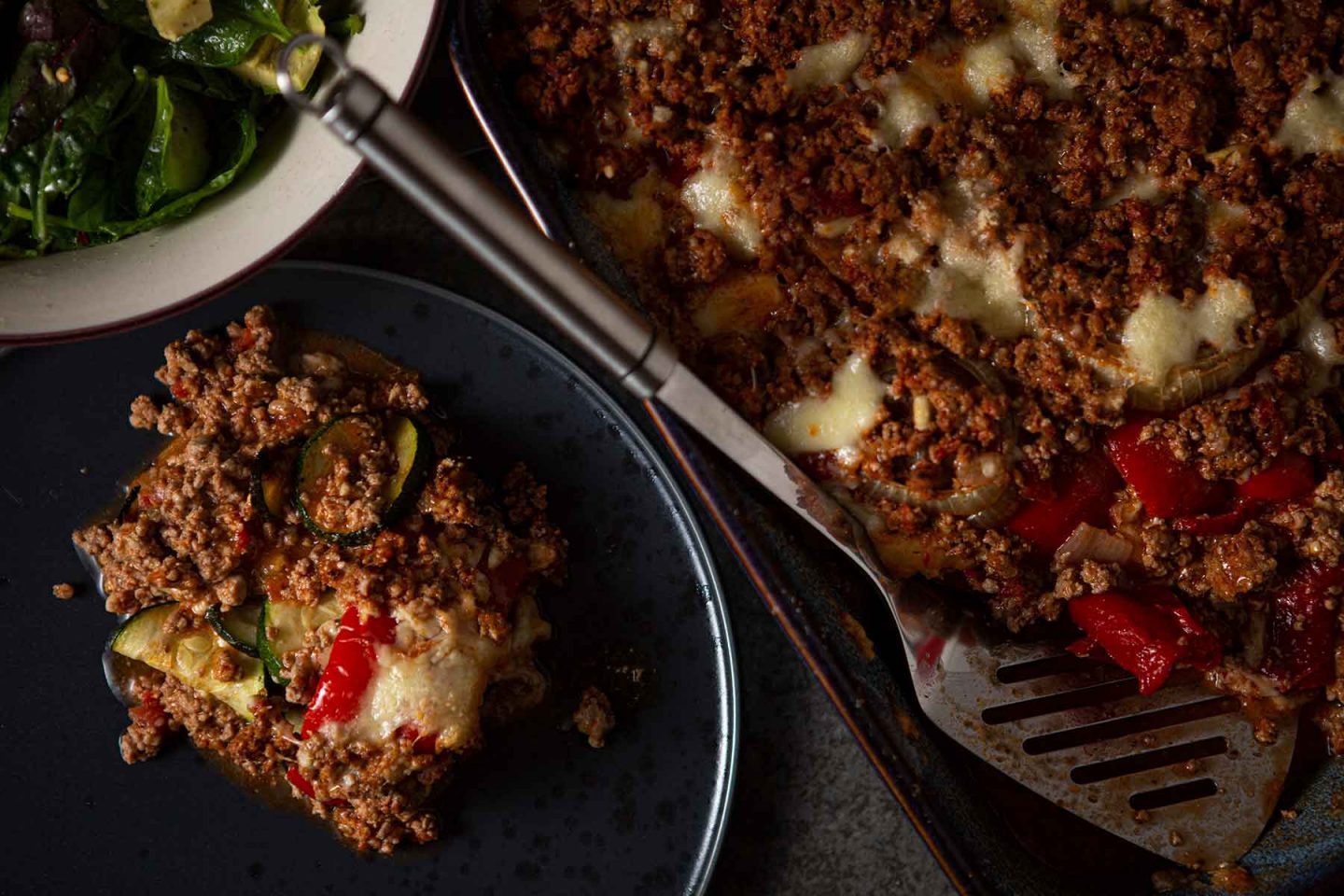 I hope you enjoy this healthy dinner recipe!
K
X