Make your own gluten free gnocchi, it's fun, easy and the end result is fabulous. This beautiful, velvety smooth butternut squash sauce makes it the perfect warming dinner. If you don't fancy making the gnocchi from scratch, buy your favourite gluten free gnocchi from the supermarket or serve up with your favourite gluten free pasta instead!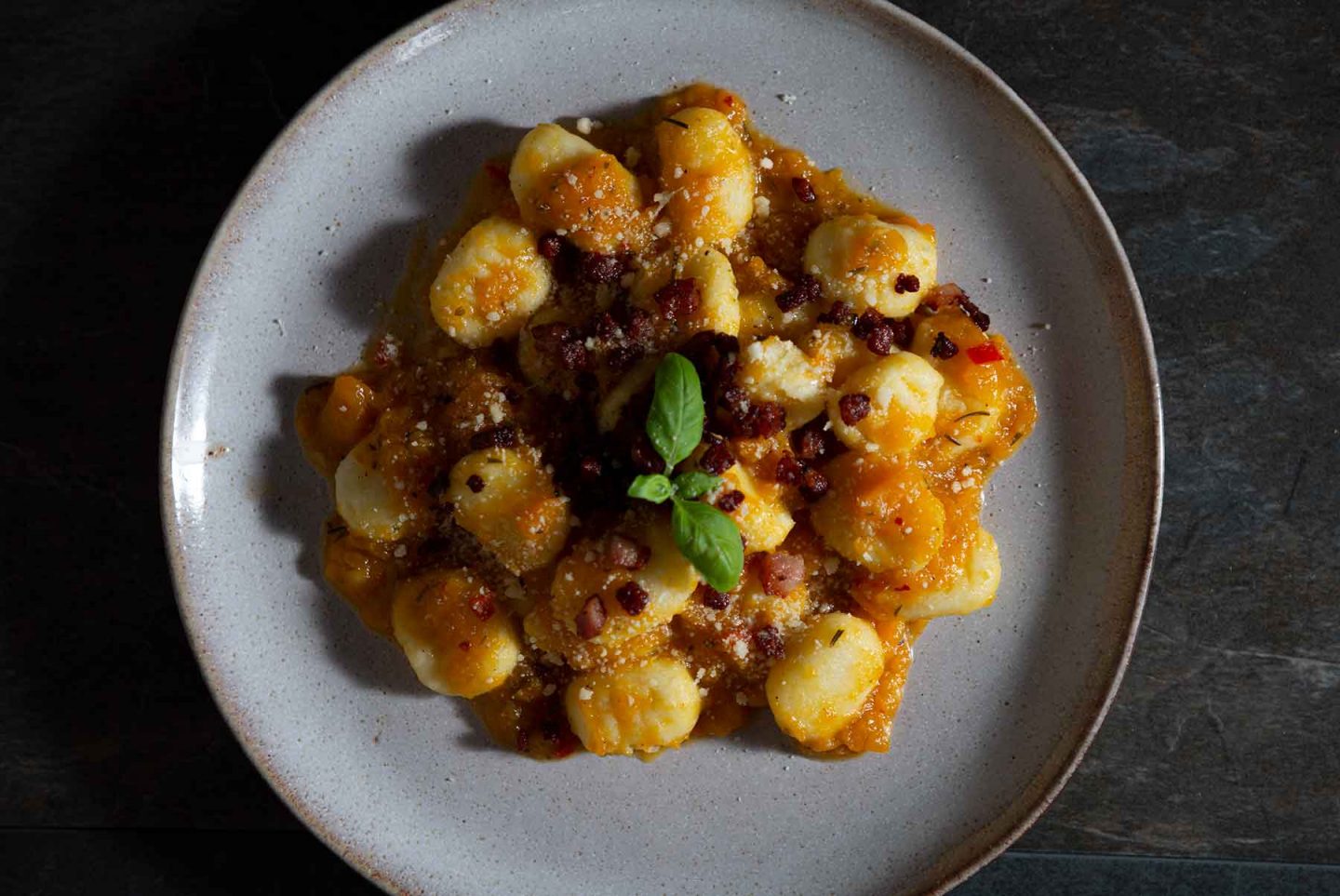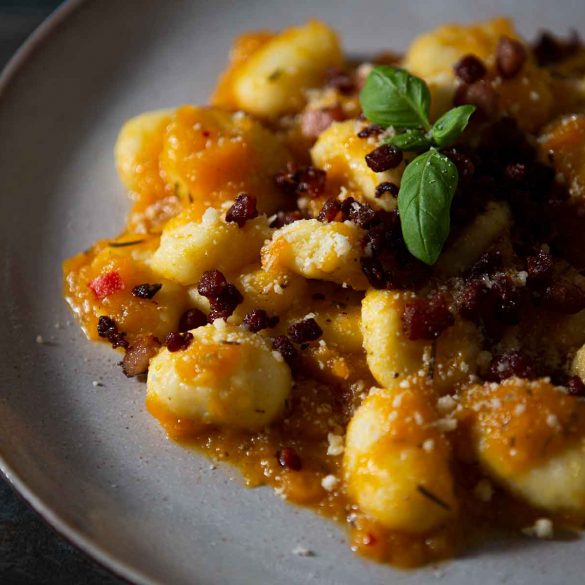 Ingredients
1kg of maris piper or king edward potatoes
100g gluten free plain flour
1 tsp of xanthan gum
2 egg yolks
1 tsp rosemary
1 red chilli (diced)
3 cloves garlic (sliced)
1 butternut squash
500ml chicken or vegetable stock
Salt & pepper
Grated parmesan
Fresh basil
Fried pancetta pieces *optional
Instructions
Begin by boiling the potatoes, depending on size, for 10-15 minutes until cooked through. Drain and set to one side to cool.

Chop the butternut squash into small chunks. Over a medium heat, in a non-stick pan with a lid, fry off the garlic, chilli and rosemary in the olive oil until fragrant, 1-2 minutes maximum. Add the diced butternut squash, the stock and a little salt & pepper. Cover and allow to simmer for 30 minutes. Breaking up the butternut squash as it begins to soften up.

Peel the skin off the potatoes with your hands, which should come off easily following boiling. Put the potatoes through a potato ricer into a large bowl. Add the yolks, salt and flour to the fine potato and bring together with your hands, to form a smooth ball of dough, you may need to work it slightly to combine.

Cutting off a piece of dough at a time, on a floured surface roll the dough out into cylinders and cut into 2cm even pieces. Roll the pieces in the palms of your hand and if desired, use a fork to make an indent on the surface and get a traditional gnocchi shape. Repeat until you have used up all your dough.

Bring a large pan of water to the boil. Drop in a few gnocchi at a time (don't overcrowd the pan or it will cool the water), and once they pop to the top of the water, scoop them out.

Once cooked add the gnocchi straight into the sauce to coat with the sauce, add a little of the gnocchi cooking water to combine if needed.

Serve up with fresh basil, crispy pancetta pieces if you wish and a grating of fresh parmesan.

Enjoy!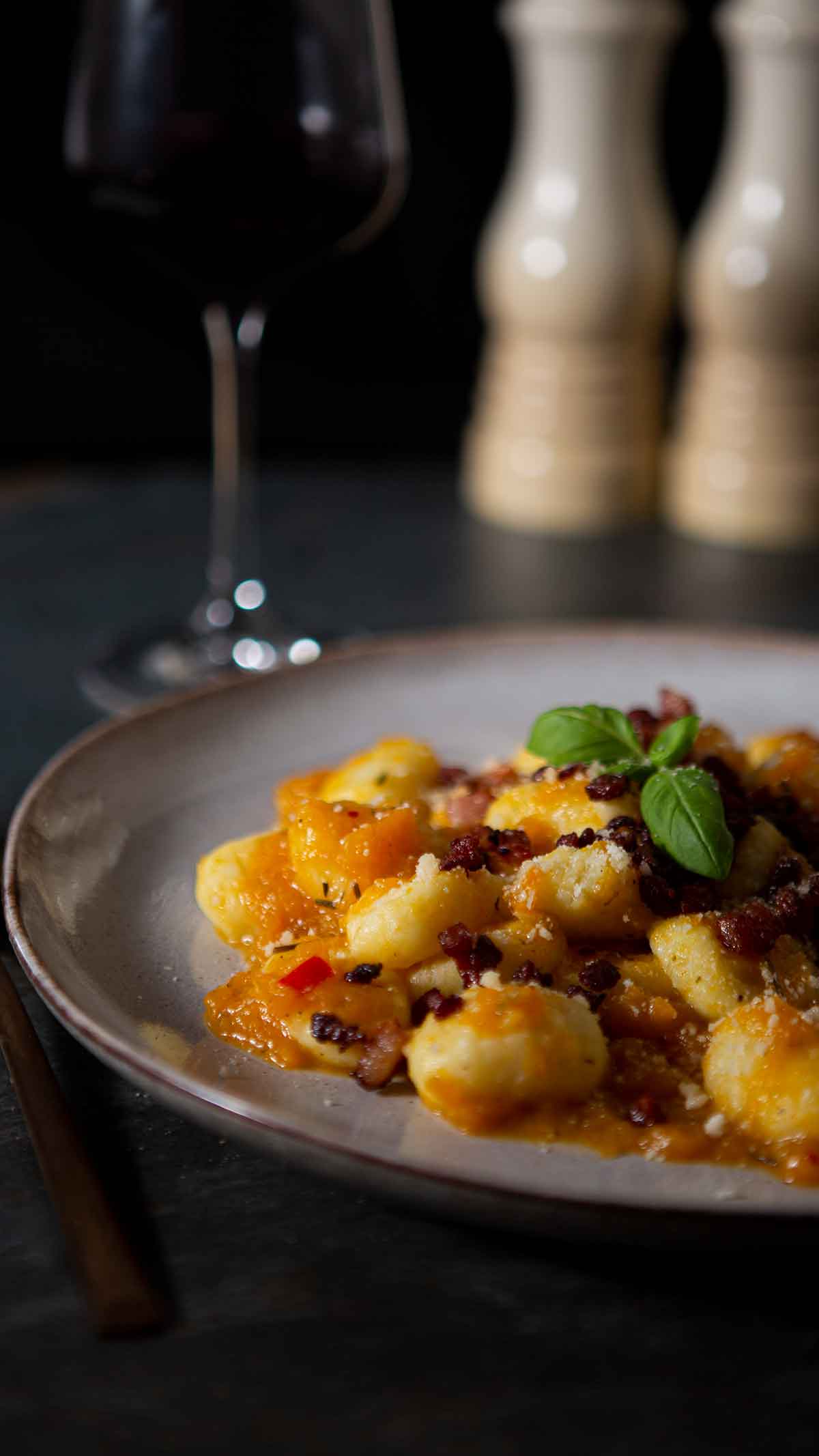 I hope you love this recipe as much as I do!
K
X