An EASY gluten free pizza base recipe, ready for the ultimate at home pizza night. To me, these taste just like the pizza express GF pizza bases – which are one of my faves. These have just the right amount of hold and elasticity alongside a delicious crispy crust.
Completed with the perfect tomato sauce and finished with your fave toppings, it's a winning combination.
I include tapioca flour as it really amplifies the texture, so if you can get your hands on it, it is definitely worth it… you can purchase it online / on Amazon or in most whole foods stores (such as Holland & Barrett)…
See tapioca flour / starch available to purchase at whole foods online here or on amazon here
…a bag like this will last you forever. If this is not accessible to you, just use more gluten free self-raising instead and this will still make a delicious base, the tapioca just helps with the overall texture.
I was so pleased with how this recipe came out! I have missed proper homemade pizza nights!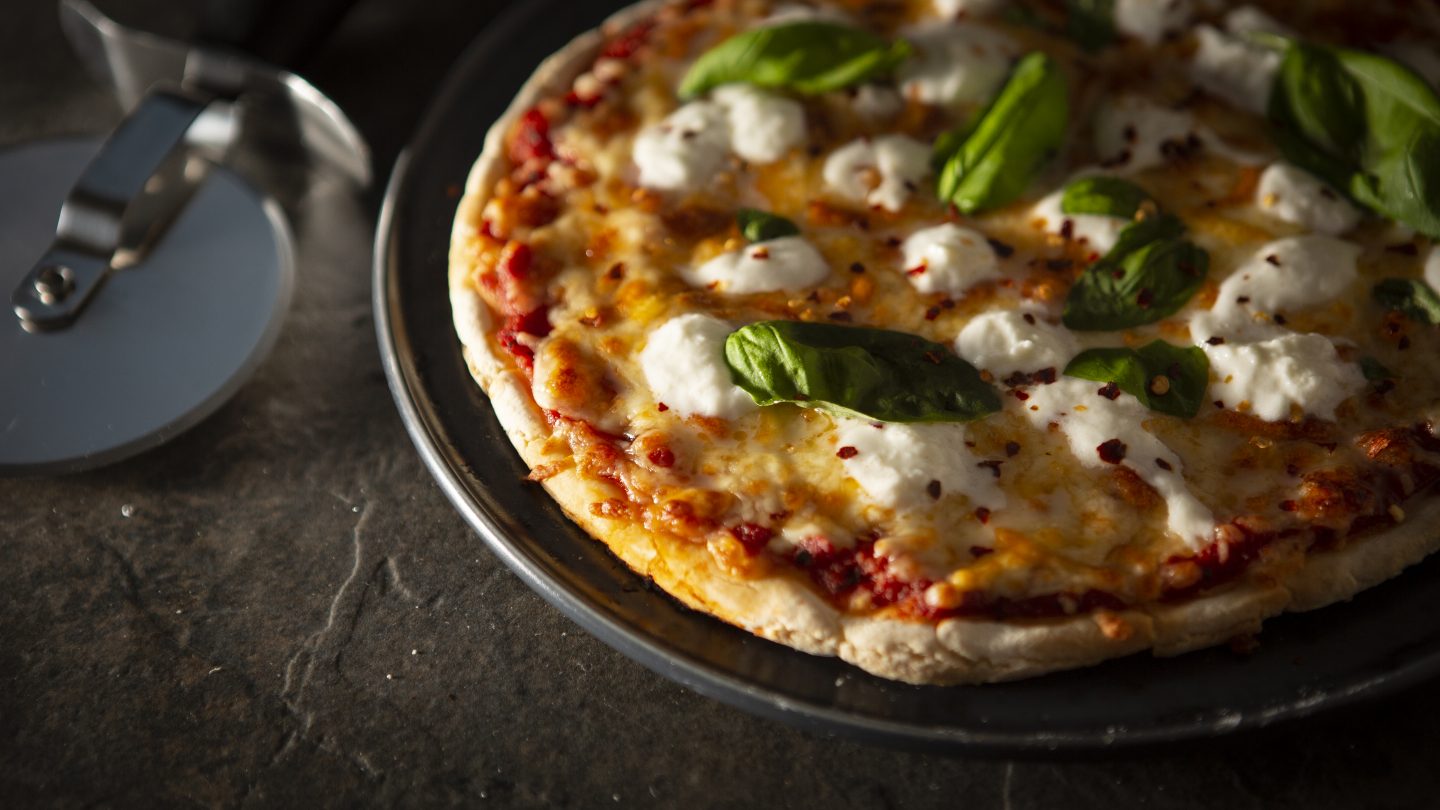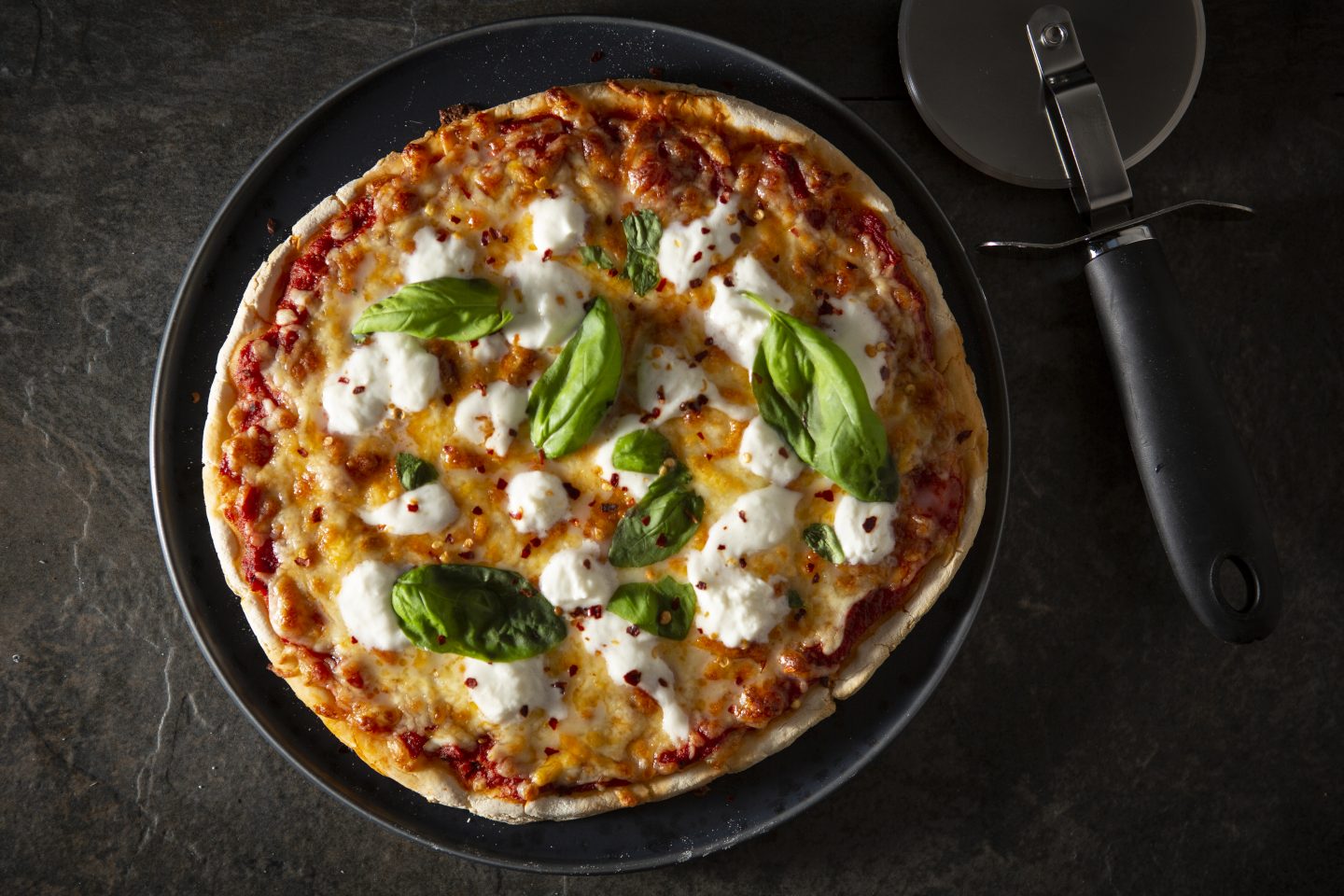 GLUTEN FREE PIZZA BASE RECIPE
MAKES 2 MEDIUM PIZZAS
INGREDIENTS
For the pizza dough:
270g gluten free self raising flour
30g tapioca flour (sub for more GF flour if you don't have, but this helps with texture)
300g of natural yoghurt
1/2 tsp of xanthum gum (available at your local supermarket in the GF section!)
1/2 tsp salt
For the tomato sauce:
x2 tins chopped tomatoes
1 clove garlic (crushed)
1/2 tbsp of tomato puree
1 tsp dried basil
1 tsp dried oregano
Small knob of butter
Salt & pepper
To top:
Grated mozzarella
Toppings of your choice (I went with torn fresh buffalo mozzarella and fresh basil leaves)
METHOD
Preheat the oven to

200ºC / fan 180ºC / Gas Mark 6.

In a mixing bowl, combine the flour, tapioca, salt and xanthum gum and combine well.
Mix in the yoghurt using a fork until it begins to come together into a rough dough. Transfer to a work surface and knead well until you have a smooth ball of dough. Pop in the fridge to chill for a minimum of 30 minutes.
Meanwhile, make your sauce. Add the butter to a large pan, once melted, add the crushed garlic and herbs frying for a few seconds until fragrant (careful they don't burn). Add the chopped tomatoes, tomato puree and a generous helping of salt and pepper. Allow to bubble over a low heat while the dough chills. Add a little water to loosen the sauce if it looks to be drying out at all.
Once chilled, remove the dough from the fridge and move to a lightly floured work surface. Cut the dough into 2.
Roll out the first ball of dough into a circle, as thin as you can. The thinner you make the dough the tastier it will be. You can trim the edges to make a perfect circle if you like.
Transfer on to a pizza tray (these are particularly useful to allow the bottom to get nice and crispy). Once you have your pizza base ready to go, prick the base with a fork evenly all over, this helps with an even cook all over.
Cook the base in the preheated oven for 5-7 mins until crisped up slightly but not browning, it will have a few surface cracks but this is normal and is covered with sauce shortly anyway!
Remove from the oven and add your sauce, followed by the cheese and any other toppings you wish to add. Return to the oven for another 5-7 minutes until the cheese is bubbling and the crusts are looking golden and crisp.
Remove from the oven, top with any fresh ingredients you are using and serve immediately.
Enjoy!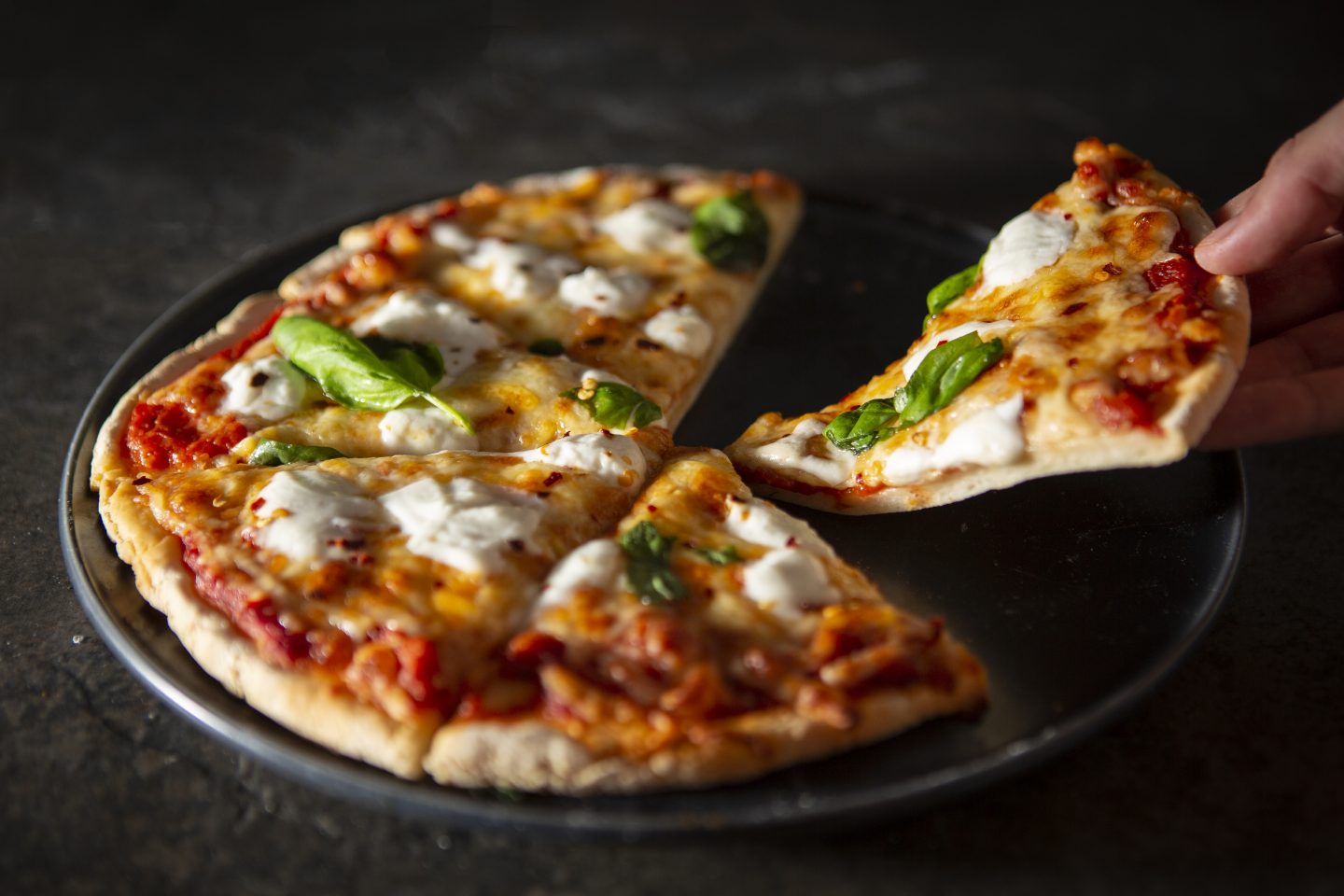 I hope you love this recipe as much as we do!
K
X