Having a staple recipe for the perfect chilli is an absolute must, and with everything going on in the world at the moment, having go-to batch cook and freezer friendly meals helps make life simpler during this complicated time.
So, make it leaner with turkey mince or toss in any veg you have leftover in the fridge, but keep that depth with the rich tomato spice that is essential to any great chilli con carne.
If you are veggie or prefer a meat free dish, just sub out the mince with 400g of dried or tinned lentils and add at the same time as the chopped tomato – for a tasty and delicious veggie chilli dish.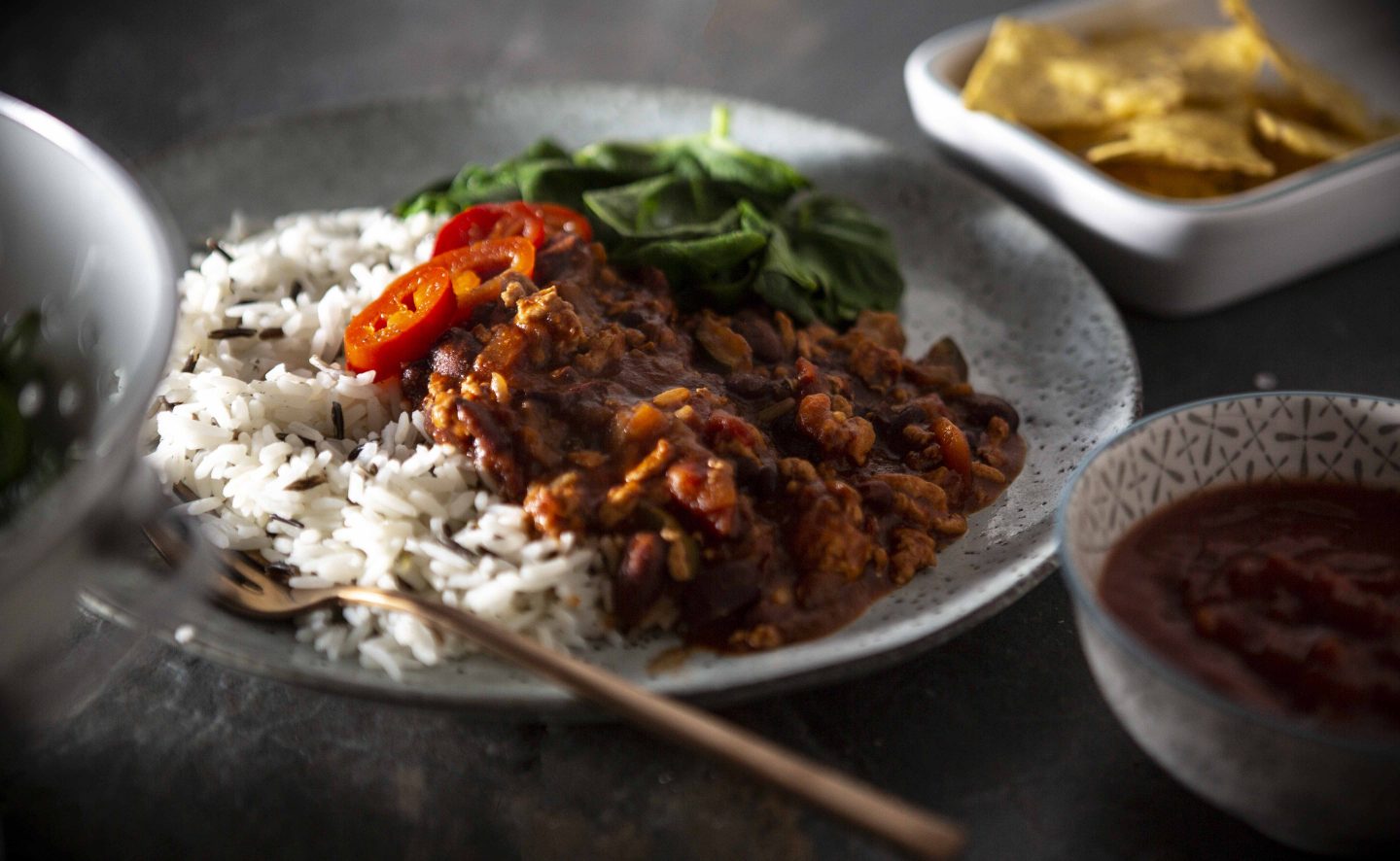 INGREDIENTS
500g lean beef mince, turkey mince (or 400g of dried or tinned lentils for a veggie version)
1 white onion, diced
2 garlic cloves (crushed)
1 tin of chopped tomatoes (you can add 2 if you like it milder or more tomato based, but 1 works fine)
2 tins kidney beans in chilli sauce (available at all major supermarkets)
1 teaspoon of chilli powder (heat level is up to you – I am using hot)
1 teaspoon ground cumin
1 teaspoon ground coriander
A pinch of ground cinnamon (my secret ingredient!)
1 tablespoon of tomato puree
1 beef stock pot (or vegetable one if you are making a veggie version) *I am using the Knorr brand
1 teaspoon tabasco sauce
Salt & pepper
Olive oil
Optional additional veg:
1 courgette, diced
1 carrot, diced
1 pepper, diced
A handful of mushrooms, diced
1-2 sticks of celery, diced
METHOD
In a large pan with a splash of olive oil over a medium-high heat, toss the diced onion for a couple of minutes with the crushed garlic, before adding the mince and breaking it up until it is browned all over. Now is where you would add any additional diced vegetables into the pan if using.
Once the meat is browned all over add in the dry spices (chilli powder, cumin, coriander, cinnamon) and toss for 1 minute until fragrant – then add the chopped tomatoes, the kidney beans in chilli sauce and a good helping of salt & pepper (here is where you would add the lentils if you are doing the veggie version, and omitting the meat earlier on).
Rinse around the kidney bean or tomato tin with water, fill about half way and add to the pan. Continue to stir to combine well.
Add the stock pot directly into the pan, alongside the tomato puree and tabasco – allow to bubble on high for 10 minutes before turning the heat down and allowing to simmer for a minimum of 1/2 an hour – the longer the better to allow the flavours to infuse. Check seasoning and add more to taste. If the chilli looks too dry at any point just add a touch more water.
Serve up with your favourite trimmings – we love rice, tortillas, salsa, guac, lime, jalopeanos, sour cream and grated cheese… but today we are having a side of fresh spinach with our leaner turkey mince dinner!
Enjoy!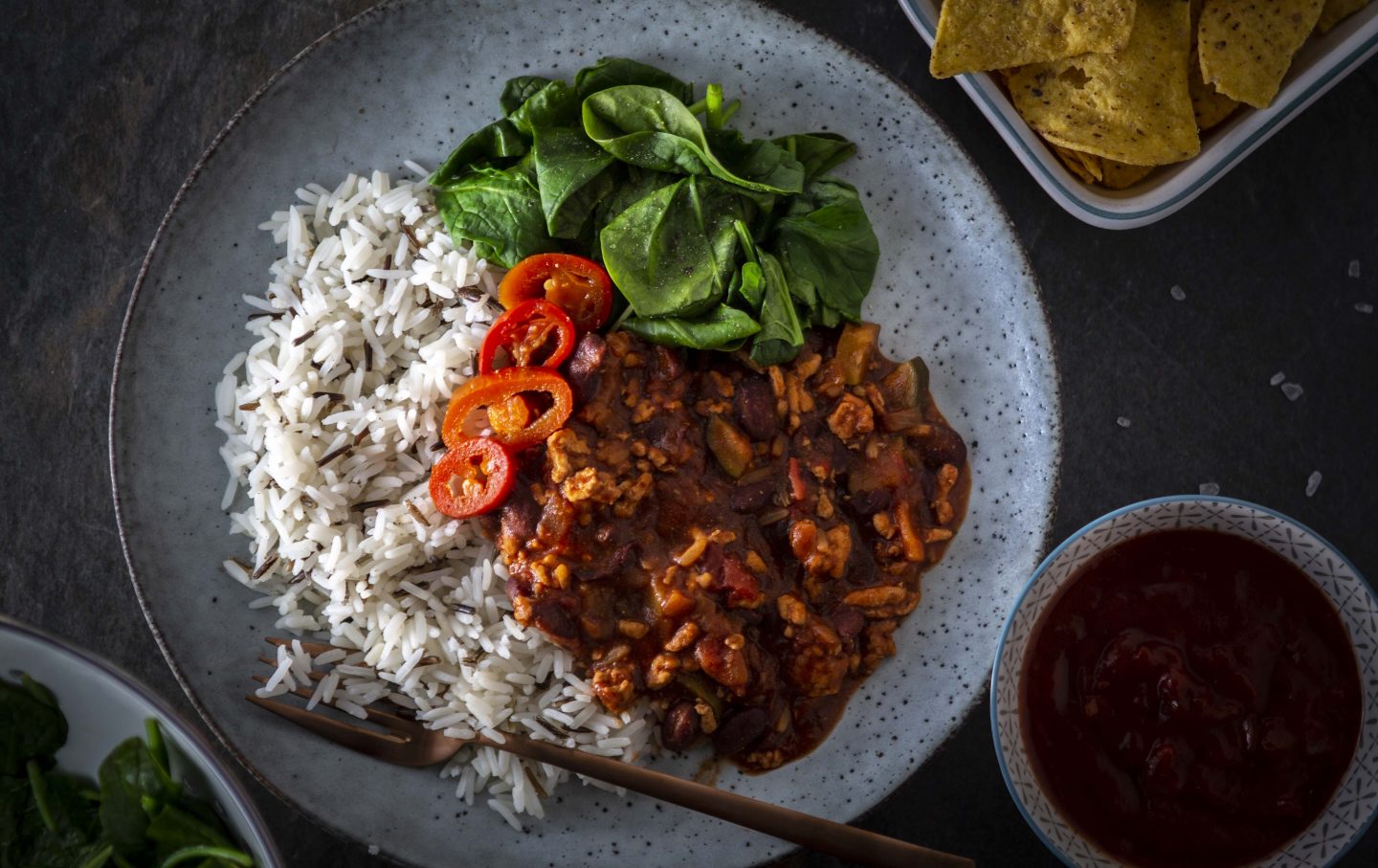 This dish makes a minimum of 6 meals, 8 if you are on smaller portion sizes. It is perfect for separating into tupperware and freezing – then for a quick meal option throw it in the microwave and cook up some rice (packet rice works for an even quicker dinner) and you are good to go.
I hope everyone is staying safe and navigating this hopefully very temporary new reality. Look after yourself & those around you, and distract where possible with some tasty home cooking!
K
X