Fresh and light yet hearty and filling. Loaded with flavour this super easy tomato crusted cod will please even the pickiest of eaters. You wouldn't know this was gluten free and you'll be even more surprised at just how quick and easy it is to make to make this impressive and tasty dinner.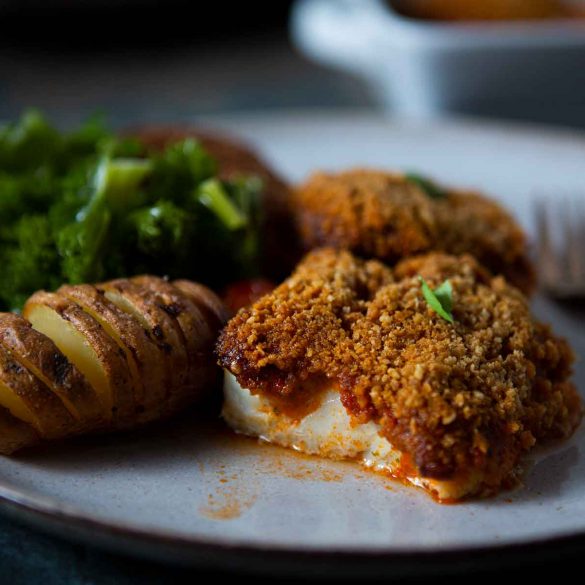 Ingredients
4 cod fillets
A handful of cherry tomatoes
4-5 sundried tomatoes* OR 2 heaped tablespoons of tomato paste (*you can also used roasted red peppers if you like)
Splash of olive oil
Large handful of fresh basil leaves
1 clove garlic
1 red chilli (optional)
4-5 gluten free crackers (tip: use cheese flavour ones for added bite!)
Small handful of pine nuts
Lemon (optional)
Salt & pepper
Instructions
Preheat the oven to 180°C, Gas Mark 4.

In a large oven-proof baking dish lay your fish skin side down and season well with salt & pepper.

In a food processor, blitz the crackers, pine nuts and salt & pepper together until fine. Set the crumb mixture to one side, clean out the processor and use again to blitz together your sundried tomatoes (or tomato paste), olive oil, basil leaves, garlic and chilli if using. 

Onto each fillet of fish, spoon on the tomato mixture, followed by the crumb until covered. Scatter around the fish the cherry tomatoes and sliced pieces of lemon if using.

Pop into the oven for approximately 20-25 minutes until the fish can be easily flaked with a fork and the crumb has browned. Serve with fresh basil leaves and/or a squeeze of fresh lemon, if you like. I usually serve up with potatoes and greens, but this dish works well with rice too.

Enjoy!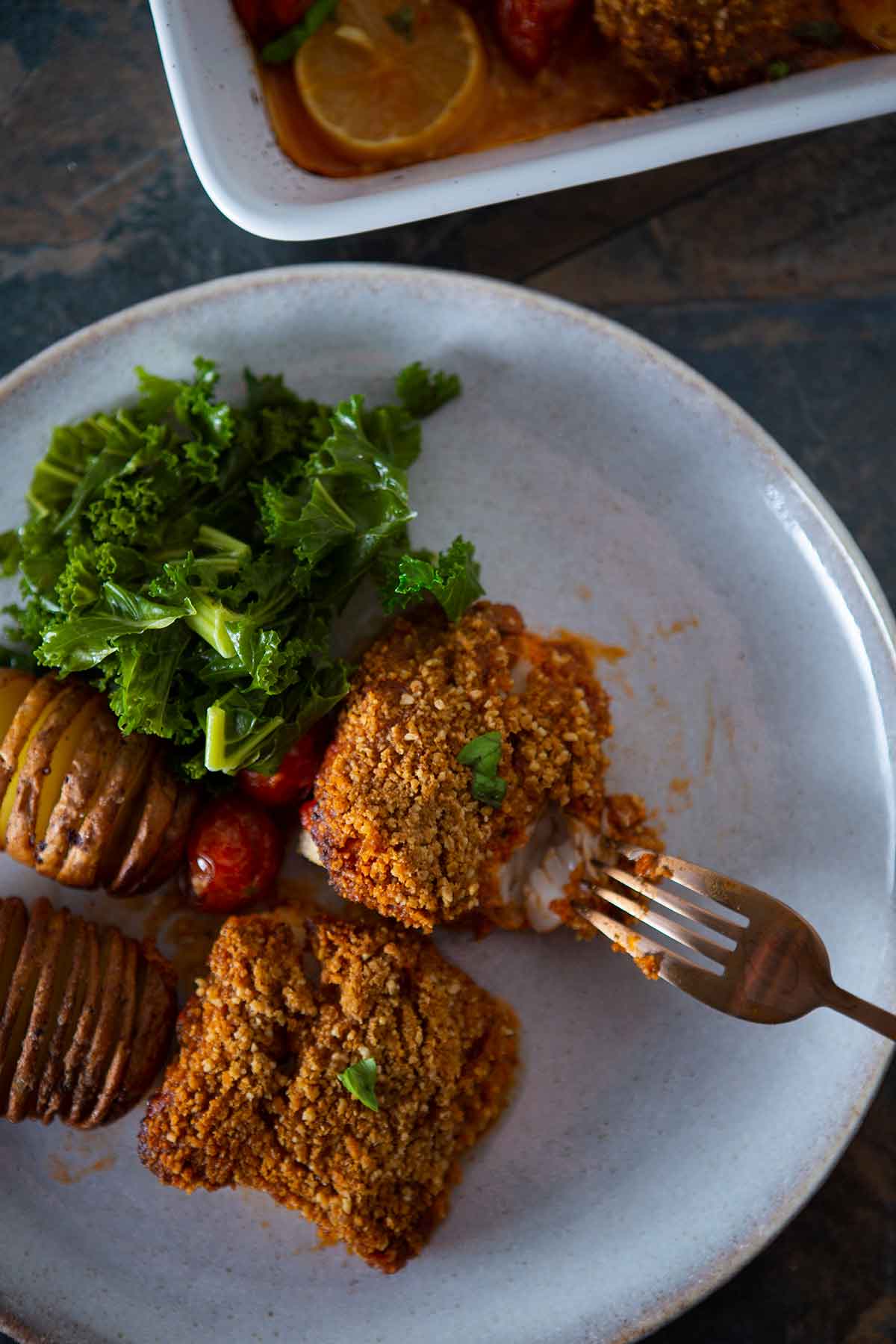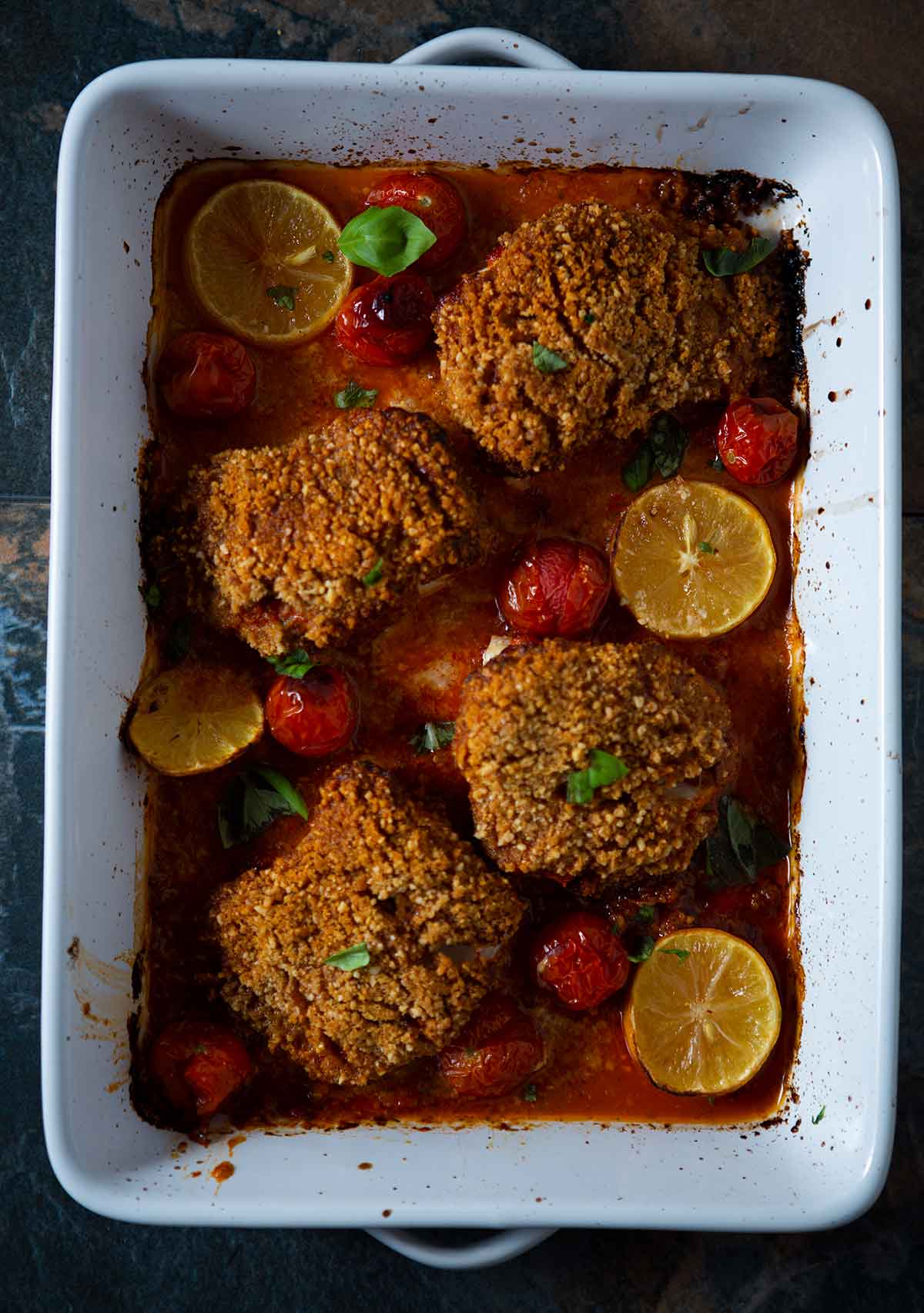 I hope you love this recipe! Let me know if you make it & tag me over on Instagram.
K
X