This gluten free mushroom stuffed chicken kiev with a cornflake crust is the perfect balance between gourmet and comfort food. This recipe comes to you courtesy of a lifetime family friend and fellow foodie Gregor Ford, who loves creating in the kitchen as much as I do – when he shared this recipe with me and I had a go at it, I knew this was worthy of a guest post as everyone needs to know how to make this.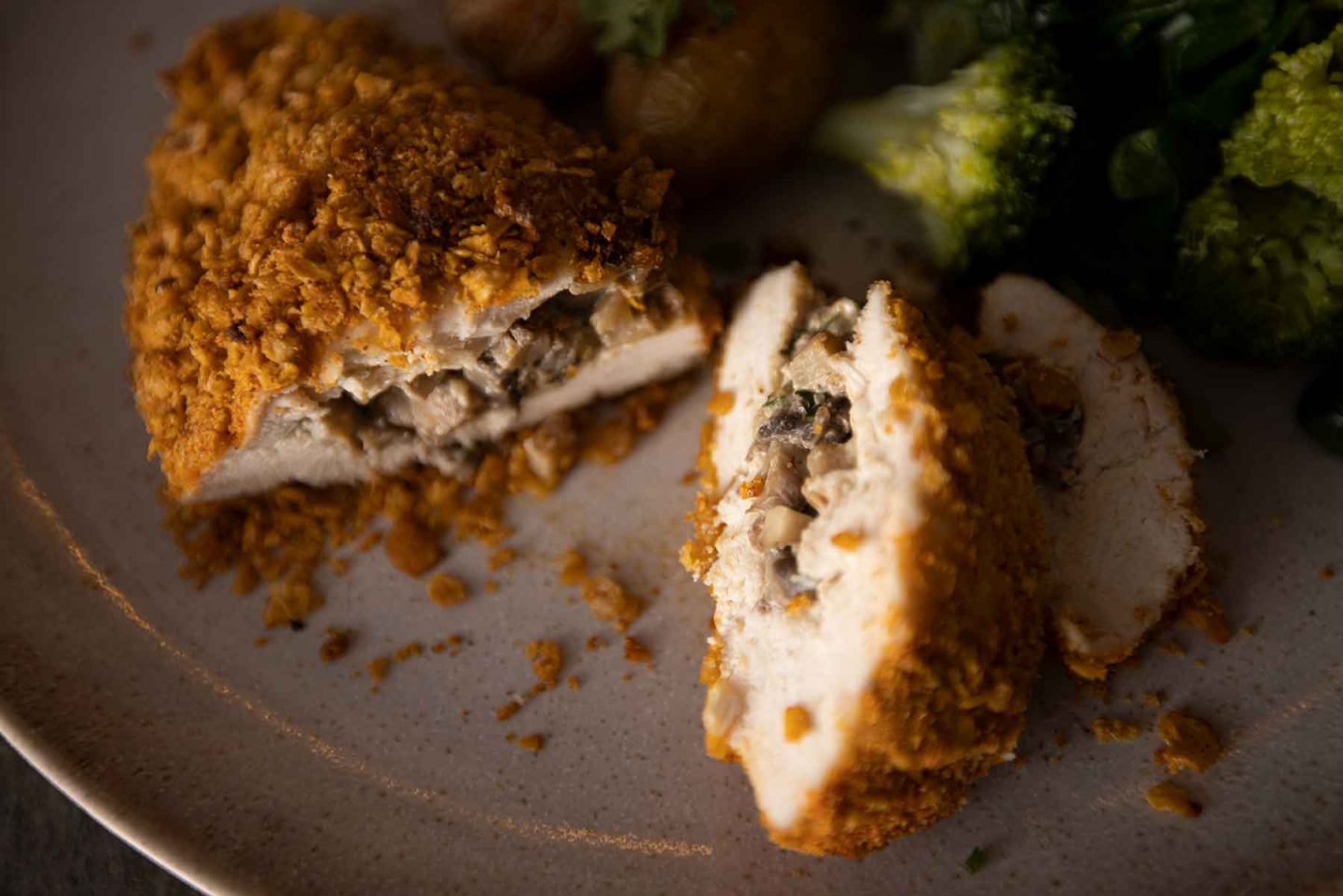 A simple yet effective creamy garlic mushroom filling with an incredible cornflake crust (yes, gluten free cornflakes – make an AMAZING crumb for a chicken kiev). Simple and fun to make, you need to try this one. See Gregors recipe below.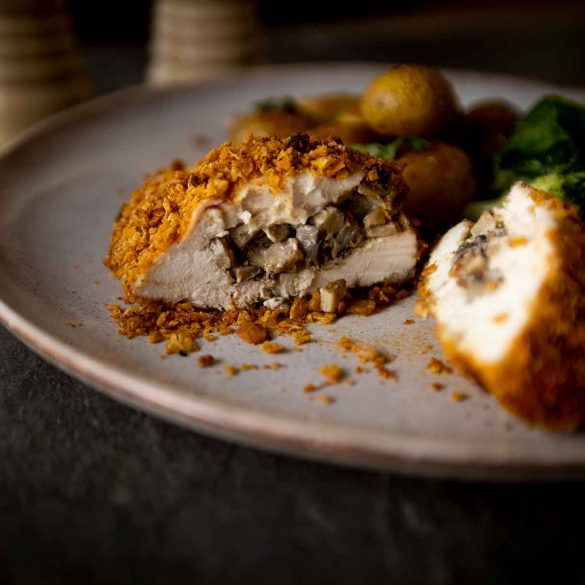 Ingredients
2 chicken breasts
200g chestnut or button mushrooms (diced)
150ml of dairy free soy or regular cream
4 garlic cloves
A small handful of fresh parsley
1 tablespoon of cornflour
1 vegetable or chicken stock cube
200g gluten free cornflakes
2 tsp garlic powder 
1/2 teaspoon paprika *optional
Pinch of cayenne *optional
Salt & pepper
Instructions
Preheat the oven to 160°C, Gas Mark 3.
Finely chop and sauté the garlic and mushroom together until soft. Add the cream, chopped parsley and season with salt and pepper to taste. Add the paprika and cayenne if using.
Next prep your chicken for filling. Put a small knife into the thick end of the chicken breast and wiggle gently to create a pocket, being careful not to pierce through the breast completely but making a large enough opening to hold a decent amount of filling. Spoon the mushroom mixture into the pocket until it is as full as it can be without falling out and seal with a cocktail stick.
On one plate mix the cornstarch with a splash of water to create a slurry. On another, add ground up cornflakes, garlic powder and crumble in a vegetable or chicken stock cube.
Dredge the breast through the slurry and then through the crumb and press in to cover completely.
Cook in the oven for 30 minutes until cooked all the way through.
Enjoy!
Thanks to Gregor for sharing this one – it is simply delicious. Let us know if you have a go at this recipe & hope you love it as much as we do!