This gluten free stem ginger traybake is a great gluten free cake recipe that I find myself revisiting time and time again. with stem ginger throughout the sponge for added depth, this cake will sit beautifully with your afternoon cup of tea and is great for handing out to family and friends.
This ginger cake stays beautifully moist, so nobody will know it is gluten free.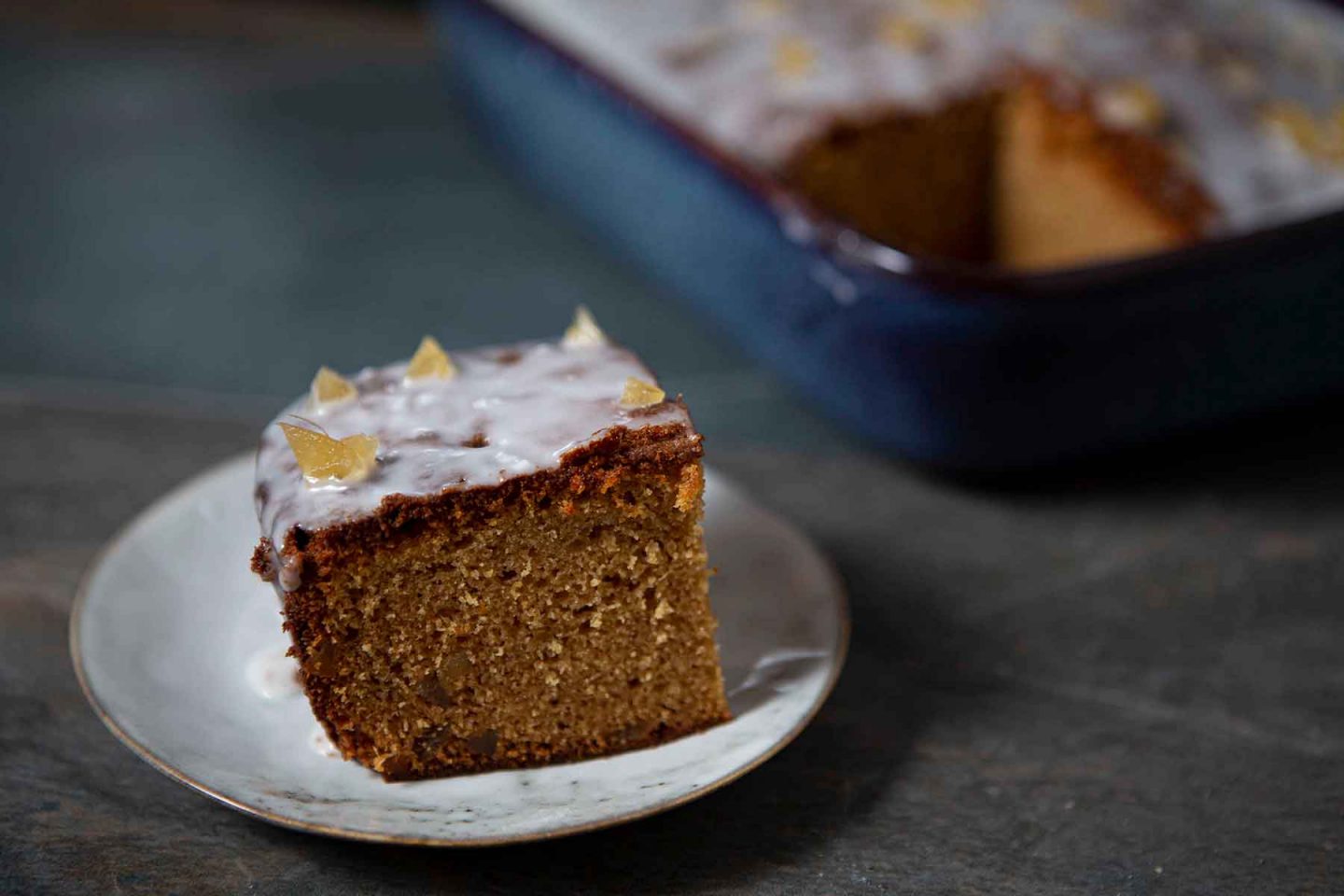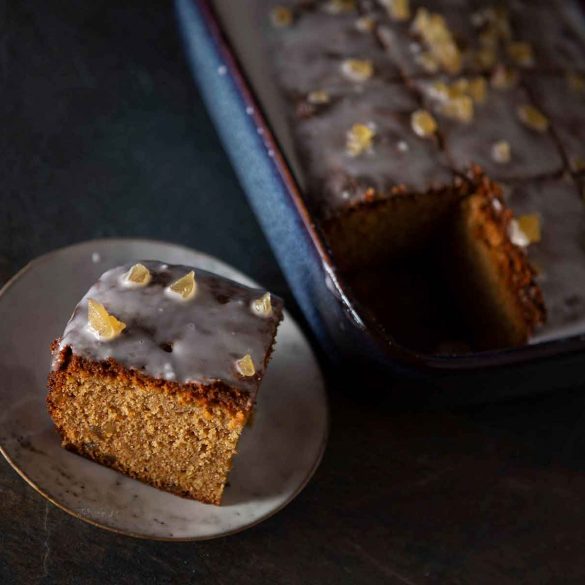 Ingredients
250g butter (unsalted)
125g of light brown sugar
125g dark muscovado
6 large eggs
100g ground almonds
250g gluten free self-raising flour (I am using Doves Farm)
1 tablespoon of ground ginger
1/2 a teaspoon of GF baking powder
300g of stem ginger (approx 2 jars)
Instructions
Preheat your oven to 180C (Gas Mark 4). Prep and line a large square or rectangle baking tray (minimum of 10 inches wide).
Remove the stem ginger from the syrup. If the ginger is not already chopped, chop it into small chunks.
Cream together the butter and sugars until light and fluffy, then gradually beat in the eggs.
Fold in the gluten free flour, the ground almonds, the baking powder and the ground ginger, followed by the chopped stem ginger. I tend to add a couple of tablespoons of the ginger syrup into the sponge mix.
Spoon the mixture into the prepared baking tin. Bake for 45-55 minutes.
After the time, check your cake is baked all the way through by poking a skewer through the middle. If the skewer comes out clean, it is ready! Place onto a rack to cool all the way through.
Whilst the cake is cooling, make an icing glaze (optional) by mixing icing sugar and water until you have a smooth consistency (you can also mix through some of the stem ginger syrup if you like).
Drizzle over the top of the traybake to finish.
Enjoy!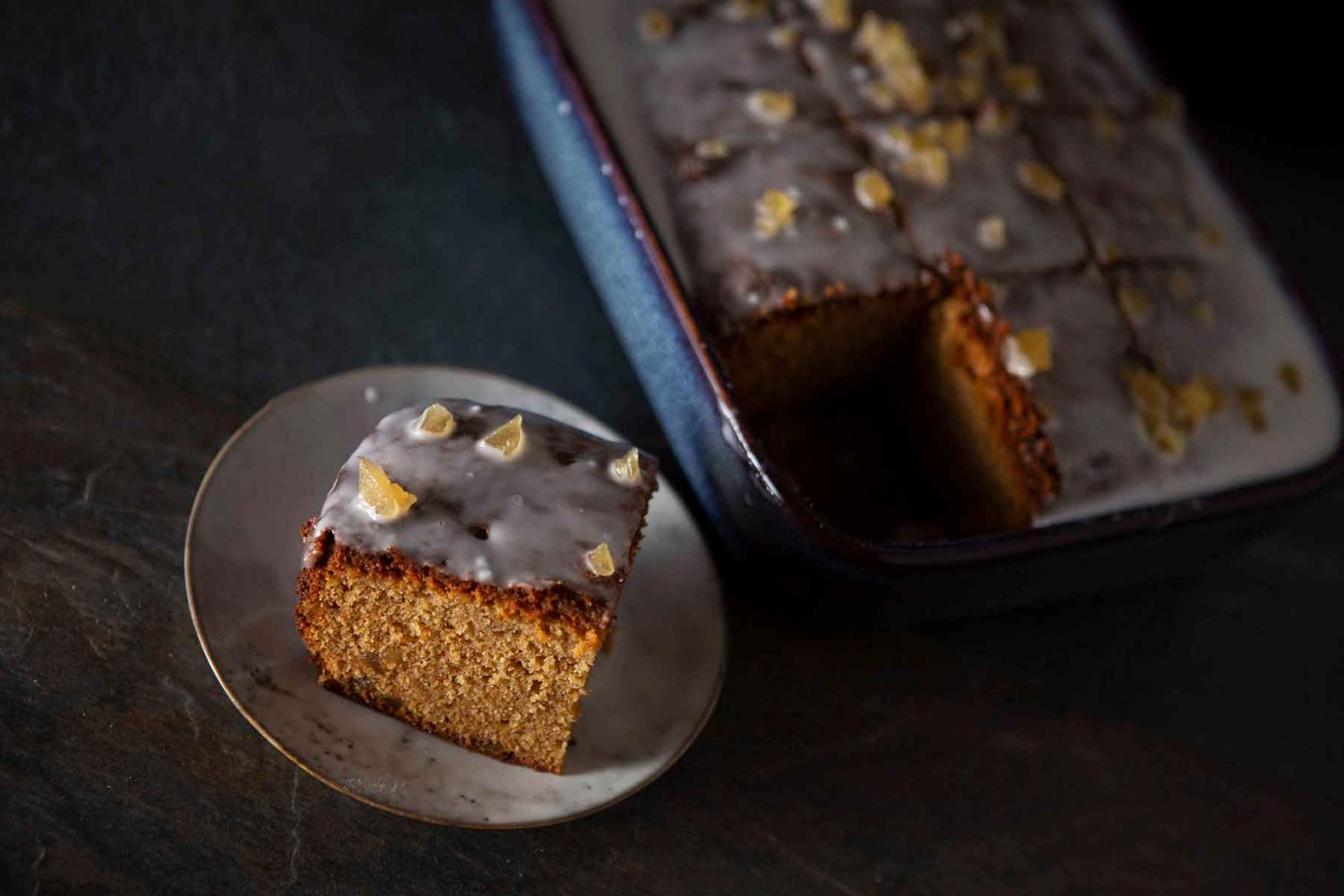 I hope you love this recipe as much I do!
K
X