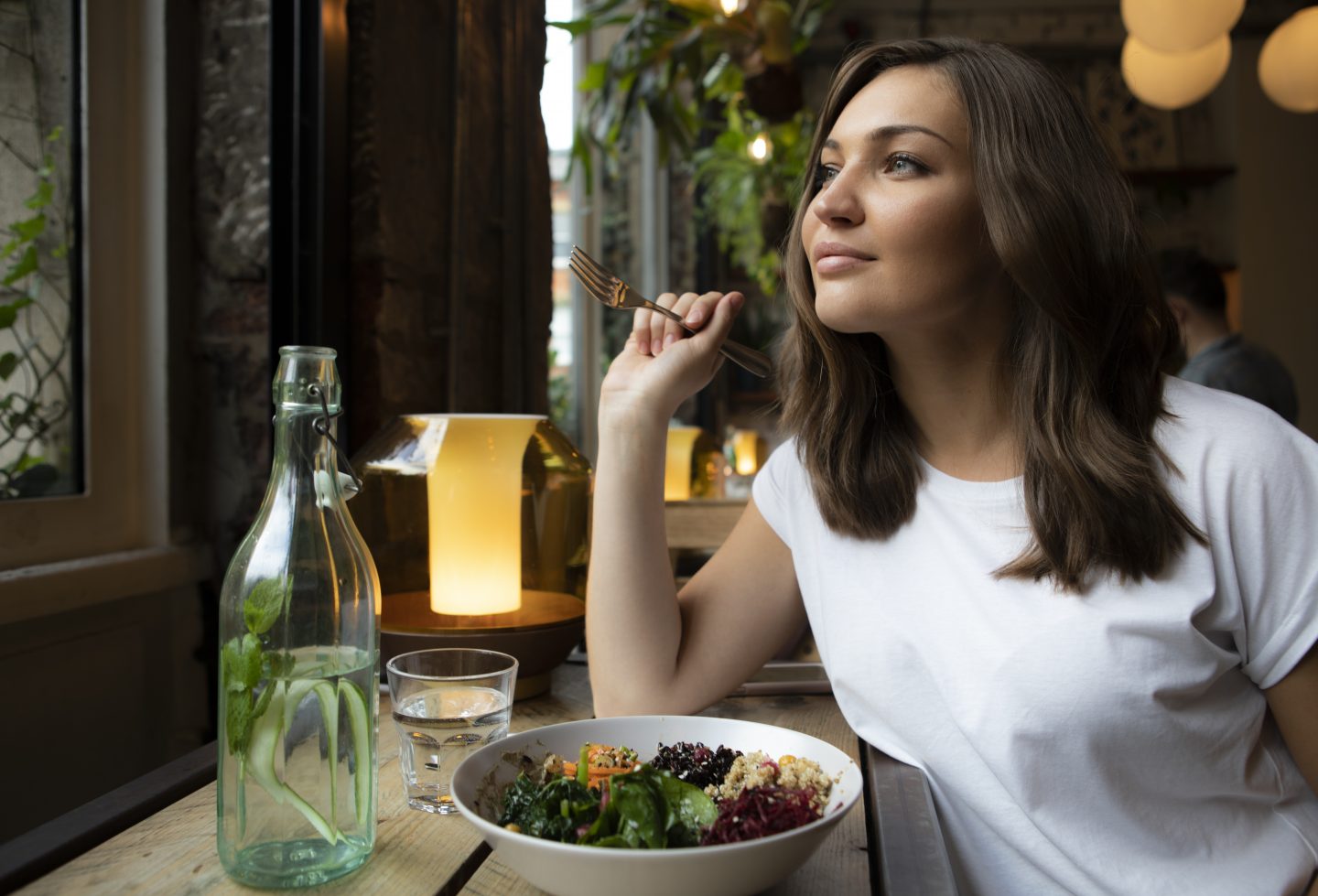 Whether you are just visiting or live nearby, Manchester has a huge variety of gluten free dining options that will keep you going when eating out on the town! Having lived just outside Manchester my entire life and having been gluten free for the last 10 years, I have been able to pretty thoroughly suss out the gluten free scene in the city. There are now SO many options, different cuisines and amazing flavours available GF, that makes eating out in Manchester as a coeliac super easy! Here are a list of my top gluten free eats in and around Manchester!
In the city…
Dishoom Street style Indian food in an incredible setting. Recently opened its doors in Manchester. Dedicated gluten free menu, curries, grilled meats, dhal and fantastic cocktails!
Gaucho Argentinan steak house. Naturally gluten free with very helpful staff. Many gluten free sides including chips.
Honest Burgers Finally we are seeing honest burgers up north! Hooray. If you have been GF a while you will have heard of this hot spot. The best gluten free burgers, onion rings, chicken wings, chips, the works. Its a coeliac MUST visit.
Sapporo Teppanyaki Japanese cuisine cooked right infront of you. A real experience. Staff are amazingly helpful and will ensure your food is completely GF.
Australasia Sophisticated Japanese inspired dining and beautiful cocktails. They are very clued up on GF and were able to provide gluten free soy sauce will all sushi.
Sweet Mandarin  The biggest gluten free Chinese menu in all of manchester. Everything from hoisin duck wraps to battered chicken, spring rolls and much much more – all completely coeliac friendly! Incredible!
Dough Kitchen A full pasta and pizza selection that is kindly marked on the menu as to what can be made gluten free. Almost everything on the menu can be made coeliac friendly so this Northern Quarter restaurant assures a very relaxed meal out!
Evelyns Café & Bar Modern and relaxed dining from breakfast until dinner, with everything GF clearly marked on the menu. Try the gluten free balanced bowl for brekkie, or the chicken satay or cauliflower laksa in the evening!
Pho Healthy Vietnamese food found in the Corn Exchange building surrounded by lots of other bars and restaurants. A huge selection of gluten free food, including rice paper spring rolls, crispy chicken wings, curries and big bowls of pho!
Mowglis Incredible indian street food at a great price. Love the Mowglis sticky chicken wings and the flavourful curries and tiffin boxes from the dedicated gluten free menu. You will LOVE this one.
Indian Tiffin Room Delicious traditional Indian street food with a gluten free menu on request.
El Gato Negro Glorious tapas menu with plenty of GF menu options, and delicious cocktails!
Chaophraya Many gluten free options that the helpful staff can advise on. For an incredible thai green curry, this is the place to go!
Reds True BBQ Gluten free marked on the menu so load up on all of the brisket, ribs, wings and fries!!
James Martin Manchester An upmarket dining treat whereby it is very easy to eat gluten free. The staff are incredibly helpful – the steak here is fantastic!
La Vina Tasty tapas which are clearly labelled as to which are GF. Win!
The Botanist Many gluten free options including the hanging kebabs – a must try!
San Carlo Up-market Italian restaurant with plenty of gluten free options. I personally love the chicken in a creamy white wine sauce!
Handmade Burger Co. Tasty burger without the bun – variety of chips are gluten free cheesy chips, Denver chips, Mexican chips etc.
Gusto Plenty of gluten free options at this chain italian, with gluten free pasta too!
Dimitris Tapas with many gluten free choices, all clearly marked on the menu!
The Restaurant Bar & Grill A dedicated gluten free menu, get tucked into steaks, salads, chicken souvlaki, red curry or risotto! Don't forget the lemon posset or creme brûlée for dessert!
Eds Easy Diner Gluten free all American diner style fast food! We are talking loaded nachos, dirty fries and epic burgers (with buns!).
El Capo Mexican with gluten free nacho and taco options, with GF marked on the menu. Tasty cocktails too with a fun late night vibe.
Federal Cafe Gluten free bread options for a tasty brunch! Enjoy smashed avo on toast or a eggs benedict without the gluten!
Bundobust Indian street food at affordable prices in a relaxed environment – all labelled as to what is GF. Including mini rice pancakes, potato cakes & bhajis!
Zouk Tea Bar & Grill Authentic Indian cuisine and as with most Indian restaurants, there are plenty of gluten free options – just ask your server!
Pieminster Gluten free pies so good you wouldn't be able to tell the difference! You may have seen this brand in many shops, but it is safe to say their pies are exceptional! Pop here for all your pie needs, mushy peas, gravy, the works!
Cottonopolis Dedicated gluten free menu with a lot of sushi options and unique dishes. Perfect spot for any celebration meal.
Fig & Sparrow A chill out cafe with gluten free brownies and other baked goods on offer.
*Warning about Yard & Coop – there has been rumours they do a gluten free crumb on their chicken, sounds great but sadly not gluten free at all as fried in the same fryer as gluten! Maybe okay for 'low gluten' consumers but not for gluten free or coeliac!
Greater Manchester & Cheshire
Alberts (Didsbury) Great dedicated gluten free menu, including bruschetta, pizza, steaks, curry and even a sticky toffee pudding for dessert.
Expo Lounge (Didsbury) Extensive dedicated gluten free menu with brunch, tapas and much more.
The Original Third Eye (Didsbury) Nepalese cuisine with majority of dishes being naturally gluten free. Very tasty!
Olive & Vine (Didsbury) Tapas with a marked up menu of gluten free options.
Chilli Banana (Macclesfield, Wilmslow, Bramhall) Fully marked up on the menu as to what can be made gluten free. Get the chicken satay starter, the pad thai or the drunken noodles, all are to die for!
South Seven (Marple) Separate gluten free menu with burger options, loaded nachos and much more. Simply delicious!
Ankgor Soul (Marple & Altrincham) Incredible Cambodian and south east asian inspired cuisine with plenty of gluten free options, as indicated on the menu!
Panache (Poynton) Fantastic separate gluten free menu with GF breads, a variety of mains and gluten free pizza too!
Hickorys (Poynton) New to the Poynton scene, this smokehouse is a new favourite. Serving up wings, nachos, brisket, burgers, ribs and so much more american goodness!
Maliwan (Macclesfield) Just ask for gluten free and they will know exactly what you mean. Switching out the soy sauce means majority of the curries and stir fries are GF. The chicken satay starter is another personal favourite. Possibly the best Thai restaurant I have ever been to – and we have been to Thailand!
Spanish Caravan (Macclesfield) Extensive range of delicious tapas that is gluten free, including bravas, padron peppers & chorizo. Also get the olives, they are the best you will find, pretty much anywhere.
Rosanero (Macclesfield) Italian that is well equipped for gluten free, with GF pasta available on request.
Lazeez (Macclesfield) As with all Indian restaurants, many gluten free options are on offer. But the service is fantastic here and they will go out of their way to ensure your meal is safe – and even fry you some poppadoms separately!
Picturedrome (Macclesfield) This food hall is the latest addition to Macclesfields ever-evolving food and drink scene, with the most amazing selection of cuisines – in a beautifully finished, authentic setting in what was once the home of Macclesfields first ever cinema. Head to Rubens, their GF options are marked on the board and include, cauliflower shawarma, halloumi fries, grain bowls and much more. Also ask behind the stall at Tender Cow, they will be able to sort you out with a beautifully cooked steak!
The Old Olive Tree (Macclesfield) Italian cuisine with a range of gluten free options clearly marked on the menu, alongside gluten free pasta and pizzas! They are very clued in to the requirements of gluten free.
Kandy (Macclesfield) Sri Lankan inspired dishes, with gluten free marked clearly on the menu.
Briscola (Bollington) Italian based in quaint Bollington, with gluten free pasta on tap!
Sutton Hall (Sutton, Macclesfield) – Gluten free options including crispy beef salad, pies and quiches and even sticky toffee pudding, in the perfect country setting!
The Sutton Gamekeeper (Sutton, Macclesfield) – The very best gluten free Sunday Roast! Gravy, roasted roots, creamy leeks and lots of gravy. I just get extra spuds instead of a yorkshire! Perfect after a countryside walk. Everything else GF is marked on the menu.
Popular Chains (UK Wide)
Wahaca Dedicated gluten free menu. The best chicken enchiladas and tacos!
Nandos Tell them you are gluten free when ordering. They will monitor your food throughout cooking to ensure it is safe. All the chicken is GF, as are the chips, the mexican spicy rice and much more!
Pizza Express Coeliac certified with gluten free pizzas, pastas, doughballs, desserts and more! A staple favourite.
Wagamama Gluten free menu with plenty of choice. Pad thai, duck lettuce wraps, prawn skewers, the chicken ramen is a personal favourite of mine!
Zizzi Italian with a dedicated GF menu with delicious pizza and pasta options!
Prezzo Italian with a dedicated GF menu with great pizza and pasta options.
Bella Italia  Italian with complete GF menu – pasta, pizza, bruschetta and more!
Las Iguanas Mexican with a variety of delicious options. Coconut curry, skewers, nachos, tacos and more!
Gourmet Burger Kitchen A selection of delicious burgers all served in a soft gluten free bun. Get the halloumi bites to start, they are yummy!
Frankie & Bennys A dedicated gluten free menu with burgers and pasta that can all be made GF.
YO! Sushi A wide selection of sushi that are all gluten free. They can even offer a GF soy sauce for dipping.
ASK Italian Dedicated GF menu with pizzas, pastas, meats and much more!
TGI Fridays Gluten free menu and a huge awareness of cross contamination. Get yourself some loaded potato skins, a rack of ribs or a tasty burger!
Carluccios Dedicated GF menu. Great antipasti boards and a range of gluten free pasta dishes.
Cote Brasserie Gluten free menu, coeliac accredited with a tonne of french inspired dishes.
Jamies Italian Extensive gluten free options to make for a hassle free dining experience!
La Tasca Clearly marked GF symbols on the menu on a wide variety of tasty tapas, gluten free breads also available!
Leon Deliciously gluten free fast food! The best gluten free chicken or jackfruit nuggets, and waffle fries. Plus delicious salads and hot box meals! Yum!
Pret A Manger Fresh tasty food with ingredients labelled, perfect for a lunch on the go – also offering gluten free wrap options, but the Italian Chicken salad is my absolute favourite!
McDonalds Burgers with out the bun are safe, and chips across the chain have dedicated fryers so those are safe to chow down on too!
Dominos Anyone GF knows that Dominos are certified coeliac and will get you your pizza fixing in no time at multiple locations across the city.
Pizza Hut Another certified GF pizza chain. Sit in or takeaway and know it is 100% coeliac safe!
Spud-U-Like Naturally gluten free – I love a good spud for a reliable lunch! Tuna sweet corn or chilli con carne are my fave!
I hope this post has provided you with a few options in and around Manchester to keep you dining at your best! Let me know where you have tried and your next stop on your list! I will continue to update this post as and when new GF approved places pop up, so let me know if you have any to add!
K
X