Fresh, healthy and incredibly delicious, this traditional thai soup ticks all the boxes! Most would assume that this kind of soup would be particularly complicated to but the method is surprisingly easy and the results are amazing. Making this suitable for coeliacs / gluten free is no problem, as most of the ingredients (bar the soy sauce) are naturally gluten free anyway.
Many Tom Yam soup recipes do not add coconut milk but this works so well in this recipe, I had to include it.
I was so inspired by Asian cuisine following our trip, so I am thrilled with how this recipe came out!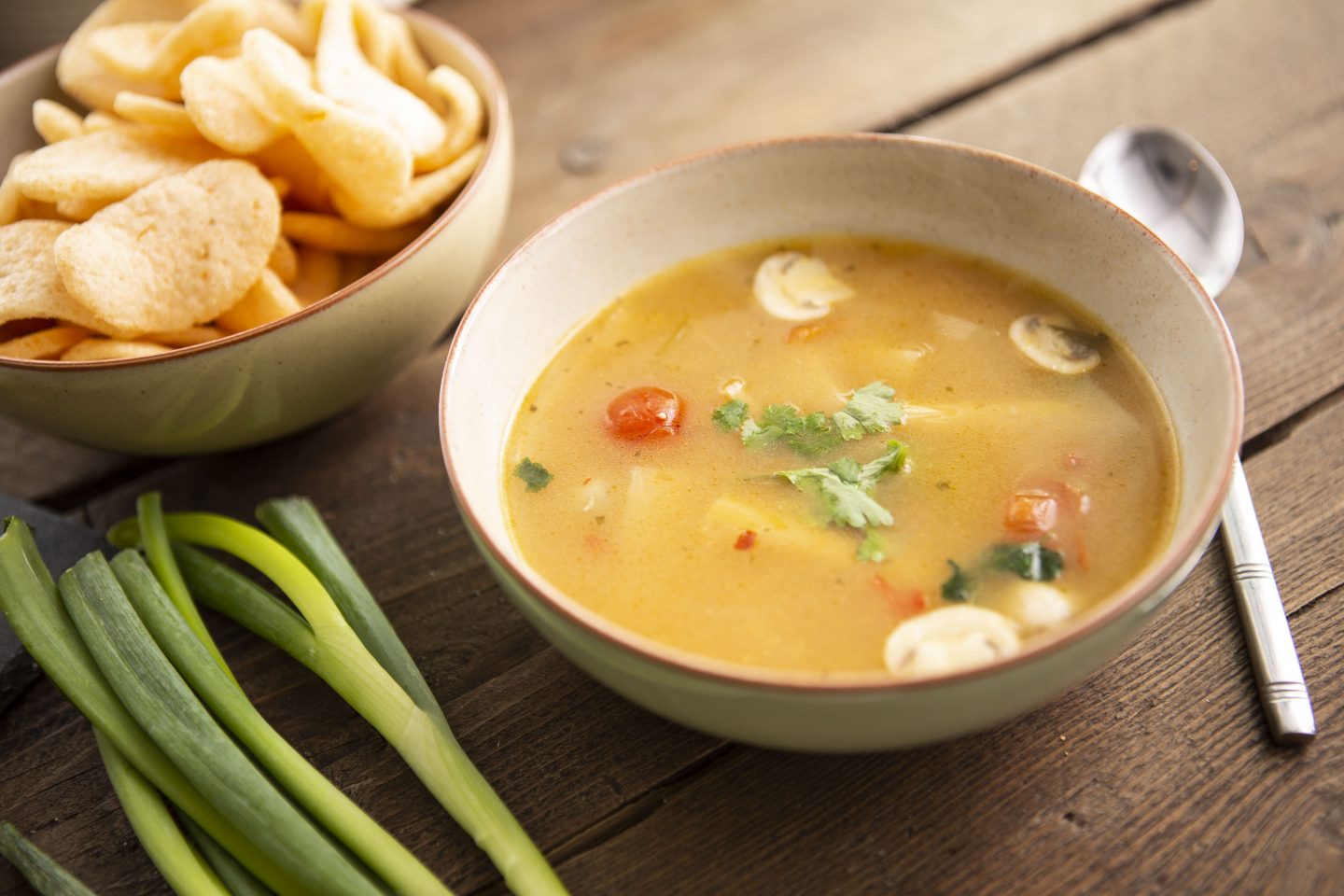 INGREDIENTS
x2 500ml jugs of chicken stock (I always use Knorr stock pots, I used 2 in this recipe)
x2 chicken breasts
1 tablespoon gluten free soy sauce
Juice and zest of x1 lime
4 lemon grass sticks
2-3 kaffir lime leaves
1 tablespoon brown sugar
1 red chilli
1/2 a teaspoon chilli flakes
1 teaspoon ginger paste
4 garlic cloves (minced)
2 tablespoons fish sauce
1/2 can of coconut milk
8-10 cherry tomatoes
8-10 button mushrooms
a handful of fresh coriander
METHOD
In a preheated oven (180C) cover the chicken breasts with foil and cook for approximately 25 minutes until the meat is cooked through.
Meanwhile, get a large pan ready over a low heat. Prepare the stock and add it to the pan, along with lemon grass and lime leaves and bring to the boil for 5 minutes until fragrant.
Next add the sugar, lime juice and zest, soy sauce, chilli and chilli flakes, ginger paste and garlic. Allow to simmer for another 5 minutes.
Slice the chicken breasts and add, along with the mushrooms, coconut milk, and fish sauce. I tend to reduce the heat down and leave for at least half an hour or so to let the flavours infuse. Taste and add more or less: sugar, fish sauce, soy sauce etc to your liking.
Finish by adding the tomatoes (whole) and leave for another ten minutes before serving fresh from the pan, with a sprinkling of fresh coriander to serve.
Enjoy!*
This soup was an absolute favourite of mine when we were in Thailand and I have to say that this recipe really does tick all the boxes and is so simple to throw together. This soup is designed to be served fresh but can be reheated the day after if required.
*Ps. do not eat the lemongrass sticks, they are for flavour only and not designed to be gnawed on!
Let me know which other recipes you would like to see and if you want me to explore any more asian fusion recipes!
K
X