A classic dish, which can easily be made gluten free with the use of gluten free macaroni, gluten free flour and topped with gluten free breadcrumbs… made with my favourite Genius bread. Yum! A twist on the usual, I added broccoli and bacon to make this mac and cheese even more exciting, although these are obviously optional.
You just can't beat that lovely creamy pasta and a super crisped top. The ultimate comfort food. Try it out:
INGREDIENTS
250g gluten free macaroni (I am using Sainsburys own)
750ml milk
60g butter + extra to coat pasta
200g cheddar (grated)
100g mozzarella (grated)
50g gluten free plain flour (I am using Doves Farm)
1 clove garlic (crushed)
200g bacon lardons
1/2 a broccoli (cut into small florets)
2 pieces of gluten free bread (I am using Genius brand)
Parmesan (to grate over the top)
Salt & white pepper
METHOD
Preheat the oven to 180C, gas mark 4.
To make the sauce, melt the butter in a pan and add the flour. Whisk to form a paste. Then gradually add the milk. Whisk continuously to remove any lumps. Heat all the way through until piping (but not boiling) stirring constantly, and remove from the heat.
Add both the cheeses and keep stirring to get a thick, smooth cheese sauce. Season to taste with salt and white pepper.
Blanch the broccoli in hot water for approx 5-7 minutes. Drain. In a seperate pan, dry fry the bacon and garlic until crispy.
Cook the pasta as per the packet instructions. Drain and add a knob of butter to coat.
In a large bowl, coat the pasta with the cheese sauce. Drain the bacon from any fat and add, followed by the broccoli. Combine well.
Put into a oven proof pasta bake dish. Blitz the bread in a processor to make breadcrumbs,  then sprinkle over the top along with parmesan.
Cook in the preheated oven for 20-25 minutes.
Serve & enjoy!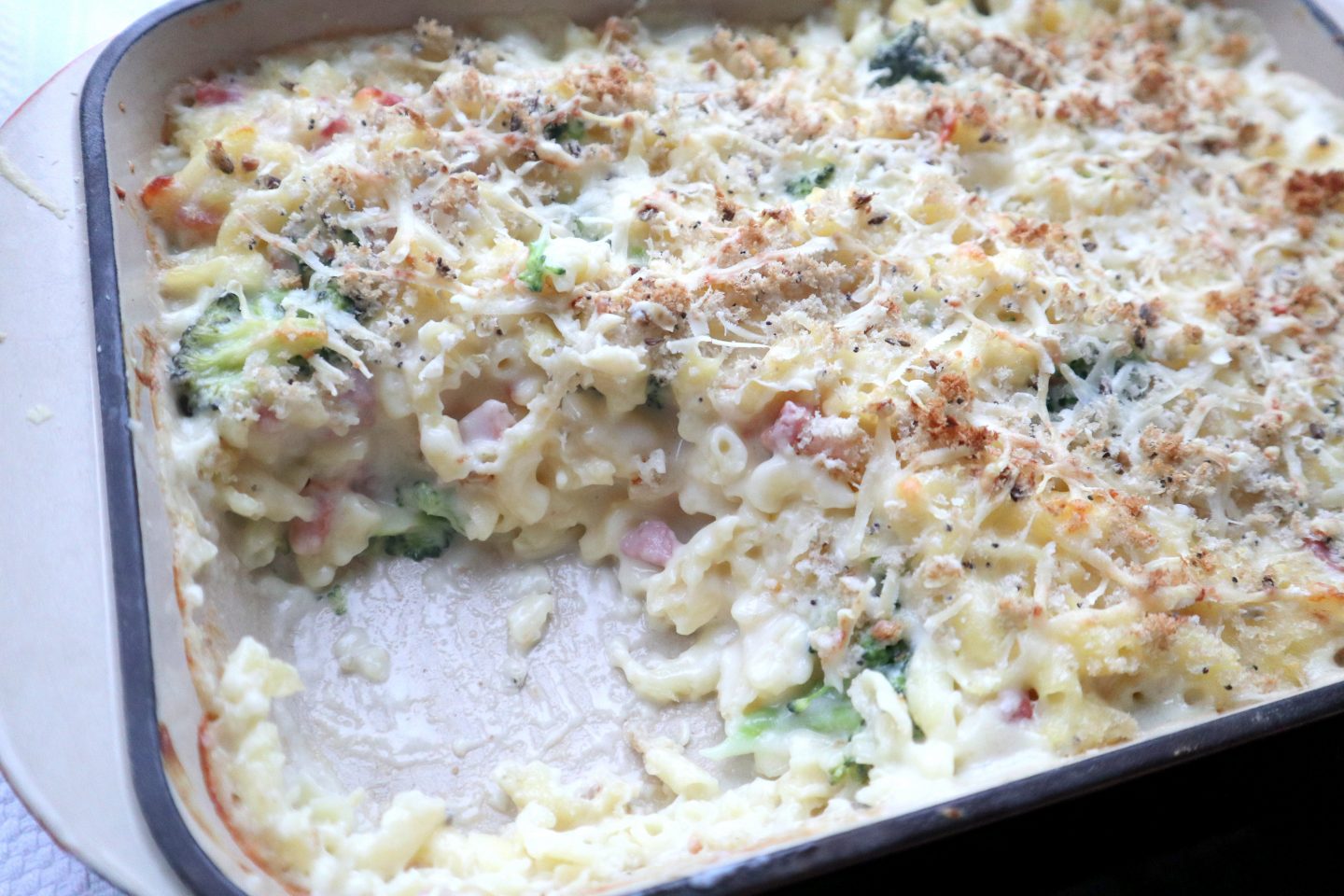 I hope you like this recipe!
Let me know what you want to see next.
K
X
*Disclaimer. This post is not sponsored. All opinions are honest and my own 🙂