Who says you can't have a delicious homemade steak & ale pie, just because you are gluten free? Now, with the introduction of gluten free ales onto our supermarket shelves… this hearty, mouth-watering pie just became a reality. This simple recipe makes an incredible pie that you will LOVE. Take a look.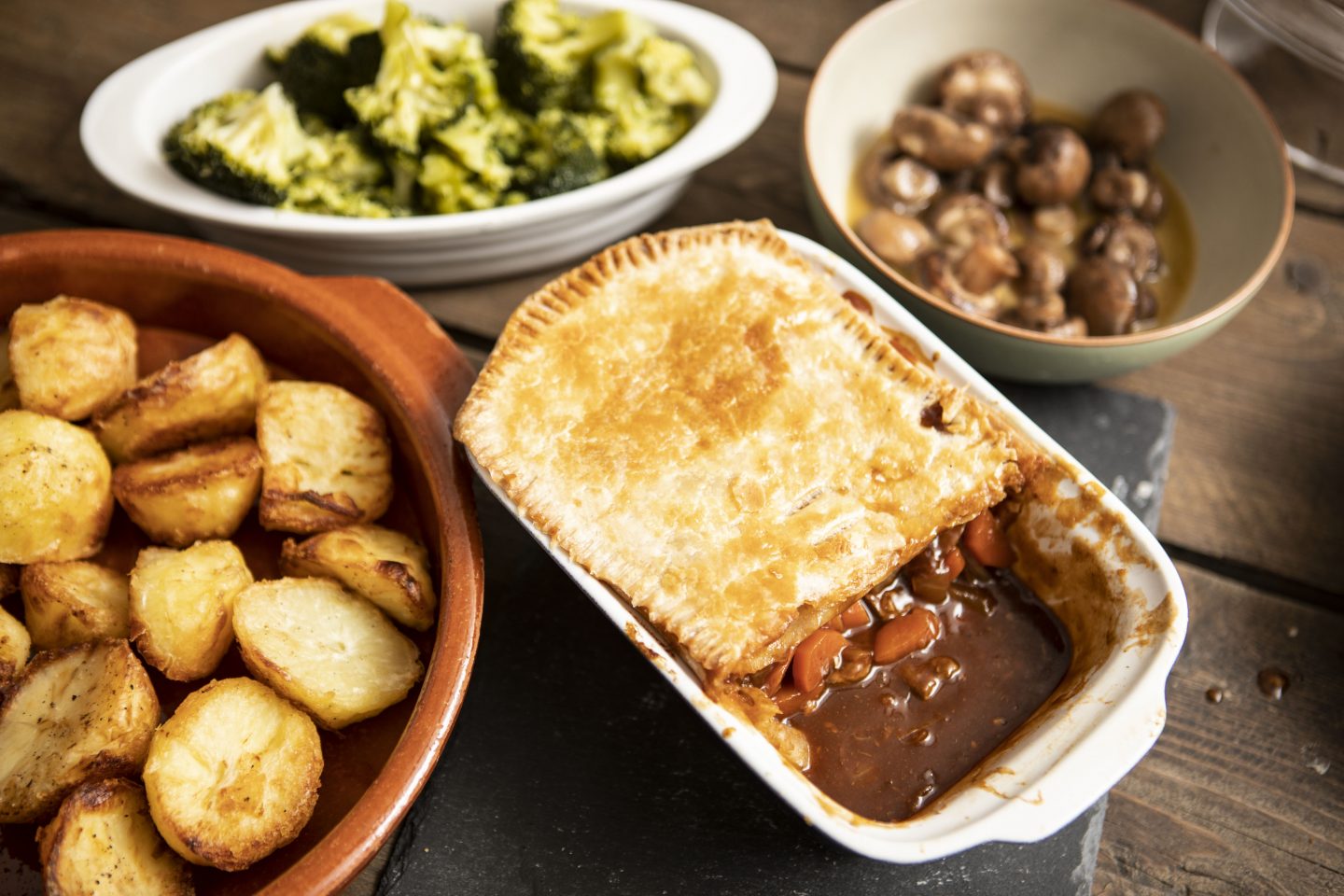 INGREDIENTS
Gluten free Jus rol puff pastry
1 bottle of gluten free ale (I am using Speckled Hen gluten free ale)
4oz / 115g of braising steak or casserole steak (cut into cubes)
1 large white onion (roughly chopped)
3-4 carrots (peeled and diced)
300ml of beef stock (I am using Knorr)
1 tablespoon of gluten free brown sauce
1 tablespoon tomato puree
1 bay leaf

2 garlic cloves (crushed)

2 tablespoons of olive oil
Gluten free Worcestershire sauce or Hendersons relish *optional
Fresh thyme (chopped) or a teaspoon of dried thyme
1 tablespoon of cornflour (mixed with a splash of water)
Salt & pepper to season
METHOD
Preheat the oven to 180C/ Gas Mark 4.
Begin by frying the beef and crushed garlic in the oil in a pan over a medium heat, with a little salt and pepper. Once browned all over, set aside in a bowl.
Add a tablespoon or so of the ale to de-glaze the pan and allow it to fry off. Then add the roughly chopped onions, the diced carrots and the herbs into the pan. Fry for a few minutes until slightly softened. Add back in the beef.
Next, add the ale and the beef stock and allow to simmer. Mix the cornflour with a little water to form a runny paste and add into the pan. Also throw in the brown sauce, tomato puree and Henderson's relish or Worcestershire sauce if using.
Season well with salt and pepper and turn the heat down to allow to bubble. After 20-30 minutes check the consistency, if it doesn't appear thick enough, add more cornflour and leave to simmer. I find the longer you leave it to simmer, the tastier it becomes! I tend to do this for at least an hour.
Prep your pie dish: Grease a standard pie dish (I am using a rectangle one that serves 2-3 people). Using the ready rolled pastry, line the dish (pushing it into the dish) and trim the edges, keeping enough to make sure you can also cover the top. I tend to grease the edges of the pastry where the lid will join, as this will help with the sealing of the top. Pour in your filling until the pie is as full as it can be, before placing on and cutting out the top. I use a fork to bind the top and bottom pieces of pastry to seal.
Brush the pastry with the beaten egg.
Put the pie into the preheated oven for approximately 30 minutes until golden and crisp.
Remove from the oven and serve with greens and potatoes of your choice.
Enjoy!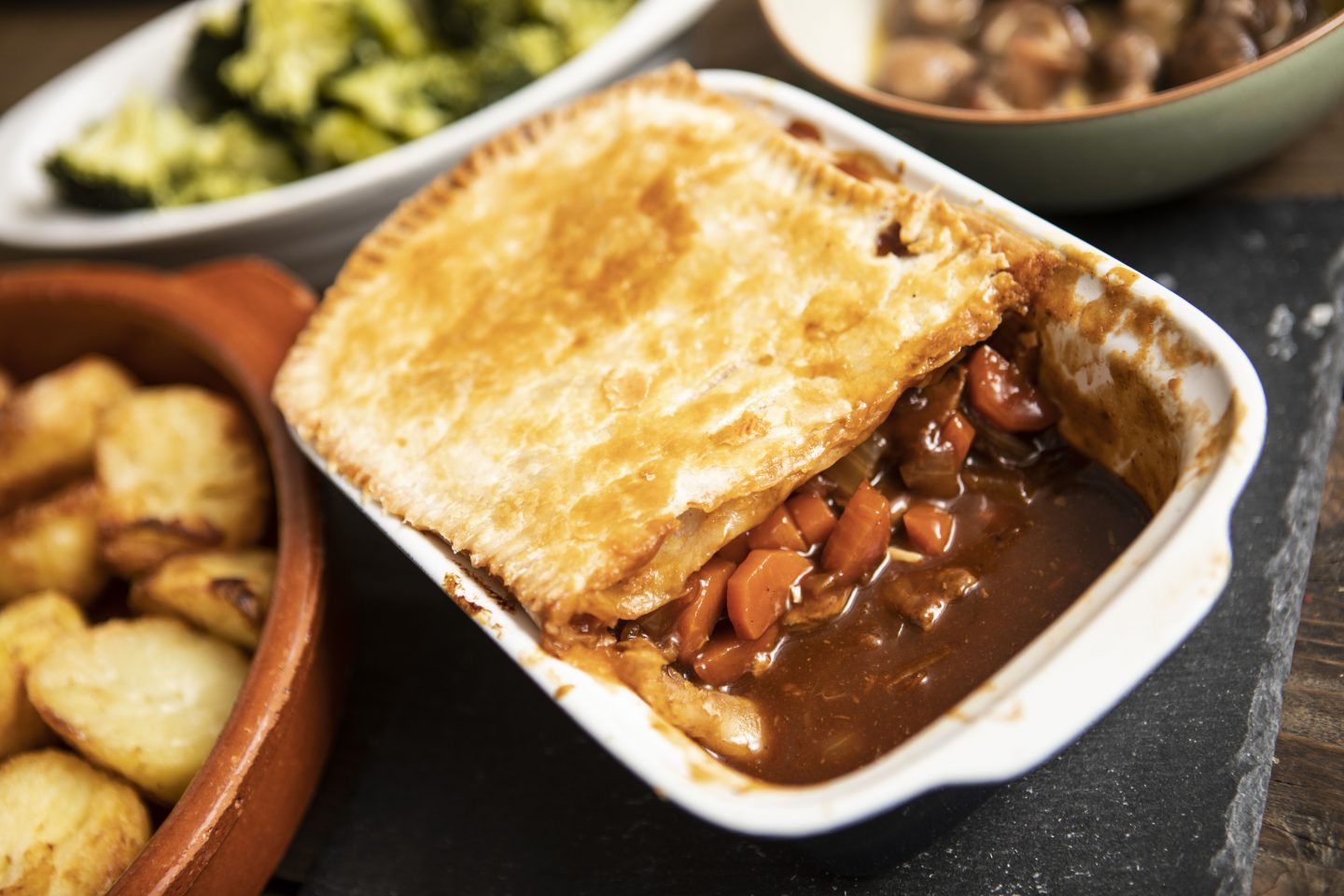 Hope you like this recipe – let me know what you would like to see next!
K
X