Pulled lamb topped with pomegranate, red onion, tzatziki and coriander on top of a gluten free flatbread, makes for a delicious Mediterranean inspired dinner. Served with fries, you can't beat it for an easy but impressive meal idea!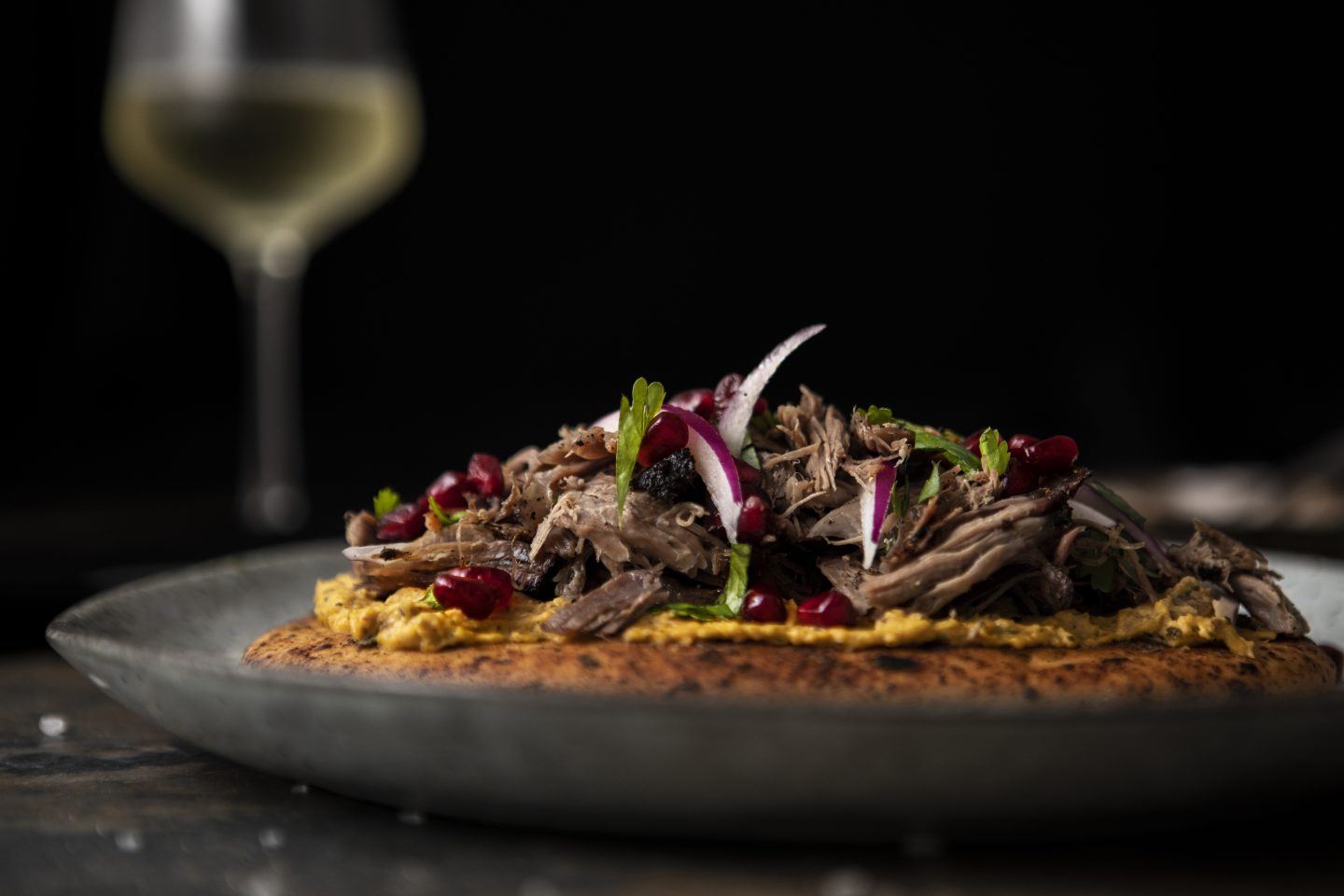 INGREDIENTS
x1 gluten free naan or pitta (I am using the Sainsburys Naan – see here)
1 shoulder of lamb
For the marinade:
4 garlic cloves
1 teaspoon cinnamon
2 teaspoons of cumin
1 teaspoon of dried oregano
Juice of one lemon
2 tablespoons of water
Salt & pepper
To serve:
Moroccan hummous
A handful of pomegranate seeds
1/4 a red onion sliced
A handful of fresh coriander
Tzatziki
METHOD
In a food processor blend the garlic, cinnamon, cumin, oregano, water, lemon juice, salt and pepper. Rub generously over the lamb and leave for a few hours to marinade, ideally over night in the fridge.
Preheat the oven to 160C / Gas Mark 3. Remove the meat from the fridge half an hour before cooking to come to room temperature.
With a little oil in a deep sided baking tray, place in the marinaded meat and cover with foil. Cook for approximately 3 hours until tender and the meat is falling off the bone.
Pull the meat off the bone with 2 forks to achieve your pulled lamb. Warm the flatbread, top with hummous, the pulled lamb, sliced red onion, pomegranate seeds, torn coriander and tzatziki.
Enjoy!
Hope you like this simple pulled lamb recipe – let me know if you try this one!
K
X