Mykonos is a beautiful place, as I am sure you will have seen on many an Instagram photo, it is most definitely worth a visit. Don't get put off if you are coeliac / gluten free… there are plenty of delicious options and restaurants to choose from! Take a look:
Nice n Easy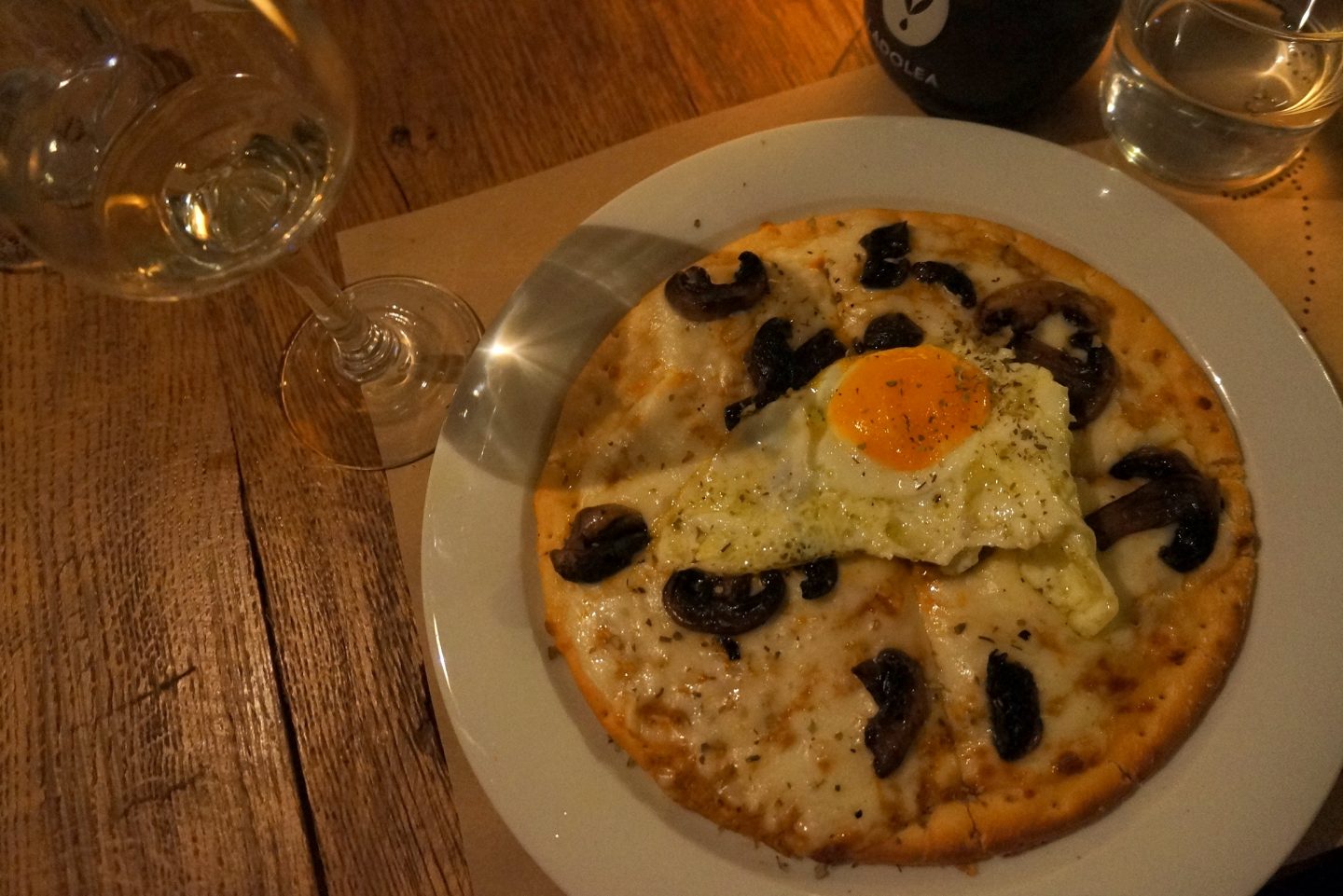 This is a must visit if you are gluten free, vegetarian or vegan. They are fully equipped for gluten free with plenty of options, including pasta and even a pizza on the appetisers list… although this pizza is DEFINITELY big enough to have as a main meal (which I did) as it is far too big as a starter. The symbols on the menu can be slightly confusing, so don't be put off by this, for some reason there is a gluten free mark next to some and not others, despite saying they are GF in the description… just double check when you are ordering, as majority of the menu IS gluten free… just isn't marked as clearly on the menu. There are 'naked' burgers too, tonnes of meat & fish options and the chips are delicious! The location is great, right on the front. It was so nice, we went here twice!
Pasta Fresca Barkia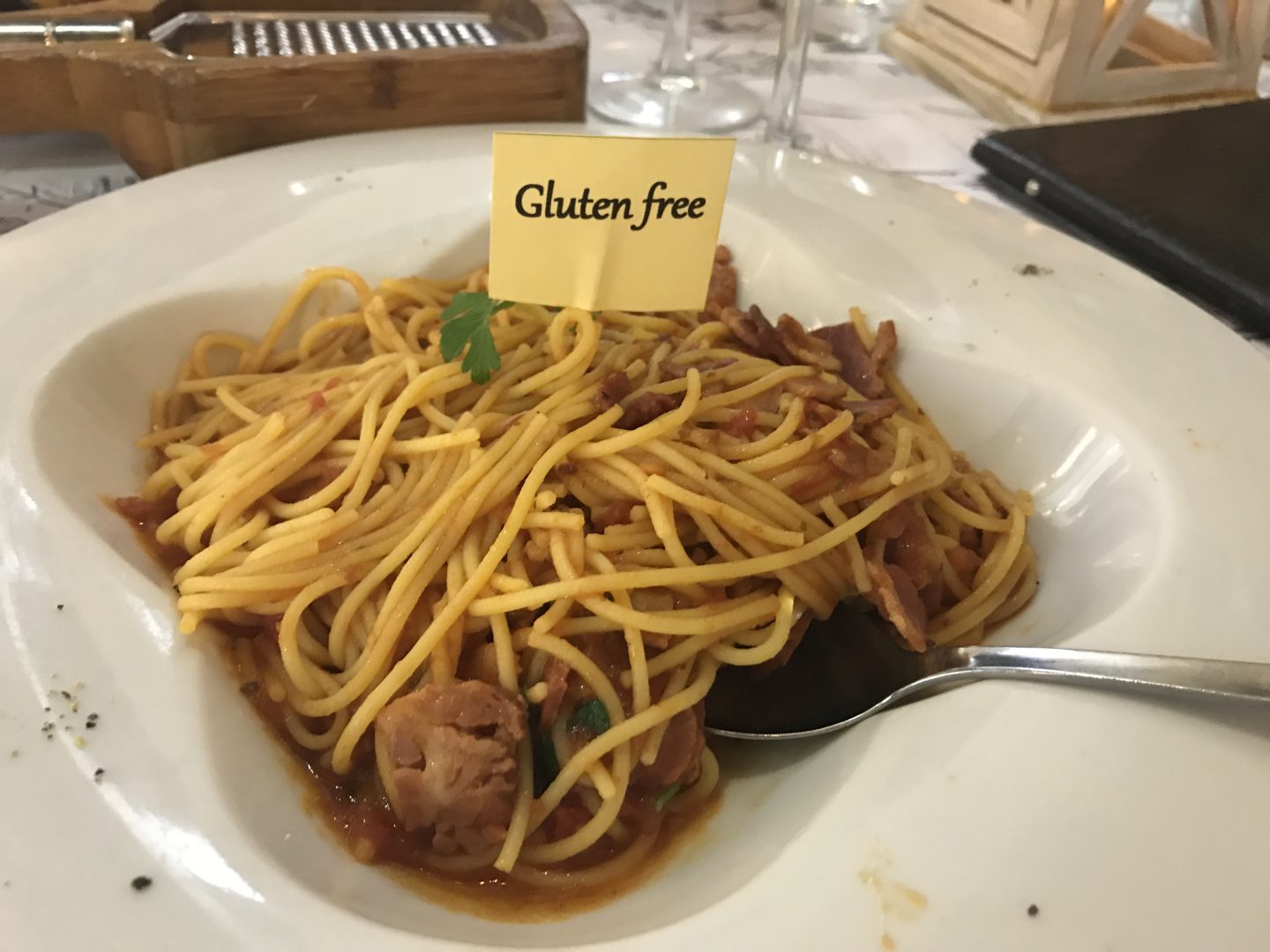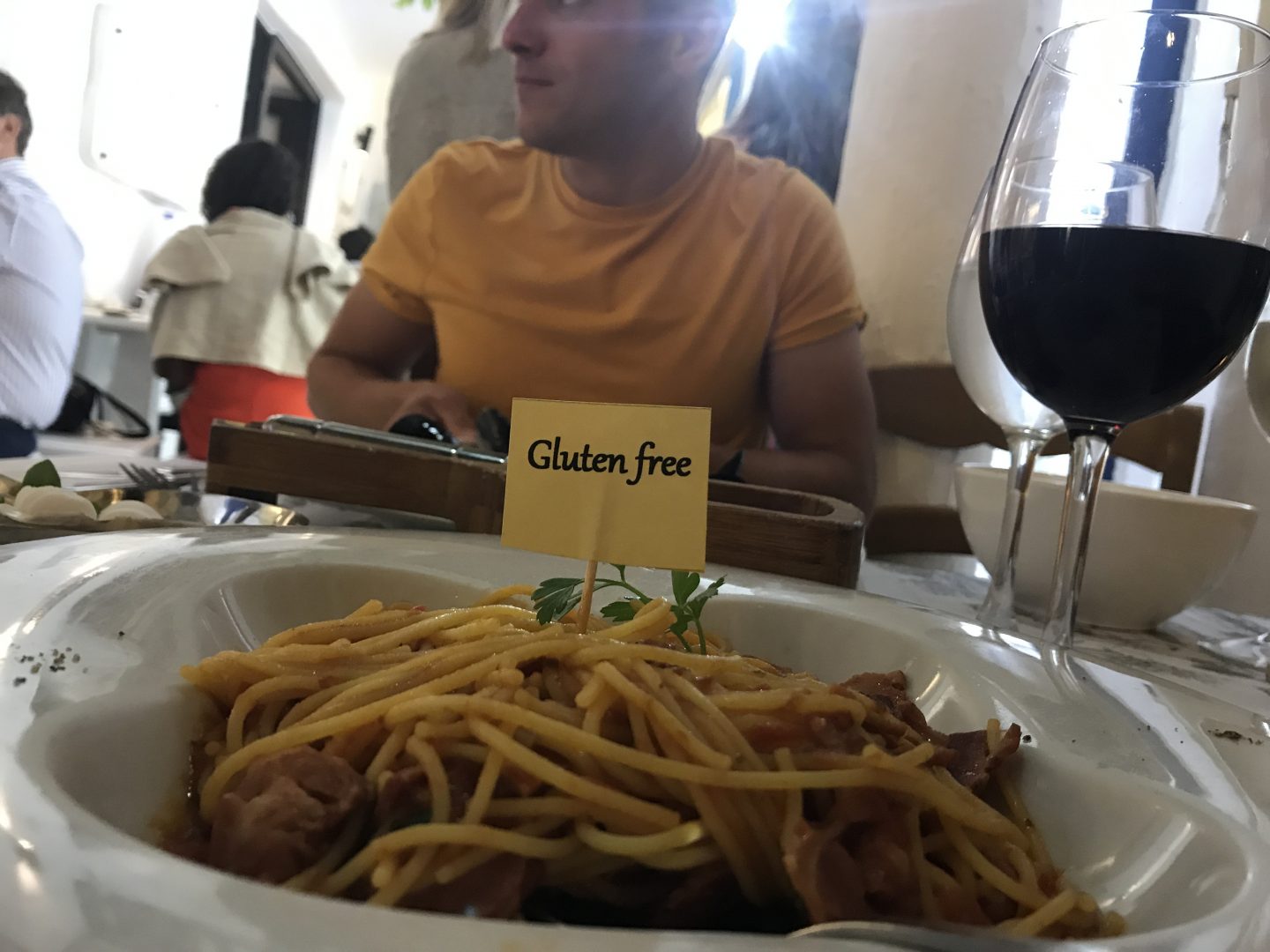 Right in the centre of town and on the cobbled streets, this place does some wonderful gluten free spaghetti, and it comes with a little sign in it, so there is no need to worry! Despite the reviews saying you can have any sauce, the waiter informed me only the tomato based sauces were gluten free, so I had the tomato and bacon option, which was lovely. I would book the day before if you wish to sit outside as it can get very busy at peak times!
Fato A Mano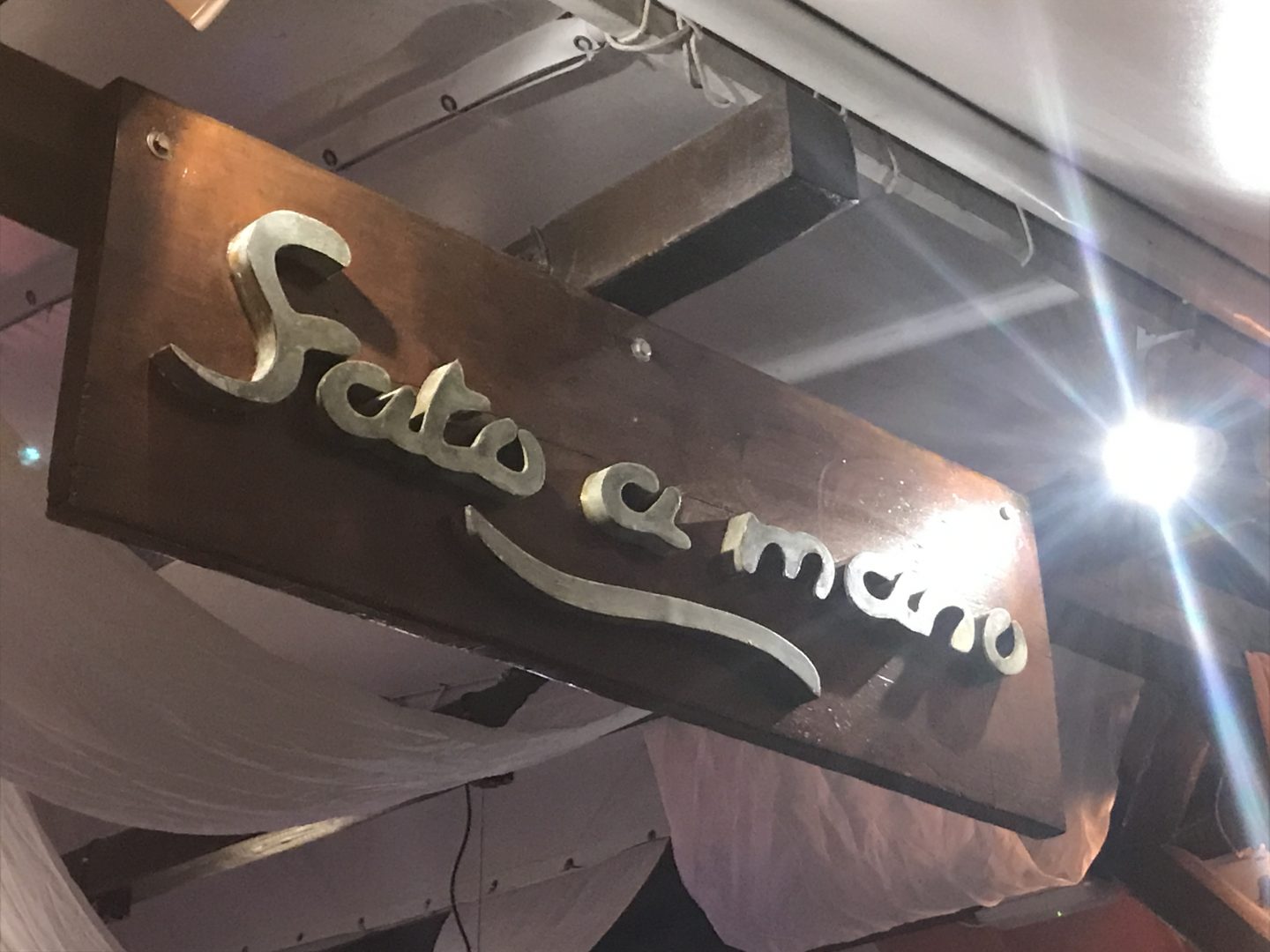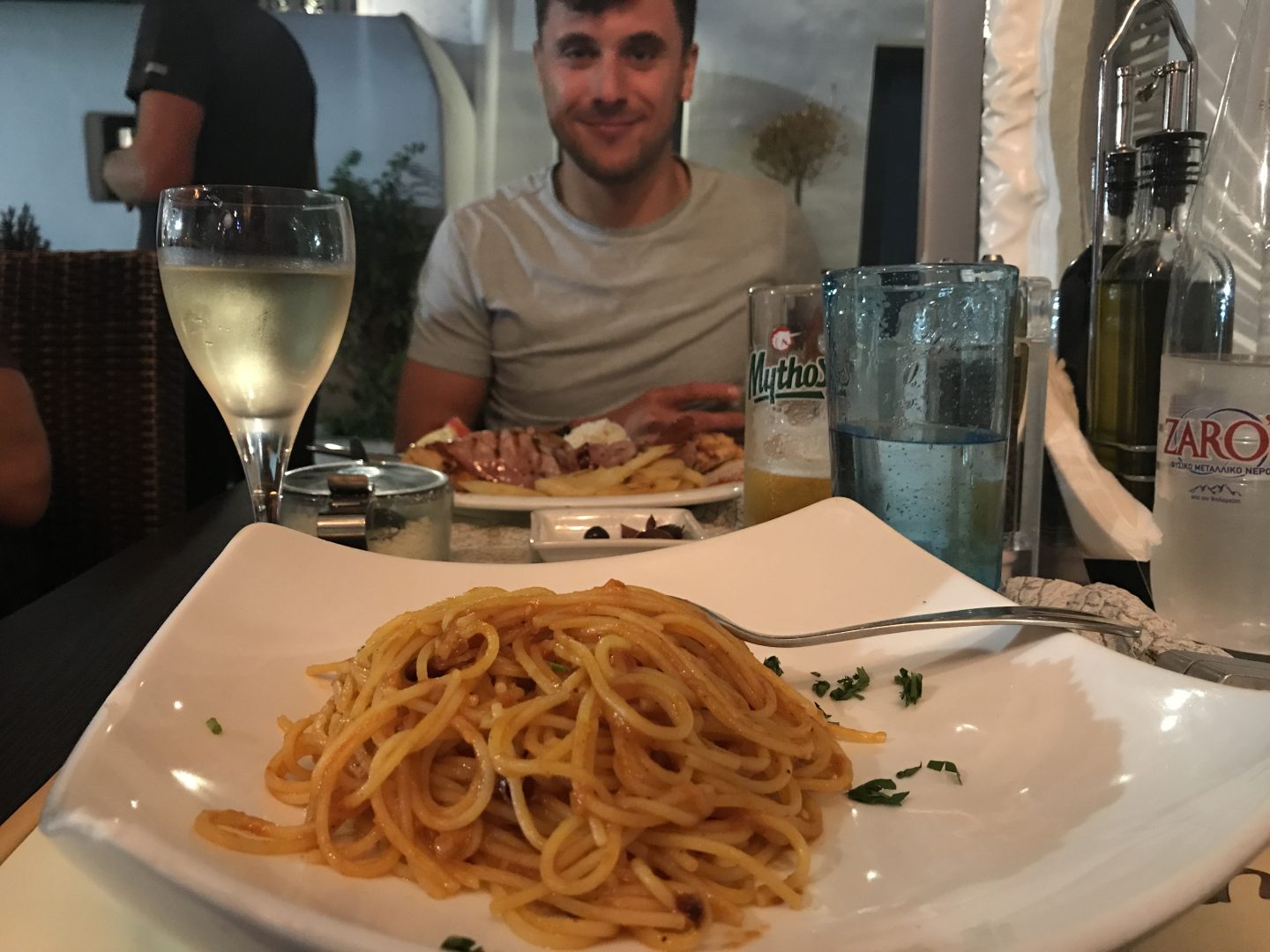 While gluten free is not mentioned on the menu, they do have gluten free spaghetti (it always seems to be spaghetti that restaurants are stocking!) which was delicious. At the end they also gave us a complimentary fruit platter (everyone else's had cake in the centre, but obviously they left that off for the gluten free folk) which was a lovely touch. It can get quite busy but we still didn't have to wait long for a table outside.
Hippie Fish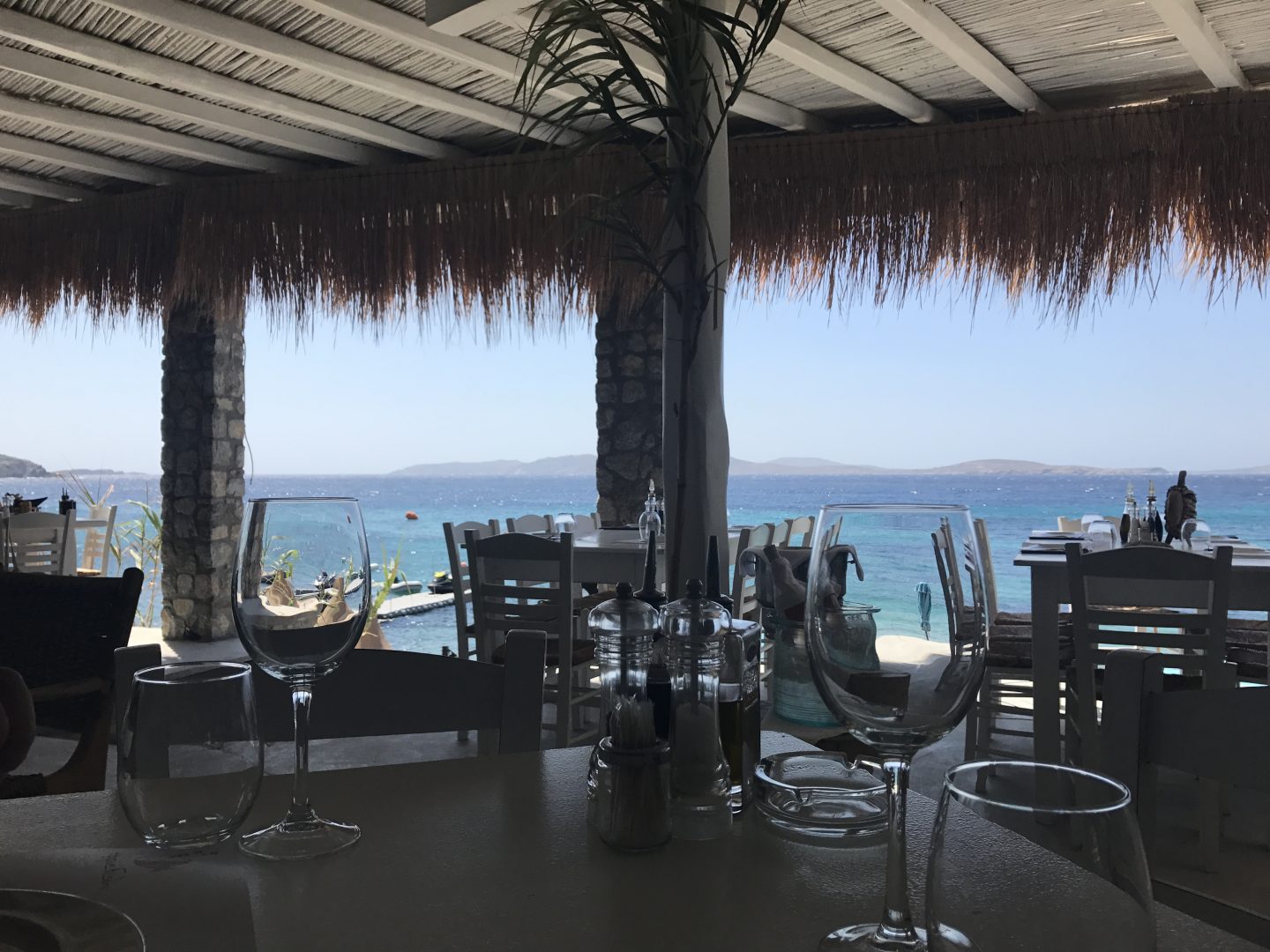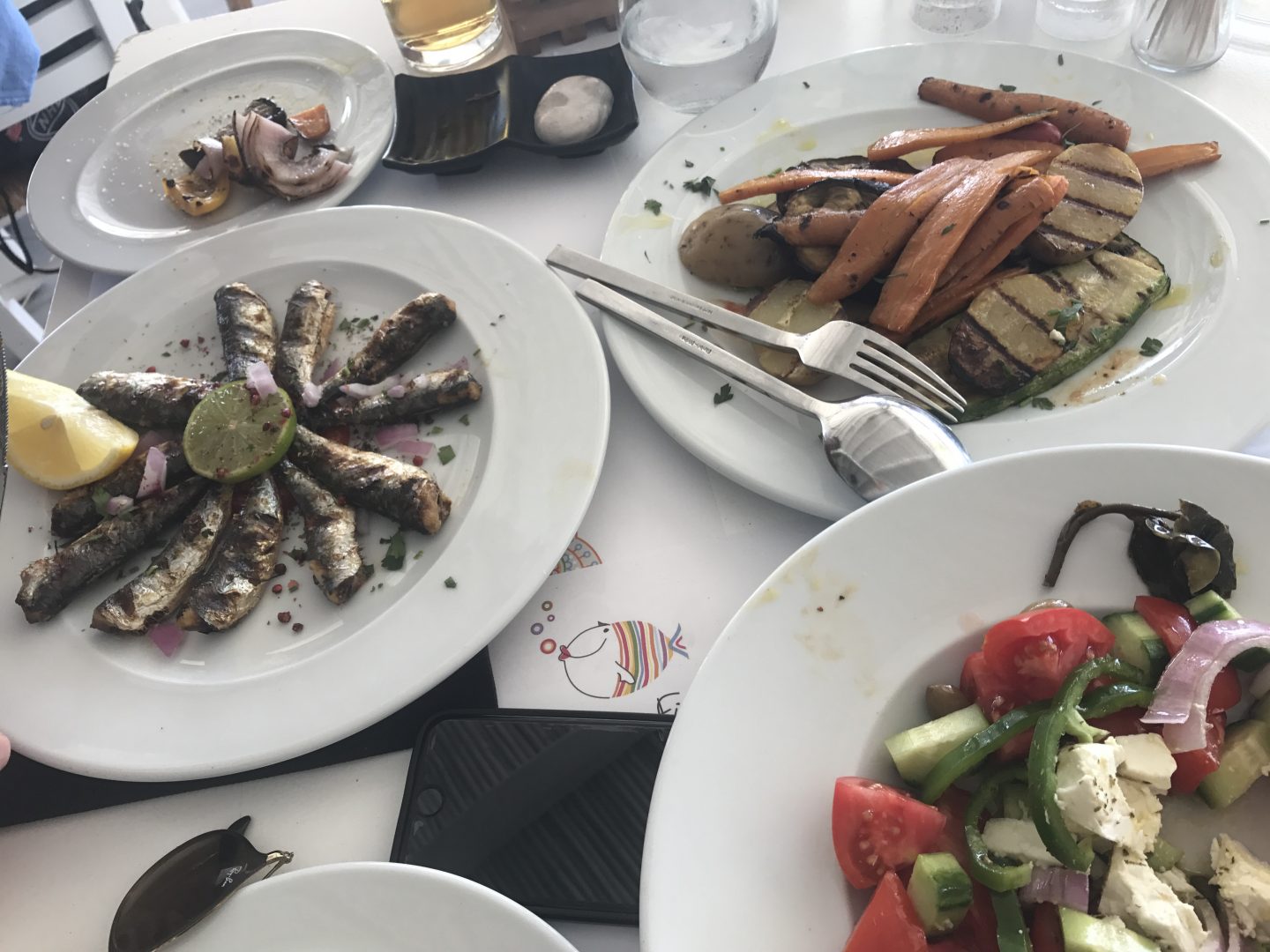 Not only is the setting gorgeous, but everything at this beach restaurant is super fresh. Located on Agois Ioannis beach, Hippie Fish serves fresh fish, veg and meats, so it is very easy to get gluten free. Just mention it to the waiter to double check but it is very clean eating, so many dishes are naturally gluten free anyway. I had greek salad (I lived off greek salads at lunchtimes), roast vegetables and Dave had sardines. Yum!
Anios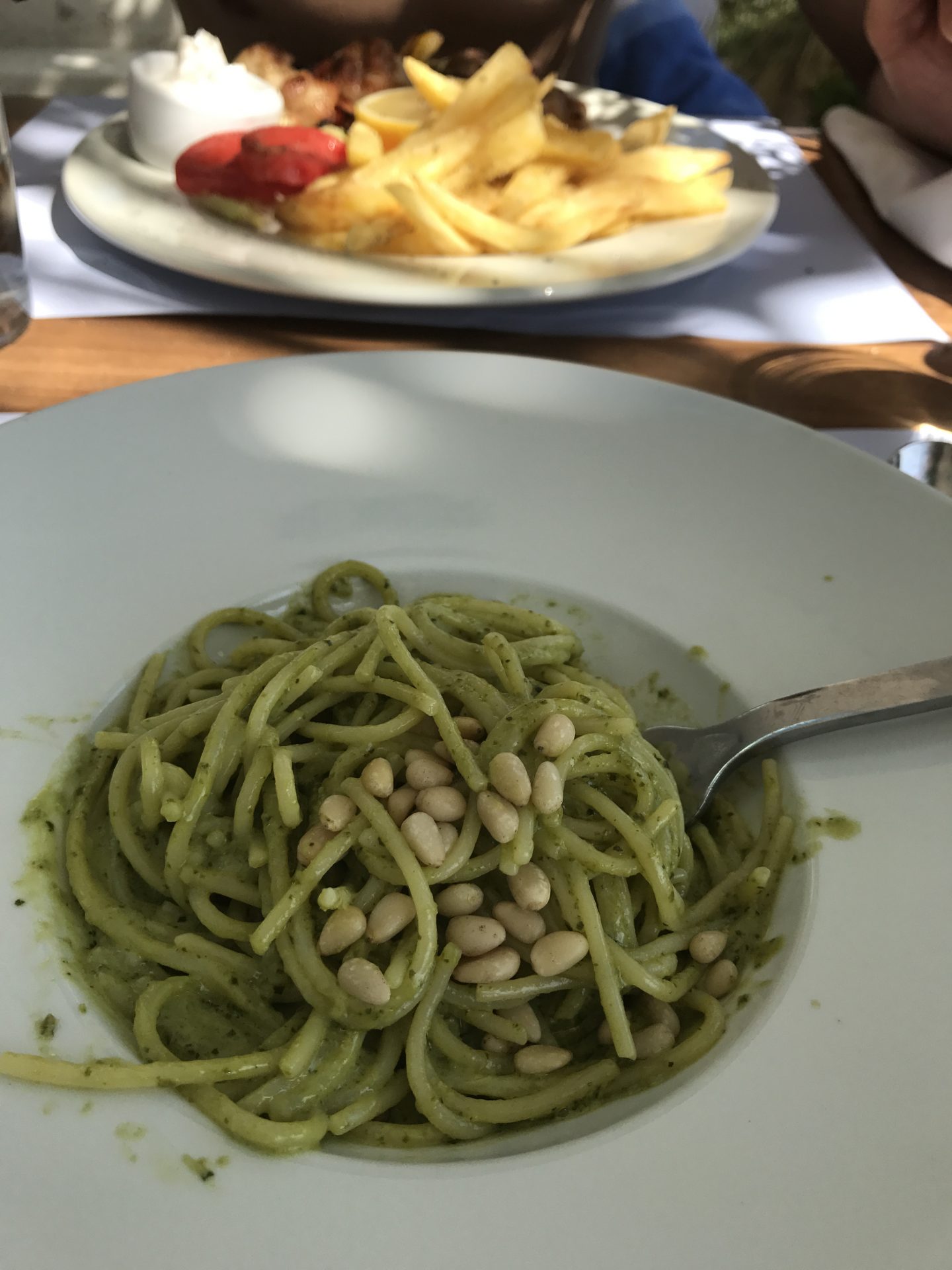 We spent the day at Platis Gialos beach and happened to stumble across this restaurant and found that they also did gluten free spaghetti which was awesome. Although the portion was small, it was very delicious and actually a not bad size for a light lunch. The restaurant was clean and very pretty with a large front terrace overlooking the beach, it was sophisticated looking yet the dress code was casual and the prices seemed in keeping with everywhere else (beware Mykonos in general is fairly pricey). I would recommend stopping here for lunch if you are spending the day at this beach!
Fokos Taverna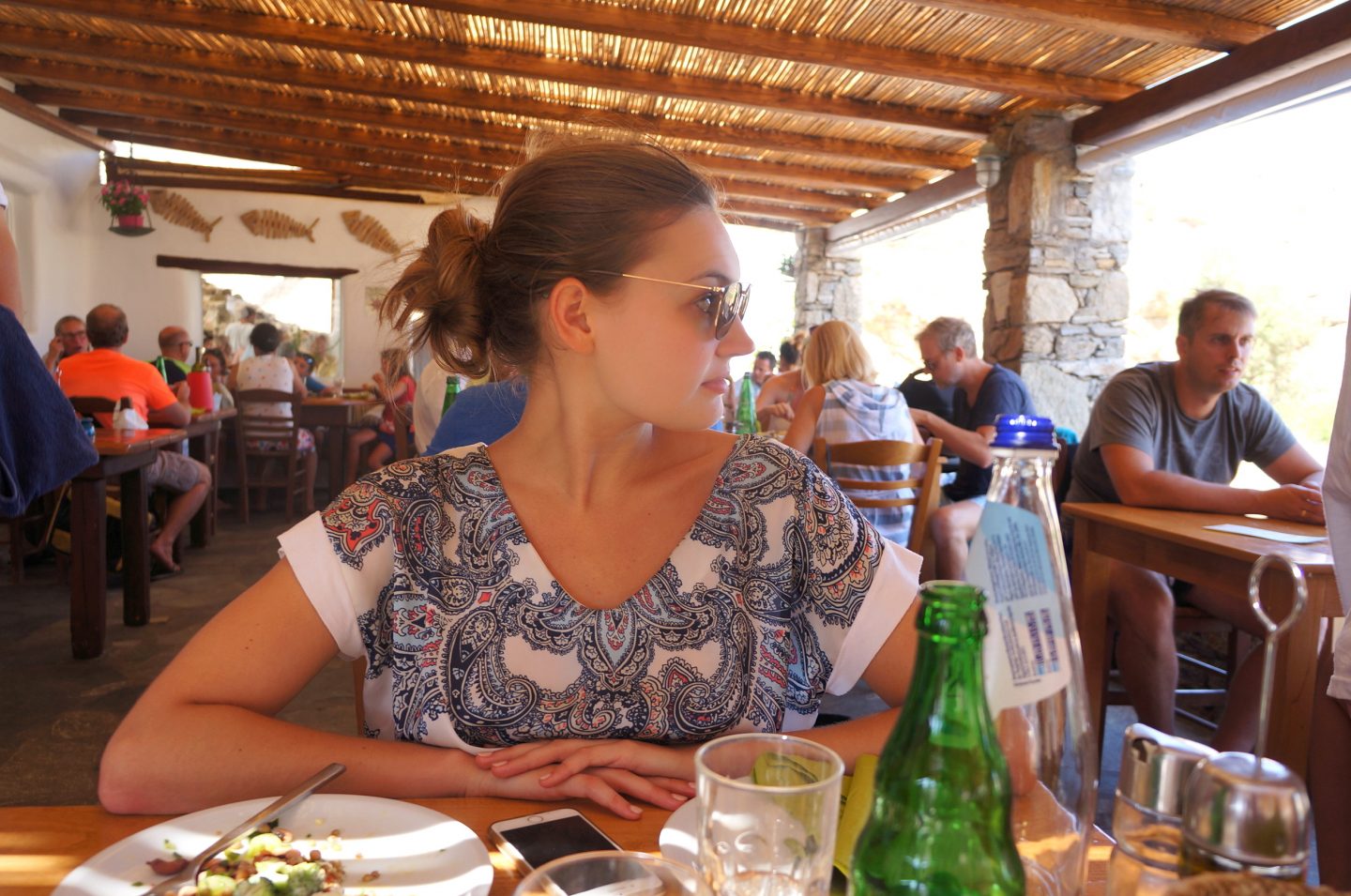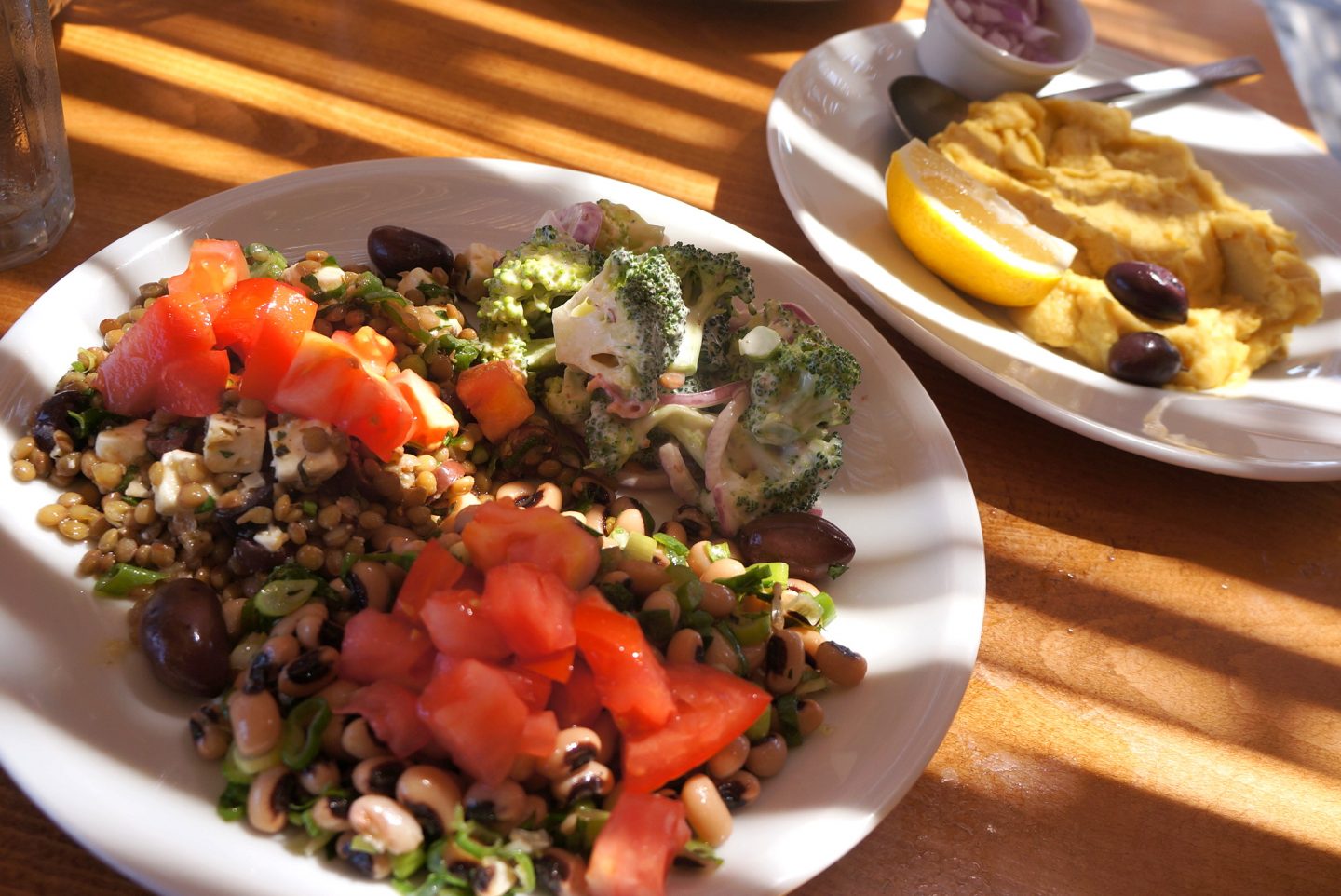 This was a real find, I believe it was classed as a 'secret' tavern… but a secret no more! Not only should you head over to Fokos because of the quiet, undisturbed beach, but just to visit this gem. Directly adjacent to the beach, this taverna serves some fantastic food. Part of the menu allows you to pick three options from a list of appetisers to have on one plate, as a main meal. I chose the broccoli and bacon and the lentil and chickpea salads. It was one of the freshest, healthiest and most delicious lunches we had on the holiday. I also had 'fava' which is a traditional greek split pea puree, served with olives and lemon juice, it was AMAZING and naturally gluten free. The waiters were super helpful and made me feel very at ease and confident I wasn't going to get glutened!
Salparo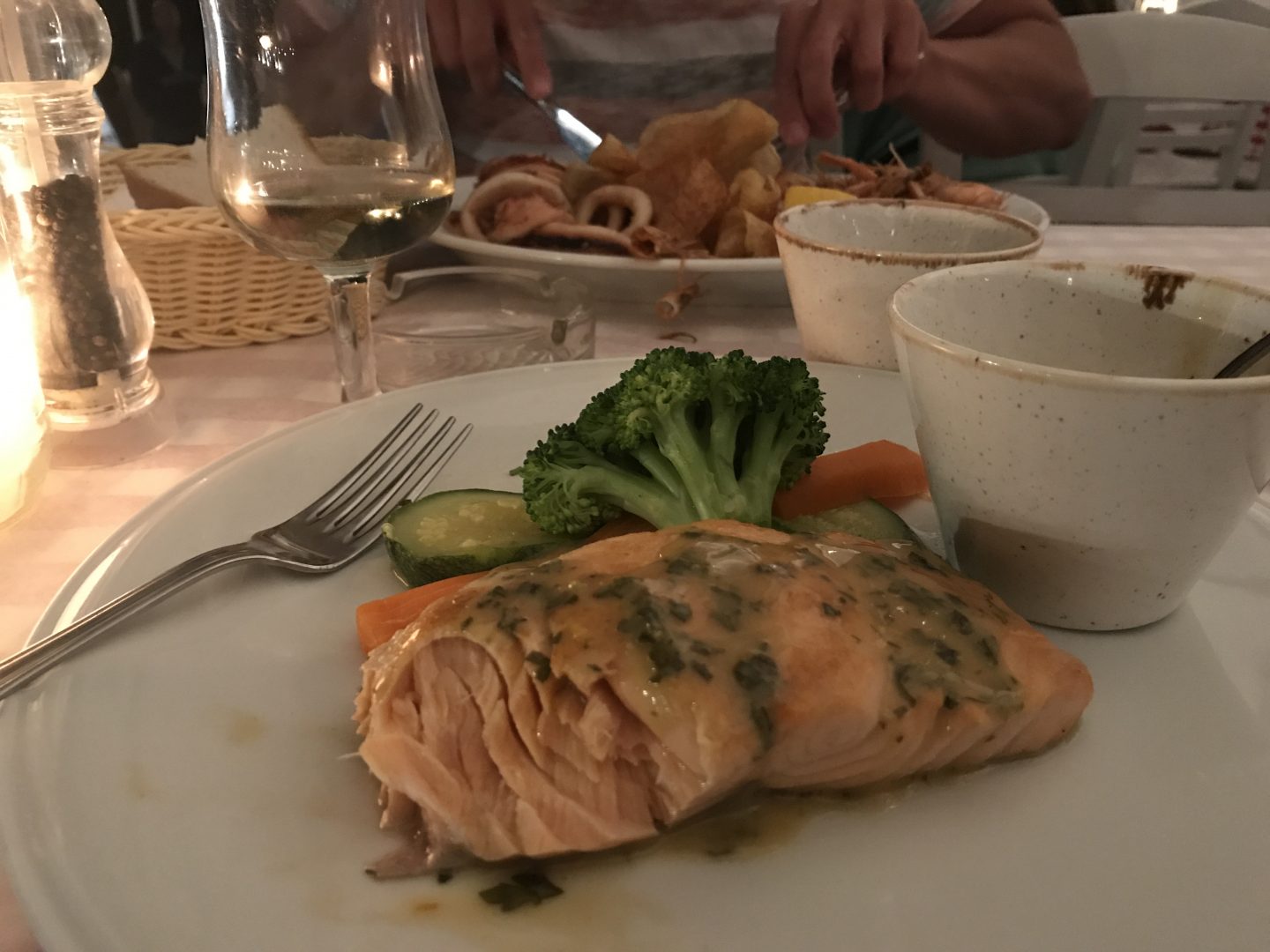 Salparo didn't have set gluten free options but I have to mention them as they were so helpful in accommodating our needs, the setting is also very beautiful for dining out in the evening. I had a lovely piece of salmon which they did with a separate sauce on the side, which was clean, fresh and delicious. This restaurant was a good example that even without a huge awareness of gluten free / coeliac etc they were more than happy to accommodate.
Walking around Mykonos you will find people try to pull you into their restaurants, usually having a representative outside trying to advertise their menus. When they do this, use the opportunity to mention you are gluten free and they are usually very helpful in finding you something and you can then decide if it tickles your tastebuds!
I also found the supermarkets in Mykonos sold gluten free pasta! Fusilli, penne and spaghetti! Amazing. Great for if you plan on self catering.
I would strongly advise before travelling anywhere to download the 'GF Card' app. This is an app that translates the meaning of coeliac disease and lists the foods we can and cannot eat, along with the risks of cross contamination and measures that need to be taken, into any language. This is then something you can show the waiter / waitress to ensure they know exactly what you are talking about. See HERE