Churros, a fried choux pastry, typically associated with lots and lots of gluten, but not in this case!
Fluffy on the inside and crispy on the outside, these doughy sweet treats are simply to die for and you wouldn't believe they are gluten free! The use of xanthum gum in this recipe helps to create the perfect dough texture – fried and coated in sugar and cinnamon, these delicious pastries are the real deal! They require surprisingly few ingredients and the results are amazing!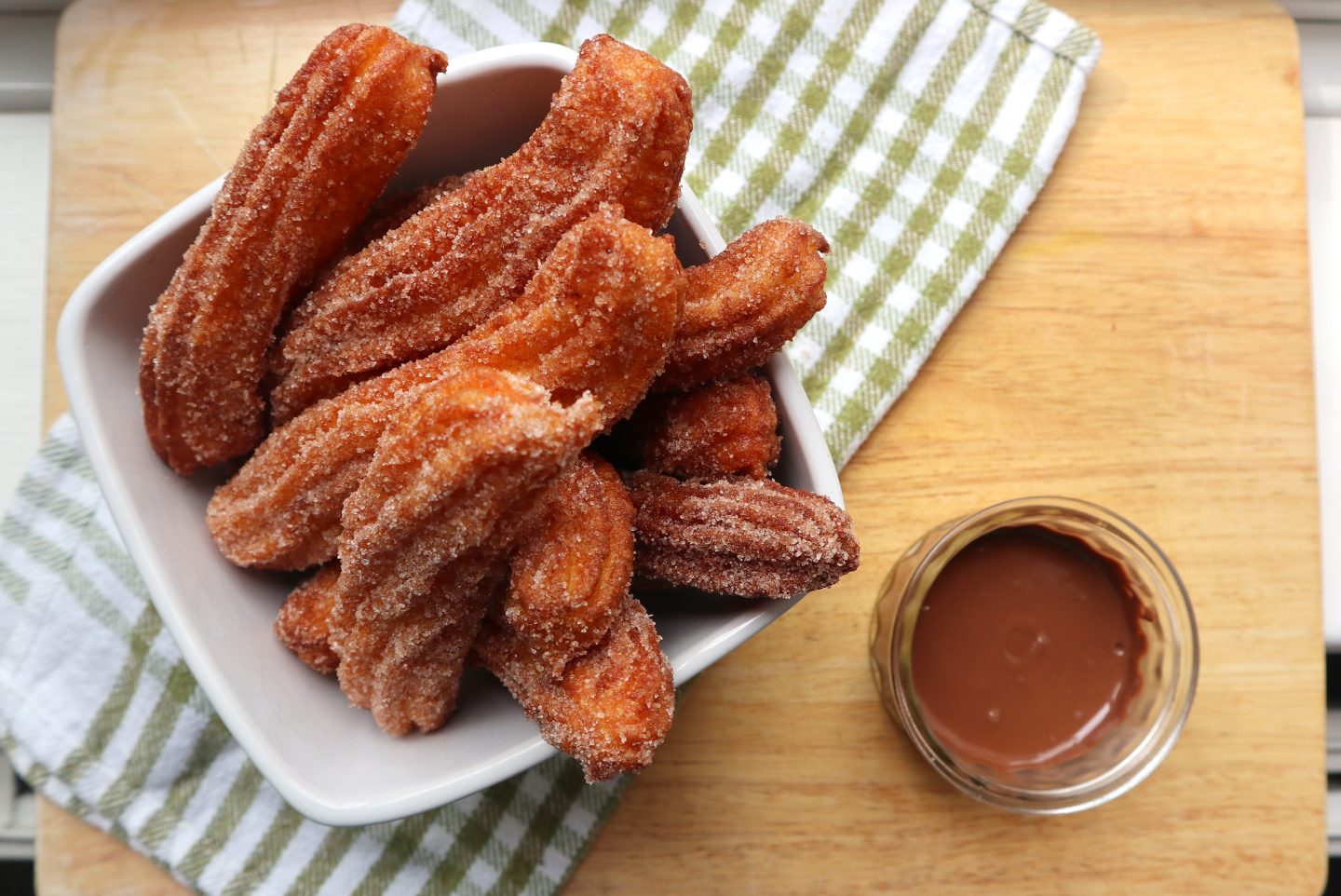 Have a go at the recipe:
INGREDIENTS
250ml milk
190g gluten free plain flour (I am using Doves Farm)
50g butter
2 pinches salt
4 eggs
1/2 a teaspoon of xanthum gum
Sunflower oil for frying (approx 2 inches deep in a large pan)
50g granulated sugar
2 teaspooons cinnamon
Chocolate for melting *optional
You will also need
Food processor
Piping bag with large star tip
Kitchen paper to drain
METHOD
In a medium sized pan, heat the milk, butter and salt until the butter has fully melted and the mixture is just coming to the boil. Remove from the heat.
Mix the flour and xanthum gum together, sift and add to the pan. Stir vigorously for approximately 3 minutes. This will be a good arm workout! I have found it helps to alternate the job between you and a friend! Return the pan to the heat and continue to mix vigorously until the mixture begins to form into a ball. It will be very sticky. Set aside to cool for around 5 minutes.
Using a food processor, add the dough and the eggs (I tend to crack them in a bowl or jug first to avoid mixing in any shell). Blend well until fully combined and you have a lighter dough and the egg is fully incorporated.
Transfer the mixture to a piping bag with a large star tip.
Heat the oil until a tiny bit of batter sizzles on contact. I always do a test piece first. Keep the heat at a medium temperature, too hot and the churros will burn on the outside and not cook through in the middle.
Pipe a 4-5 inch line of batter into the oil, snip with a pair of scissors where the churro will end. They may not all be straight, but that is fine! After two minutes, flip the churro gently and let it cook on the other side. It should be a deep golden brown colour.
Once cooked through and golden all over, remove from the pan with a slotted spoon and set aside on some kitchen paper to drain.
Have the sugar and cinnamon ready (combined) on a separate plate. Roll the cooked (still warm) churros in the sugar mix to coat fully. Repeat until you have no mixture remaining!
Gorgeous on their own, but also traditionally served with chocolate sauce… I melted some chocolate to create a dipping sauce – super easy.
Enjoy!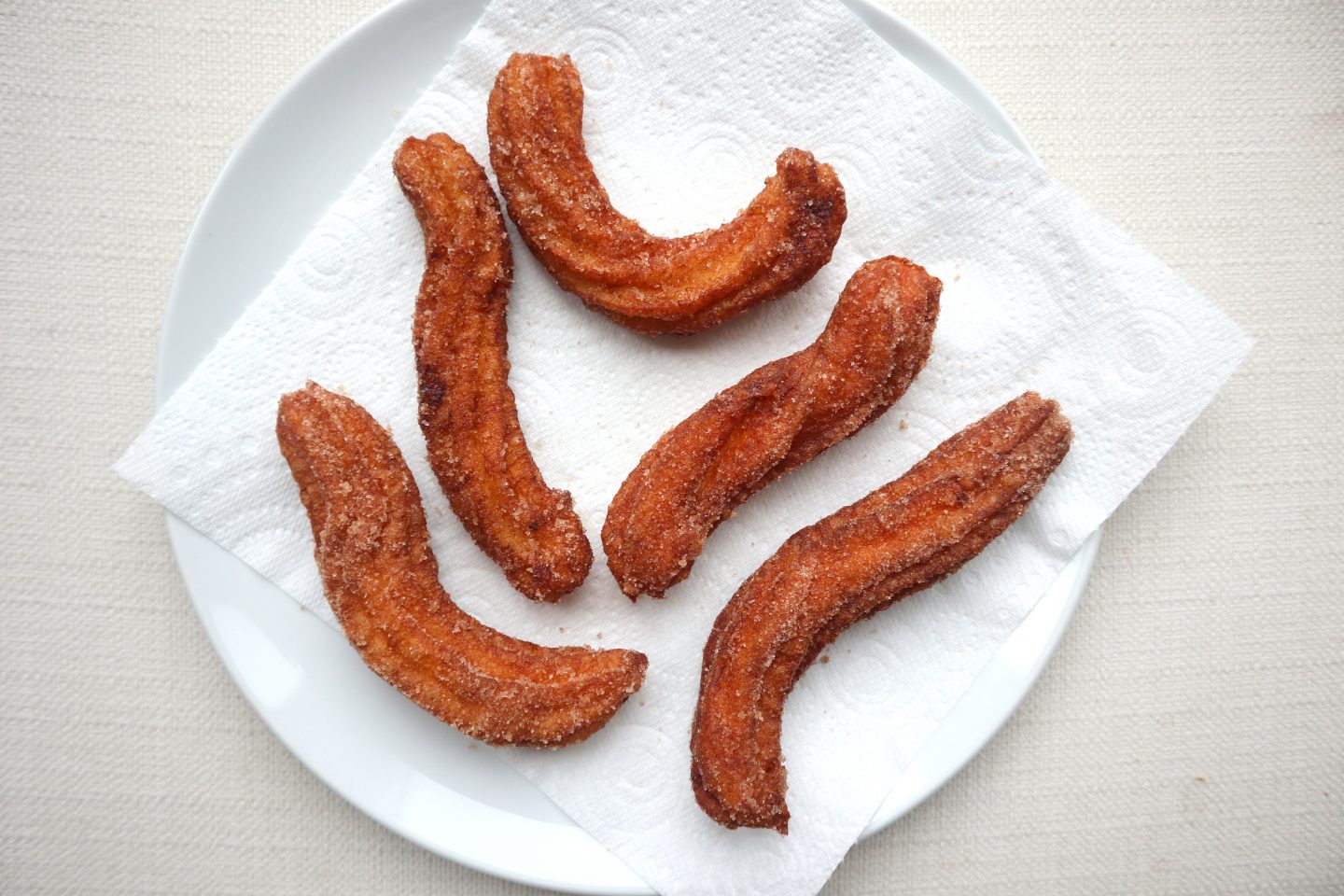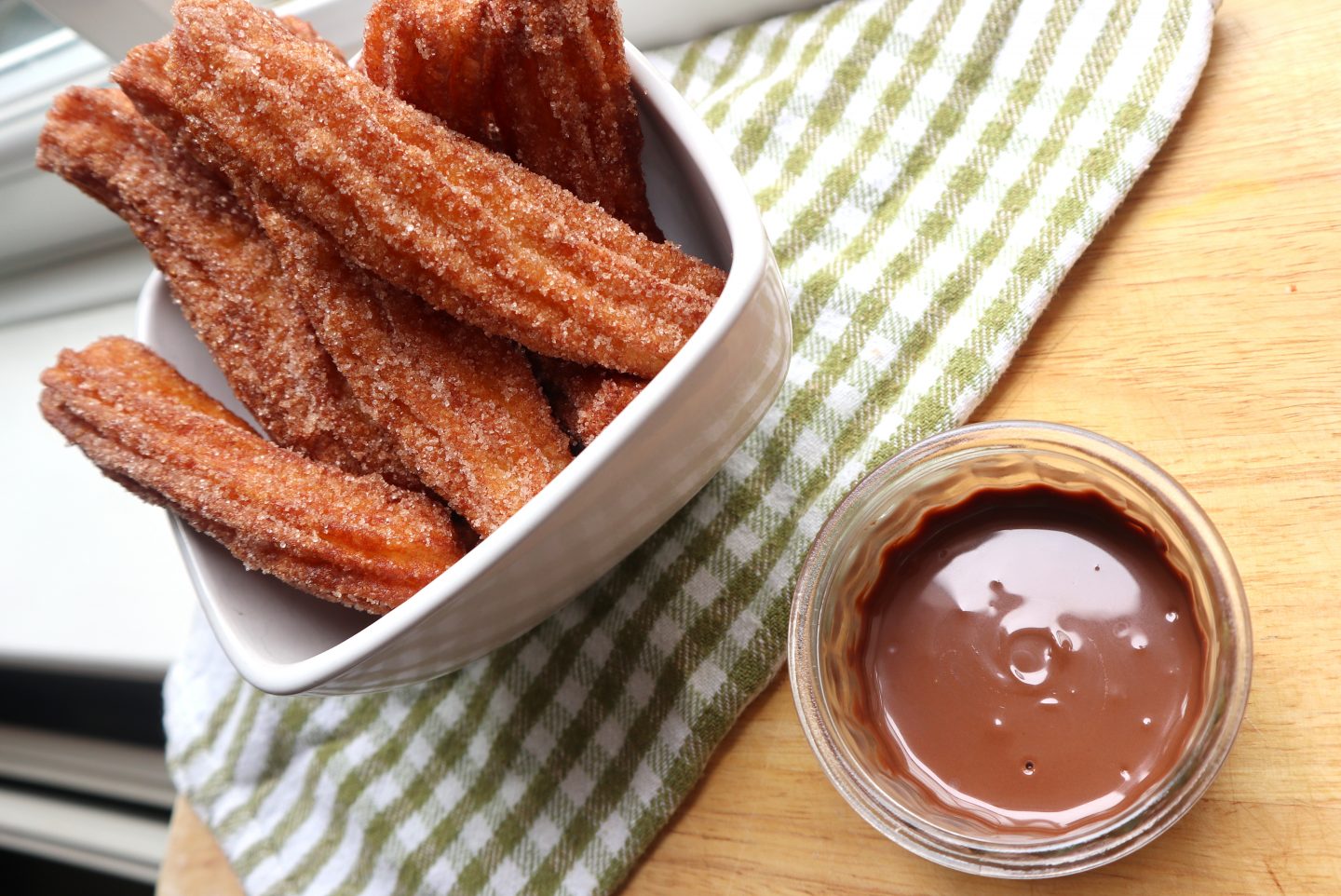 Hope you like this recipe! Stay tuned for more gluten free and coeliac friendly recipes!
K
X