I love using cinnamon in baking, I used to be obsessed with cinnamon swirls from the bakery until I was forced to stop having them (I am still working on finding a good gluten free recipe for those!). This apple and cinnamon cake is so delicious and by incorporating the fruit into the mixture it helps with the texture and stability of the cake. It remains very moist and packed with flavour.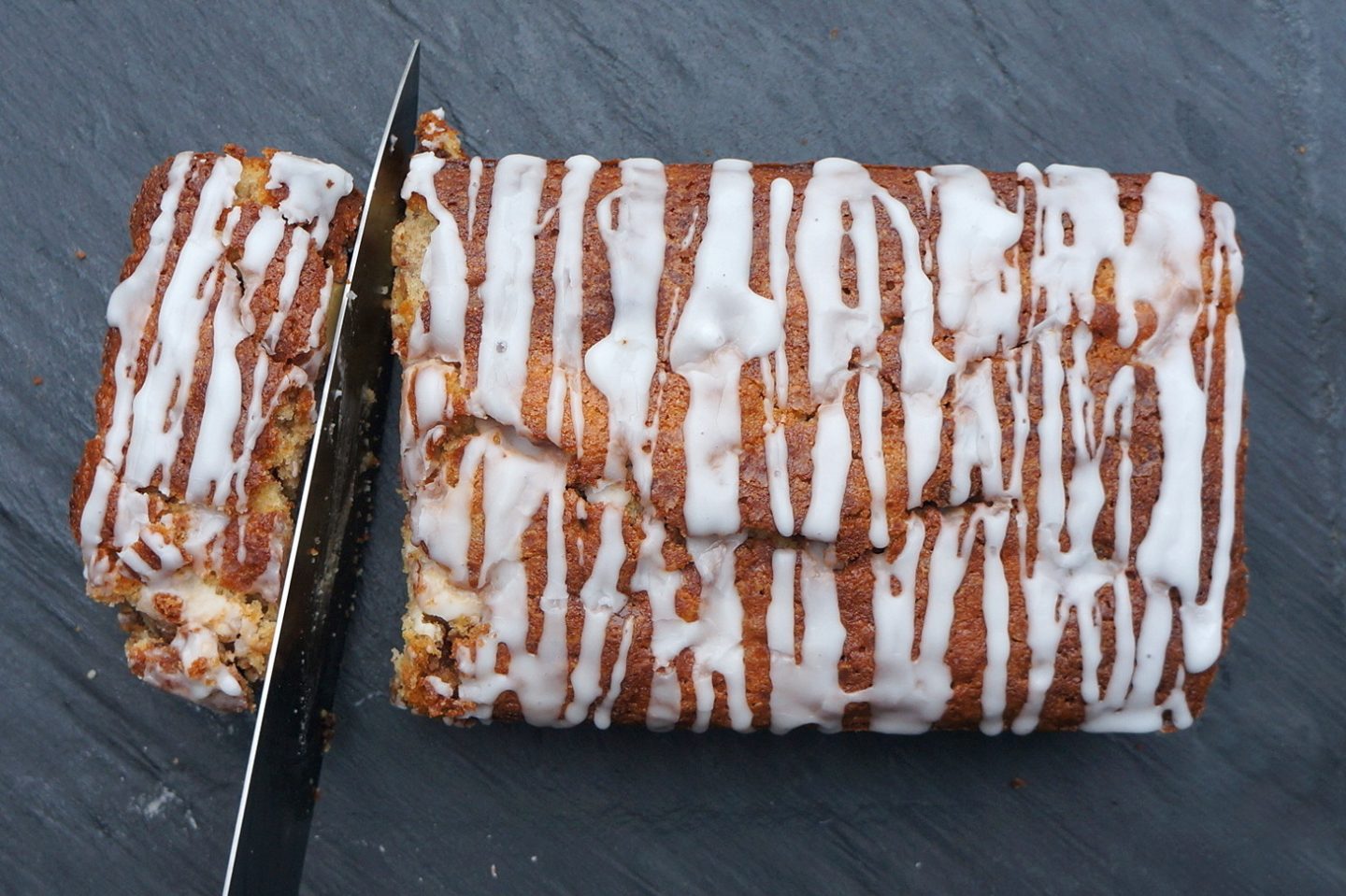 INGREDIENTS
For the cake:
150g gluten free plain flour (I am using Doves Farm)
150g golden caster sugar
150g butter
50g ground almonds
1 teaspoon baking powder
1 teaspoon vanilla extract
2 eggs
150ml milk
For the filling:
50g dark brown sugar
2 tablespoon of cinnamon
2 apples (peeled, cored and diced)
For the icing:
100g icing sugar
Water or milk to mix
METHOD
Preheat the oven to 180°C / Gas Mark 4.
Grease and line the base (using grease proof paper, cut the edges so the paper fits neatly into each corner) of a standard loaf tin.
In a bowl mix the brown sugar and cinnamon, and put this to one side.
In a large mixing bowl using an electric whisk, combine the butter and sugar until soft and fluffy.
Beat the eggs together with the vanilla and gradually add to the butter mixture a little bit at a time, beating continuously (if you add the egg mixture too quickly it will curdle).
Next beat in the flour, almonds and baking powder followed by the milk. You can use more or less milk to get the right consistency, it should be a smooth batter.
Peel and chop the apple into small chunks.
Pour half the batter into the tin, followed by half the apples and half the cinnamon sugar mixture. Try to distribute the apples evenly across the tin.
Layer the rest of the batter over the top, followed by the remaining apples and sugar/cinnamon.
Using a knife, combine / swirl the sugar sitting on top into the batter slightly to avoid too much crisping on top.
Bake for approx 40 – 50 minutes. If you can put a skewer through the mixture and it comes out clean, it is done.
Leave it to set slightly before removing from the tray, where it can finish cooling. Meanwhile make your icing, gradually add drops of hot water or milk to the icing to get a thick but smooth consistency.
When the top is cool, drizzle the icing over the top in anyway you like.
Enjoy!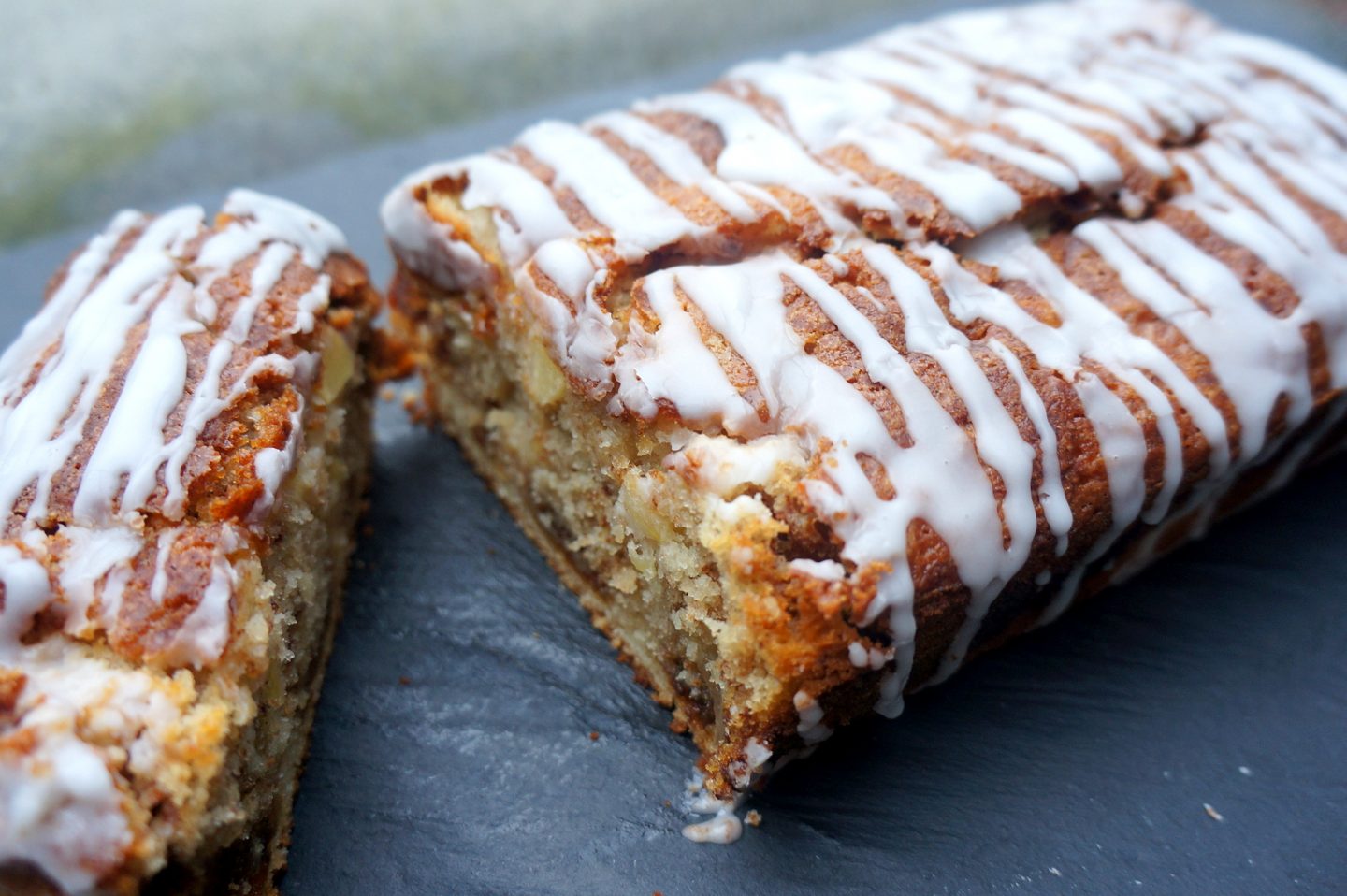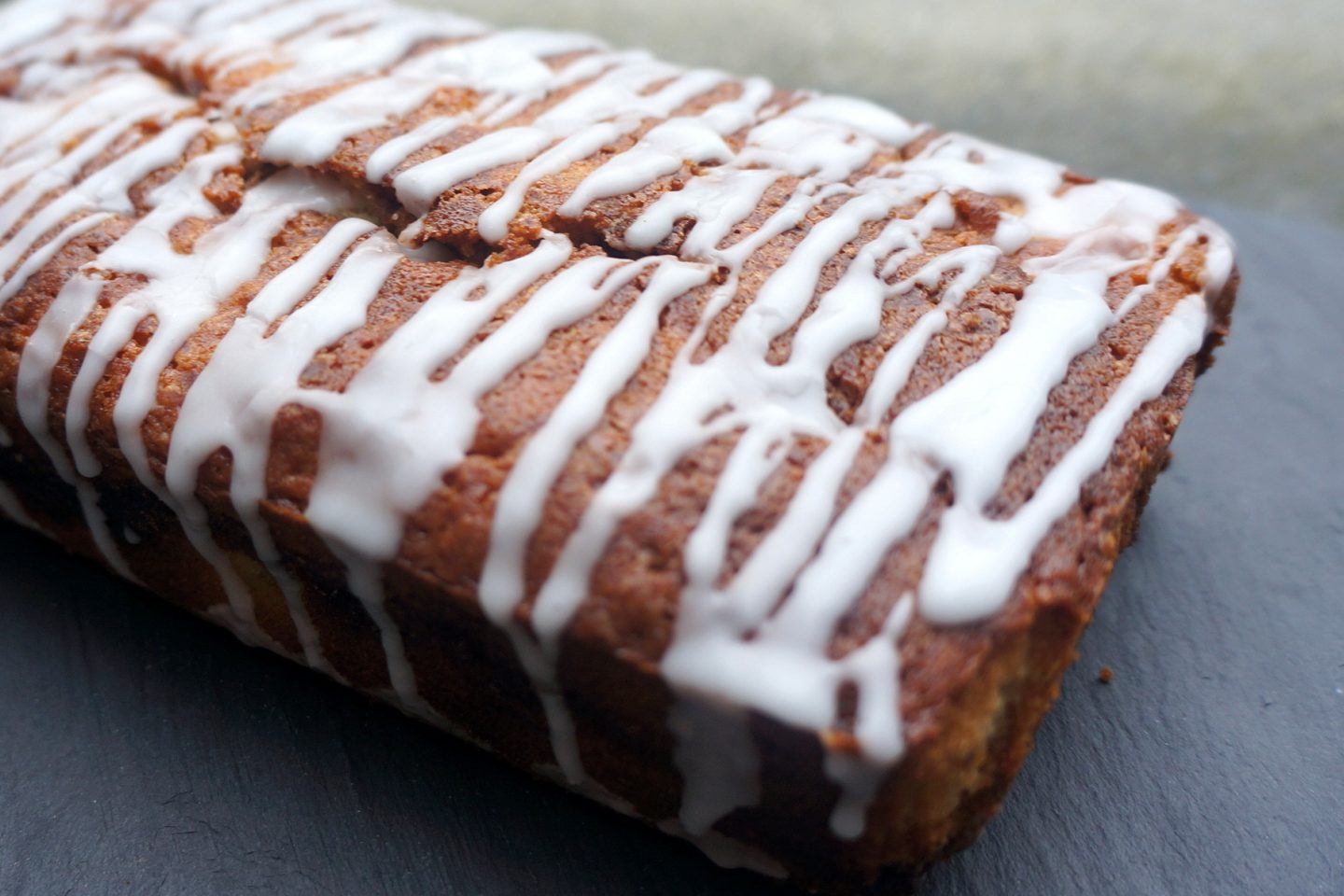 This is best served warm fresh out the oven or you can reheat it for 20 seconds in the microwave, that works too! It should keep for approximately 3 days in an airtight container.
I hope you enjoy this recipe and if you do try it, be sure to get in touch / send me a picture!!
K
X