New year, new recipes! Happy 2018!
On the 29th of December, I was a bridesmaid at my cousins wedding. It was an incredible day at a beautiful venue – see a couple of photos on my Instagram! The happy couple were kind enough to arrange my sister and I our own gluten free / coeliac friendly cakes so we didn't feel left out and they were simply gorgeous. So good infact, that I decided I to recreate the flavours in my own version at home. My mouth was watering when I first thought of lemon and white chocolate in a cake. Something about the sweet, velvety white chocolate alongside the tart lemon is total heaven!
Taste it for yourself with my gluten free recipe:
INGREDIENTS
Makes between 12-15 fairy cakes
For the cakes:
115g / 4oz Butter (softened)
115g / 4oz Caster Sugar
115g / 4oz Gluten Free Self Raising Flour (I am using Doves Farm)
2 Eggs
2 tablespoons milk
1 teaspoon vanilla extract
Optional: The juice and zest of x1 lemon (if you want to add lemon flavour into the sponge)
Also:
Lemon curd
Paper cake cases (Fairy or cup cake size. Fairy will make more, smaller sized cakes)
Any decoration you please (I am using small sugar flowers available at Tesco)
For the icing:
200g white chocolate (be sure to check the packaging to make sure it is gluten free – most cooking chocolates are)
175g Icing Sugar
175g Butter (unsalted)
METHOD
Preheat the oven to 180°C / Gas Mark 4. Lay out your cases on a baking tray.
Whisk (preferably using an electric whisk) the butter and sugar together until light and fluffy.
Very gradually add the eggs and vanilla extract, slowly, a little at a time or the mixture will curdle. Followed by the flour and combine again.
Add the milk, lemon juice (if using) and whisk to make a smooth cake batter.
Fill the cases, approx ¾ full so they have room to rise.
Bake in the middle of the oven for 13-15 minutes, or until turning golden. Turn them around during baking if you need to, to get a nice even bake.
If you can poke a skewer through the sponge and it comes out clean, the cakes are done.
Remove from the oven and leave to cool.
Make the icing. Melt the white chocolate in a bowl over a pan of boiling water, this will make sure it melts gently to leave a lovely smooth consistency. Keep stirring until fully melted and remove from the heat, set aside to cool.
Whisk the butter on high for a good 4-5 minutes, this will make the butter light, fluffy and pale in colour. Gradually add in the icing sugar and keep beating. Once the chocolate has cooled and reached room temperature, add it to the butter icing and whisk thoroughly, until you have a smooth, delicious icing. If you need to amend the consistency for piping, you can add milk to loosen slightly, or icing sugar to make it a little stiffer.
Once the cakes are cool, cut out holes in the tops (as if you were making butterfly cakes) and fill with a small spoonful of lemon curd, before returning the sponge back on top. Don't cut all the way down as this will make the base soggy.
Put the mix into a piping bag and pipe onto your cakes as desired. Decorate as you please, I finished mine with some sugar flowers I picked up at Tesco.
Enjoy!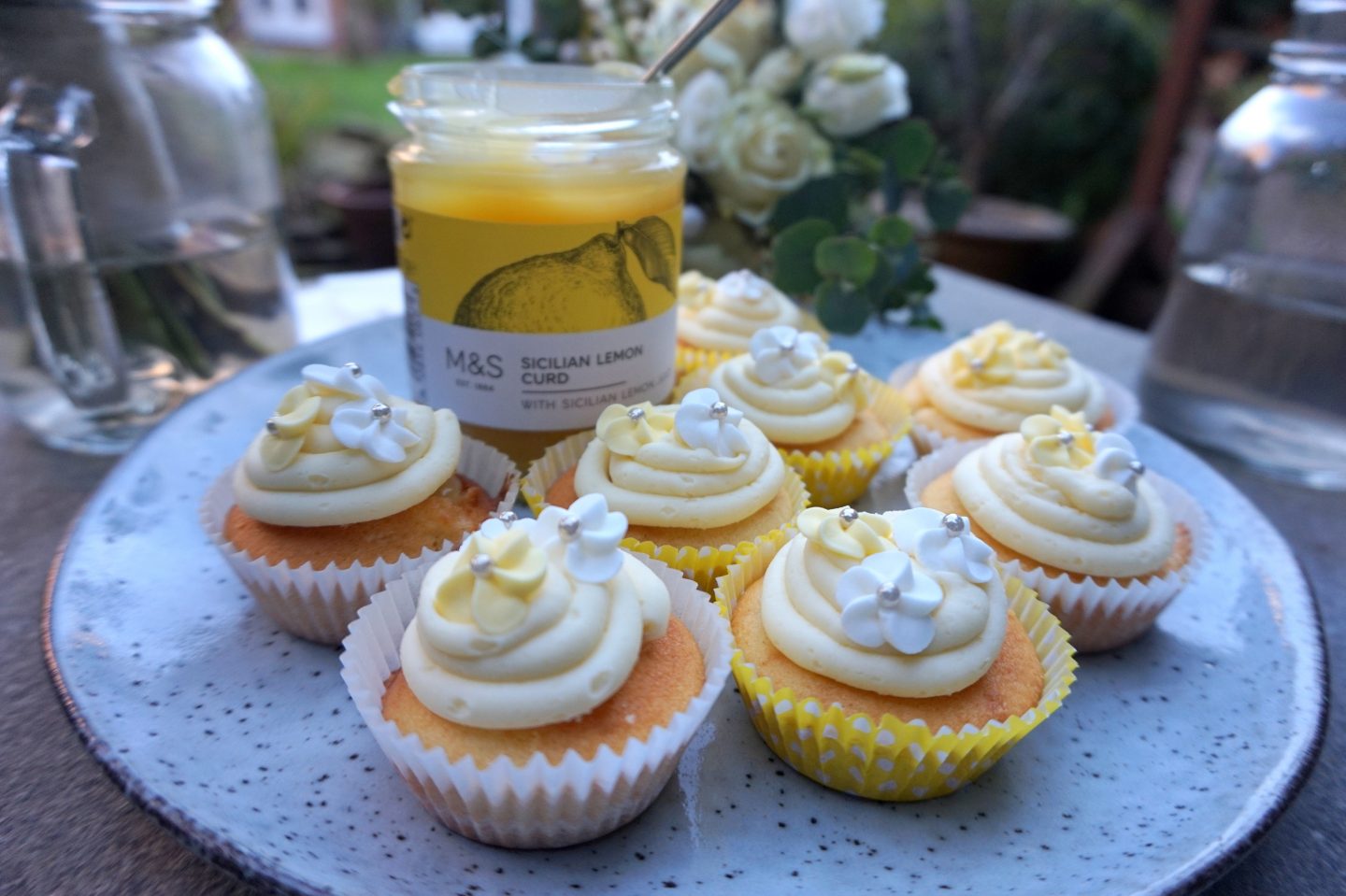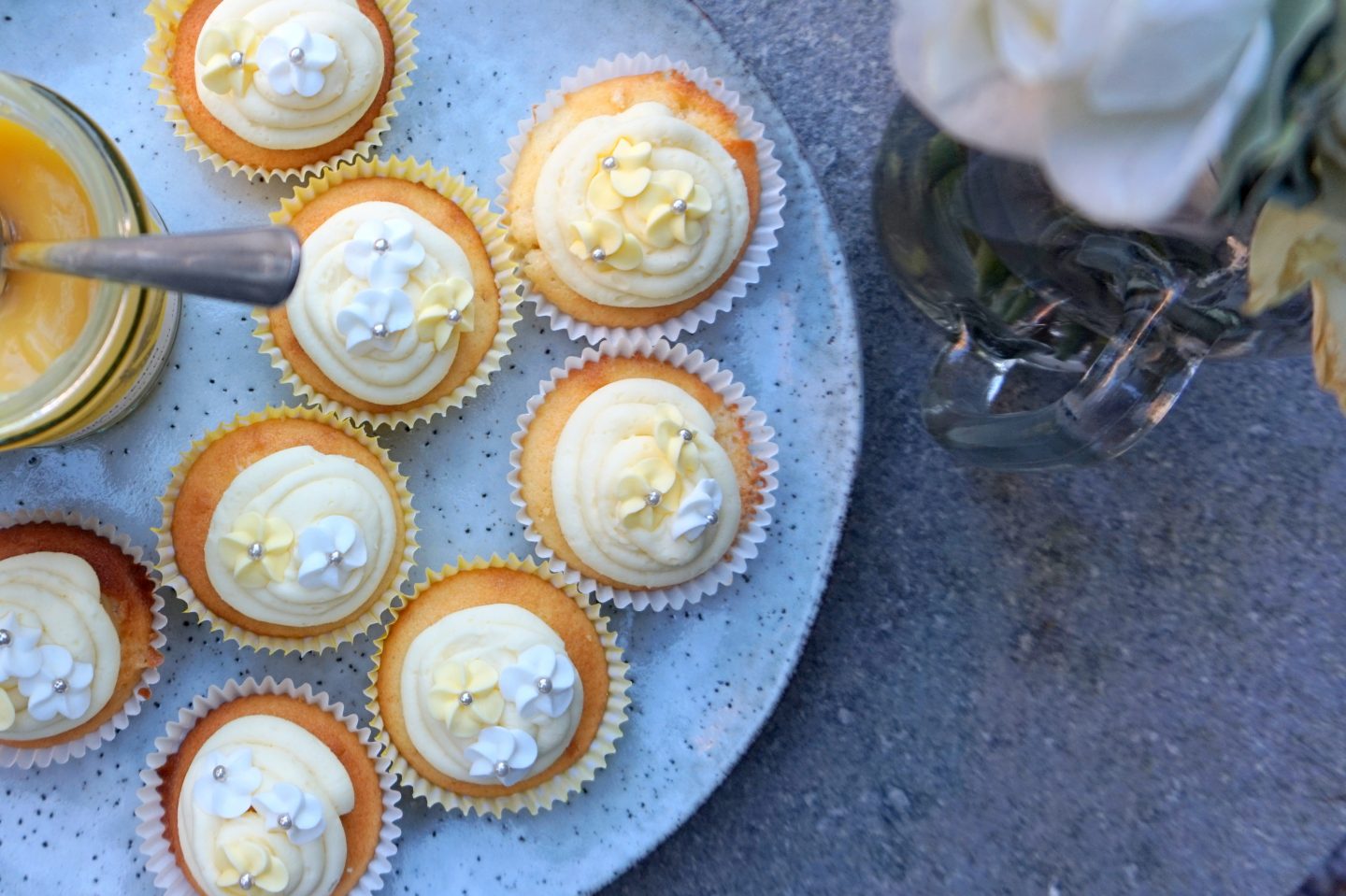 These cakes are dreamy. White chocolate and lemon is a match made in heaven and I promise your friends and family will be asking for more! Coeliac or not! This year, I will be working on plenty of new gluten free recipes. Sweet, savoury, healthy & indulgent… so hopefully there will be something for everyone! Let me know what recipes you might like to see next.
K
X