A mexican classic that can very easily be made gluten free, without compromising on deliciousness! The key is the sauce, this super easy enchilada sauce will take your dish to the next level, leaving that fresh and authentic taste you just can't replicate with a shop bought sauce. B-Free do some of the best gluten free wraps around and they work perfectly in this dish.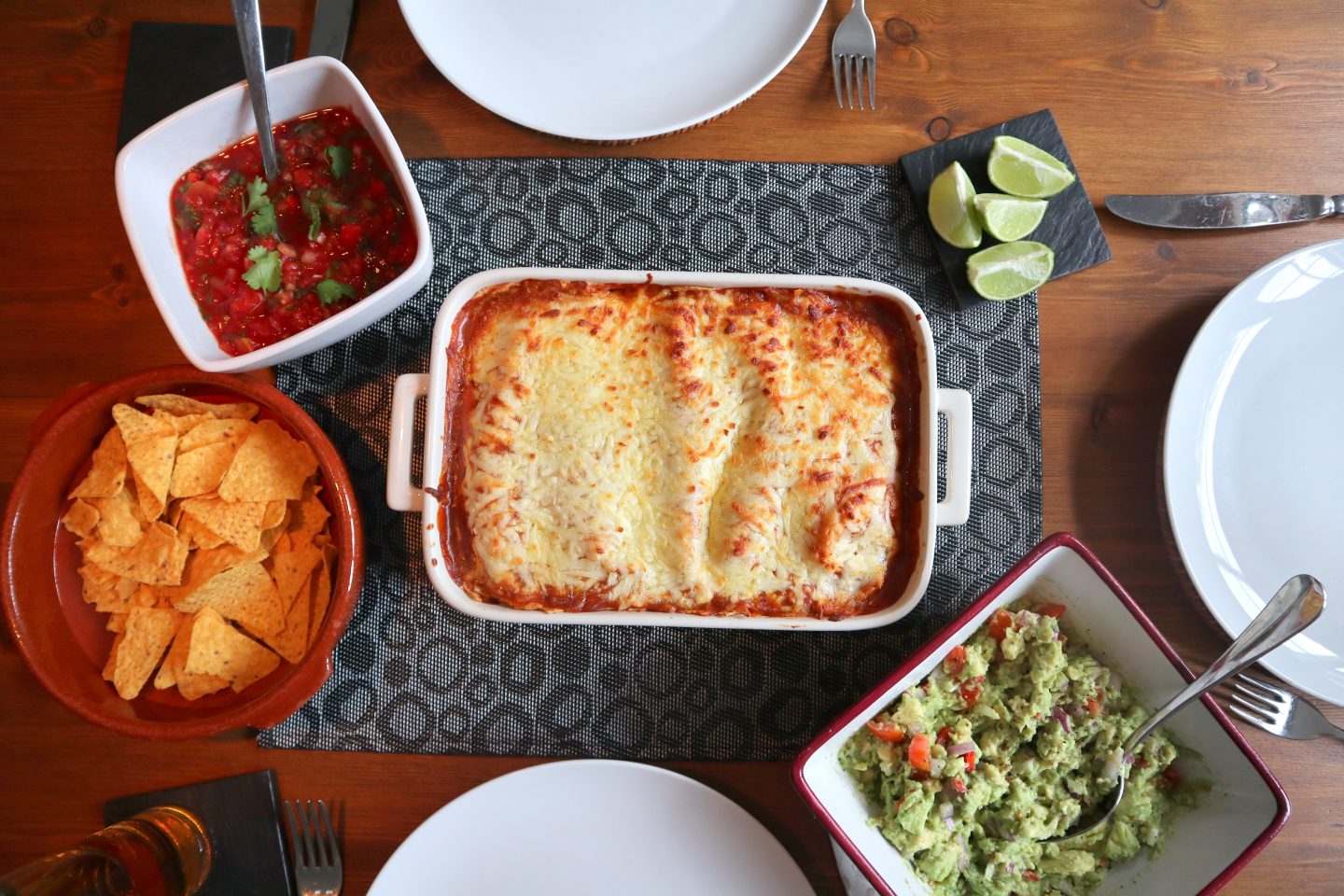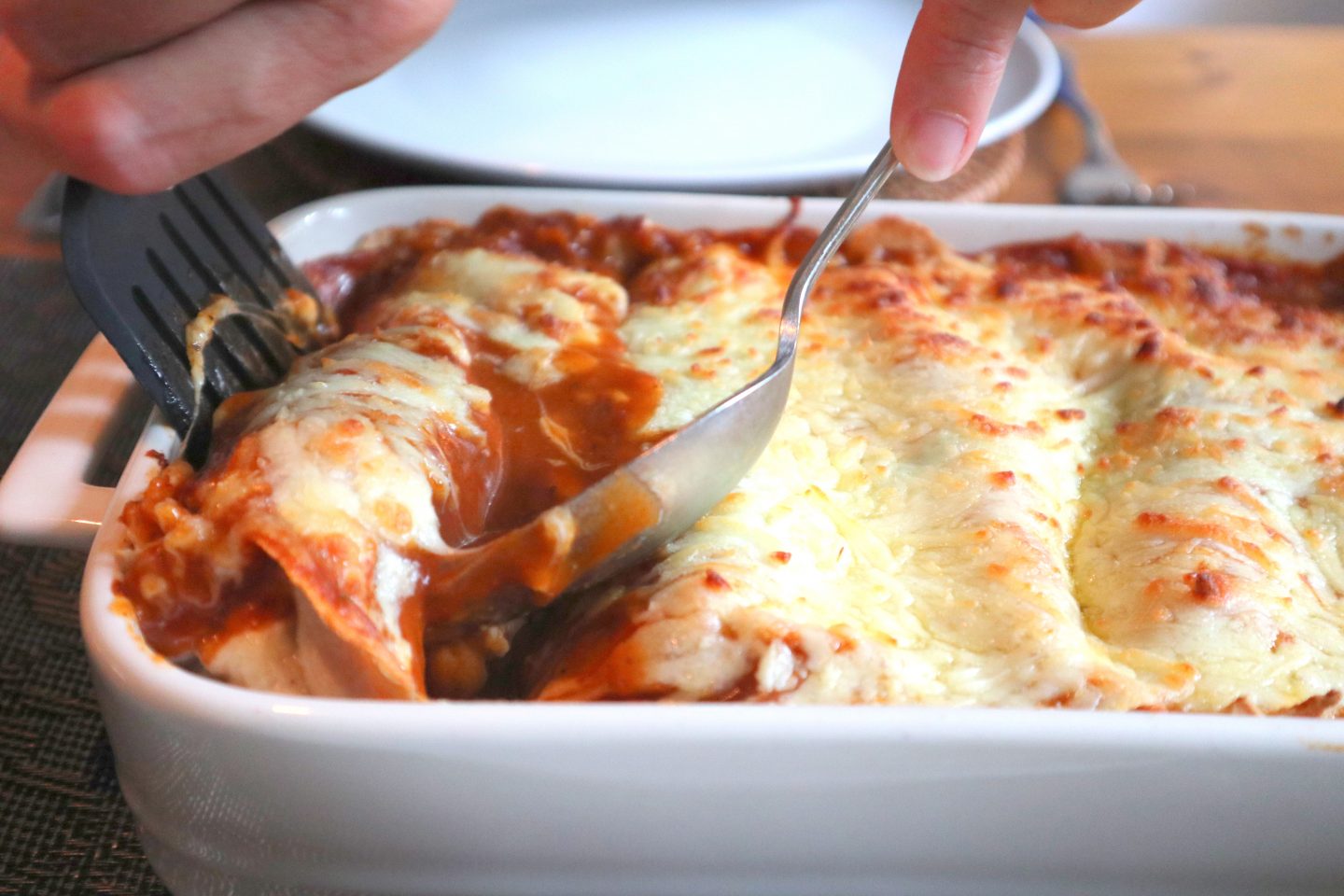 Try it for yourself:
INGREDIENTS
6 gluten free wraps (I am using B-Free, found in Tesco, Sainsburys and other major supermarkets)
2 medium chicken breasts
Grated cheddar (1/2 a bag)
Grated mozzarella (1 bag)
For the sauce:
3 tablespoons olive oil
3 tablespoons gluten free plain flour (I am using Doves Farm)
1 tablespoon chilli powder (I use medium, use slightly less if you aren't keen on spice)
1 teaspoon ground cumin
½ teaspoon garlic powder
½ teaspoon dried oregano
2 tablespoons tomato puree / paste
500ml veg or chicken stock
1 tablespoon white wine vinegar
Salt & Pepper to season
METHOD
Preheat the oven to 180C. Lightly season the chicken breasts with salt & pepper, and bake on a tray in the oven (cover with foil to prevent the chicken from drying out) for 20-25 minutes until cooked all the way through.
Meanwhile, make the sauce. Measure out all the dry ingredients (flour & spices).
Measure out the stock. I use Knorr – it is my favourite gluten free stock brand.
Heat the oil in a pan for a couple of minutes, until it is as hot as can be without burning. Pour in the flour and spice mixture and whisk constantly, cooking for 1 minute.
Then add the tomato puree and white wine vinegar, whisking constantly again to form a paste. Then pour in the stock, again whisking non-stop to get rid of any lumps and form a smooth sauce. Keeping the heat high cook for 5 minutes, before reducing down and keeping on a low simmer for 5 – 10 minutes (stirring often) until the mixture has thickened. Season as required.
Once the chicken is done, remove from the oven, let cool slightly before shredding the meat with 2 forks. Place into a bowl.
Taking one wrap at a time, fill with the shredded chicken and generous amounts of both types of cheese (mozzarella and cheddar) before rolling up and placing in the bottom of an oven proof dish. Repeat until you have filled the base of the dish with wraps (push them up against each other).
Taking the sauce, pour this into the dish, evenly covering all the enchiladas. Finish with generous amounts of cheese (again, both kinds) and cook in the oven for 10-15 minutes until the cheese is completely melted.
Serve with all the usual delicious Mexican accompaniments: guacamole (see my recipe HERE), salsa & sour cream!
Enjoy!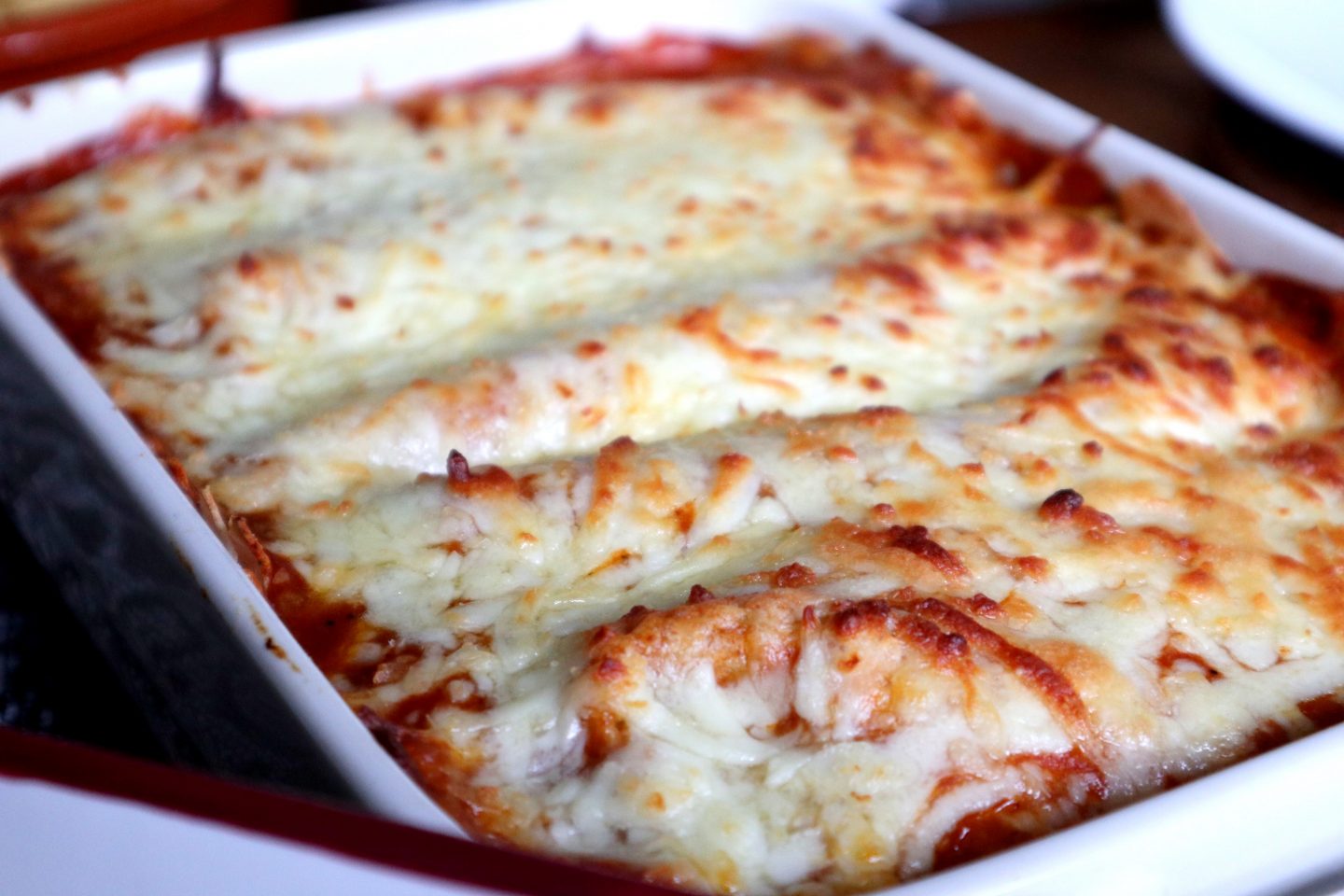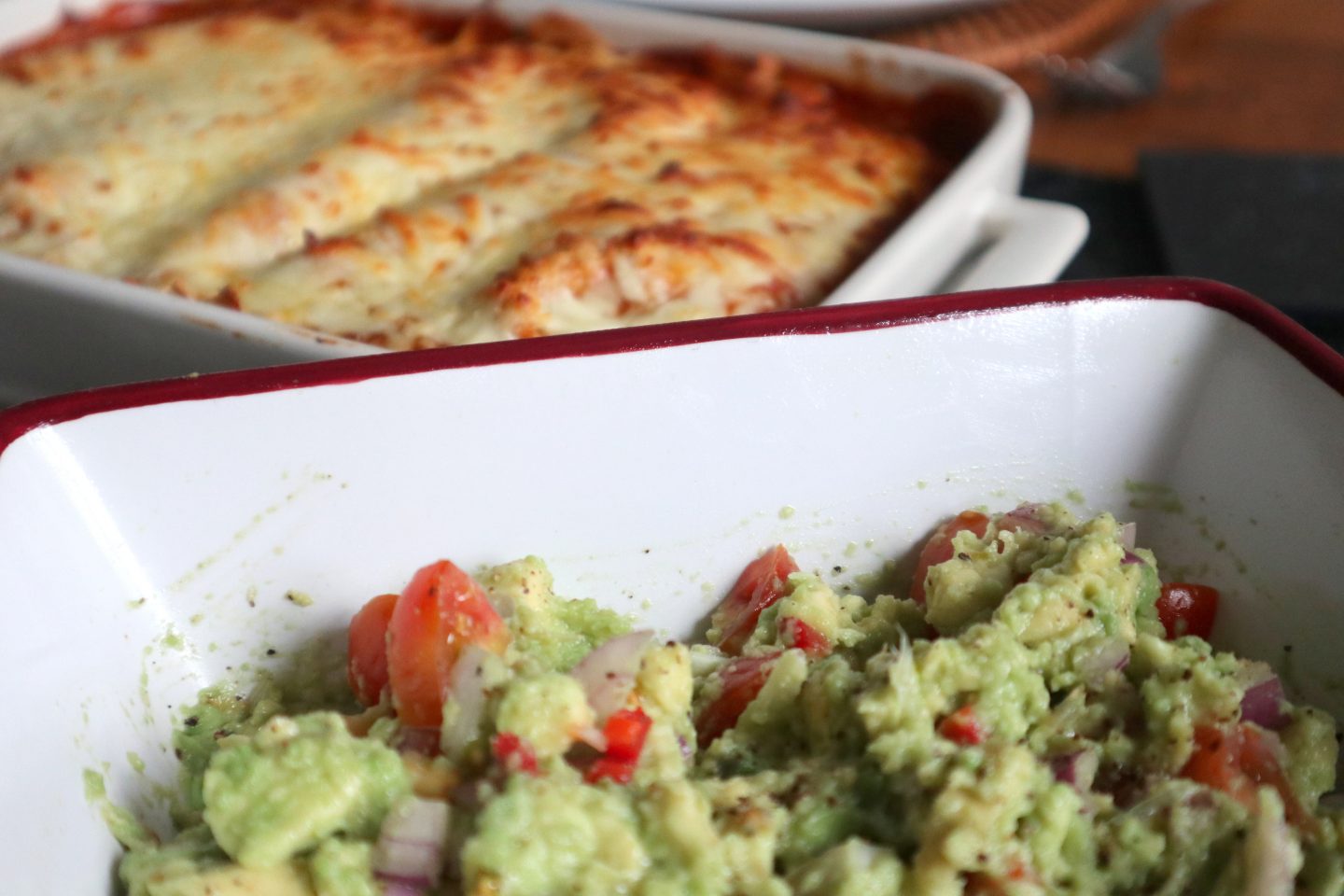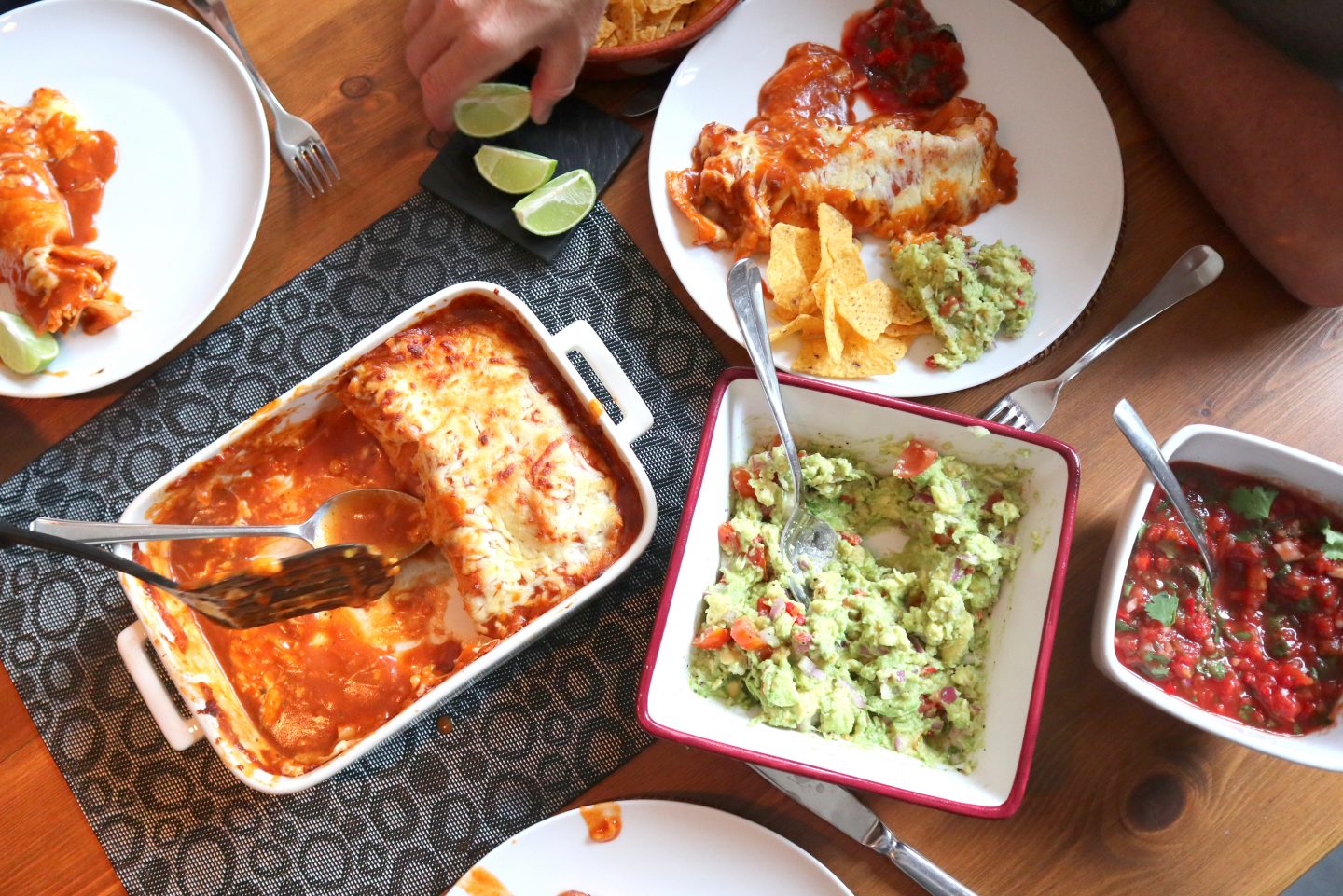 What I love about this recipe is that you can fill them with whatever you like, such as veg or other meats! I hope you love this recipe as much as I do! Let me know what gluten free meals you want me to create next!
K
X