It is an absolute must to have a good chocolate cake recipe stored away somewhere in your baking books. This gluten free cake is moist, pretty to look at and so moreish. This is by far the best chocolate cake I have made to date and is perfect to whip up for any occasion – it makes a great birthday cake! I always find homemade cakes taste so much better than store bought, and this honestly doesn't take long to make at all. – it is surprisingly quick and still looks impressive!
Adding yogurt to the batter is my trick to keeping the sponge nice and moist, we all know how fast gluten free cakes can dry out! Along with using some apricot jam on tops of the cakes before the icing, this will seep into the sponge to leave a lovely moist and less powdery texture.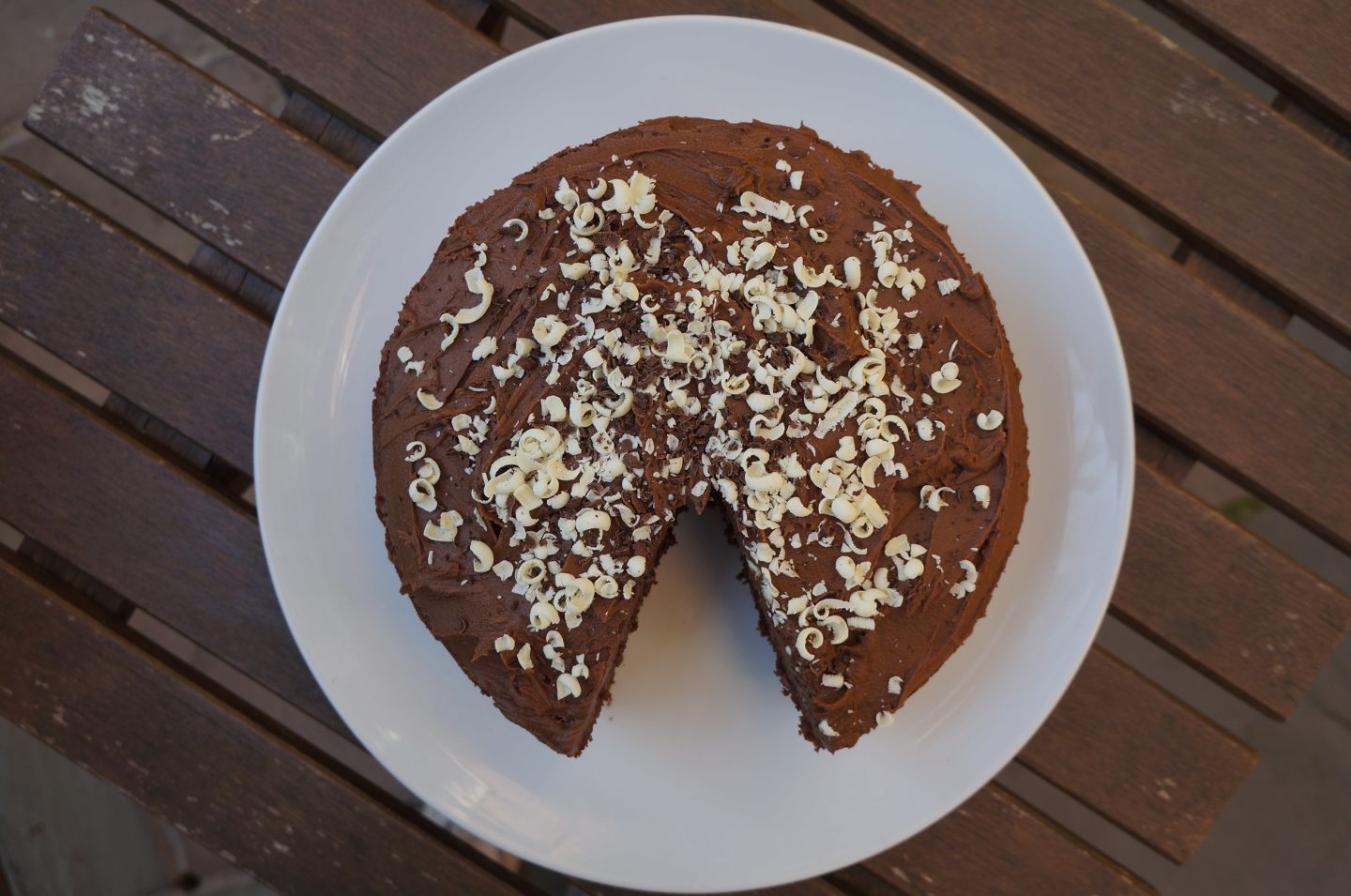 Ingredients
175g / 6oz butter
175g / 6oz caster sugar
175g / 6oz gluten free self raising flour
50g / 2oz cocoa powder
4 tbsp boiling water
1 level teaspoon baking powder
1 tablespoon natural yoghurt
3 Eggs
For the icing / topping:
50g / 2oz dark chocolate (double check it is gluten free)
100g / 4oz butter (unsalted)
200g / 7oz icing sugar
Couple of drops of vanilla essence
Apricot jam

Method
Preheat the oven to 180C / Gas Mark 4. Grease two non-stick round half cake tins.
In a mixing bowl, combine the sugar and butter, eggs, GF flour, yoghurt and baking powder. Use an electric whisk to get a nice smooth cake batter.
In a separate bowl combine the boiling water with the cocoa powder and mix to make a smooth paste. Add the paste to the cake mixture and mix again to combine. You should have a smooth chocolate coloured cake batter.
Split the mixture evenly between the two sandwich tins and flatten out.
Heat in the preheated oven for 25-30 minutes, until when a skewer is poked through, it comes out clean (this is how you know it is done!).
Leave for 5 minutes before turning the sponges out onto a wire rack to cool.
Meanwhile, make the icing. Put the chocolate in a bowl placed over a pan of hot water, continuously stirring until it is completely melted.
Beat the butter in a bowl then sift in the icing sugar. Whisk again until a smooth icing is formed, then add in the melted chocolate and beat again.
When the cake is cooled, brush some apricot jam over the inside layer of the sponge followed by the icing and then sandwich the second sponge on top. I tend to heat the jam in a small pan first to make it a little runnier and easier to brush. The apricot jam helps bring a lot of moisture and prevents the icing becoming crumby (it makes it easier to ice)! Decorate the top with more icing. I grated some white and dark chocolate to sprinkle on the top.
Enjoy!
I hope you love this recipe as much as I do! This cake lasts about half a day in our house, it is nice reheated in the microwave too!
K
X