Terry's chocolate orange just makes me feel so festive! I don't know why, but they are far more popular this time of year, along with After Eights? Why is that? Anyway, I decided to make some chocolate orange cupcakes. I love orange chocolate, the flavour combination is a win in my opinion. These are very fun and simple to create. I love the two tone effect with the icing, I think it takes these cupcakes to the next level!!
Important note: Terrys Chocolate orange is not certified gluten free. It is gluten free by ingredients, but it is made in a factory which also handles wheat. Now as a coeliac it is totally up to you if you decide to eat something with this labeling. Personally, I have never had a problem with this (and trust me, I KNOW when I have had even the tiniest bit of gluten ha), but this is totally up to personal preference and dependent on your body, as everyone's different and you will know what's right for you! There are other chocolate orange alternatives listed below if you would like to top your cupcakes with something else: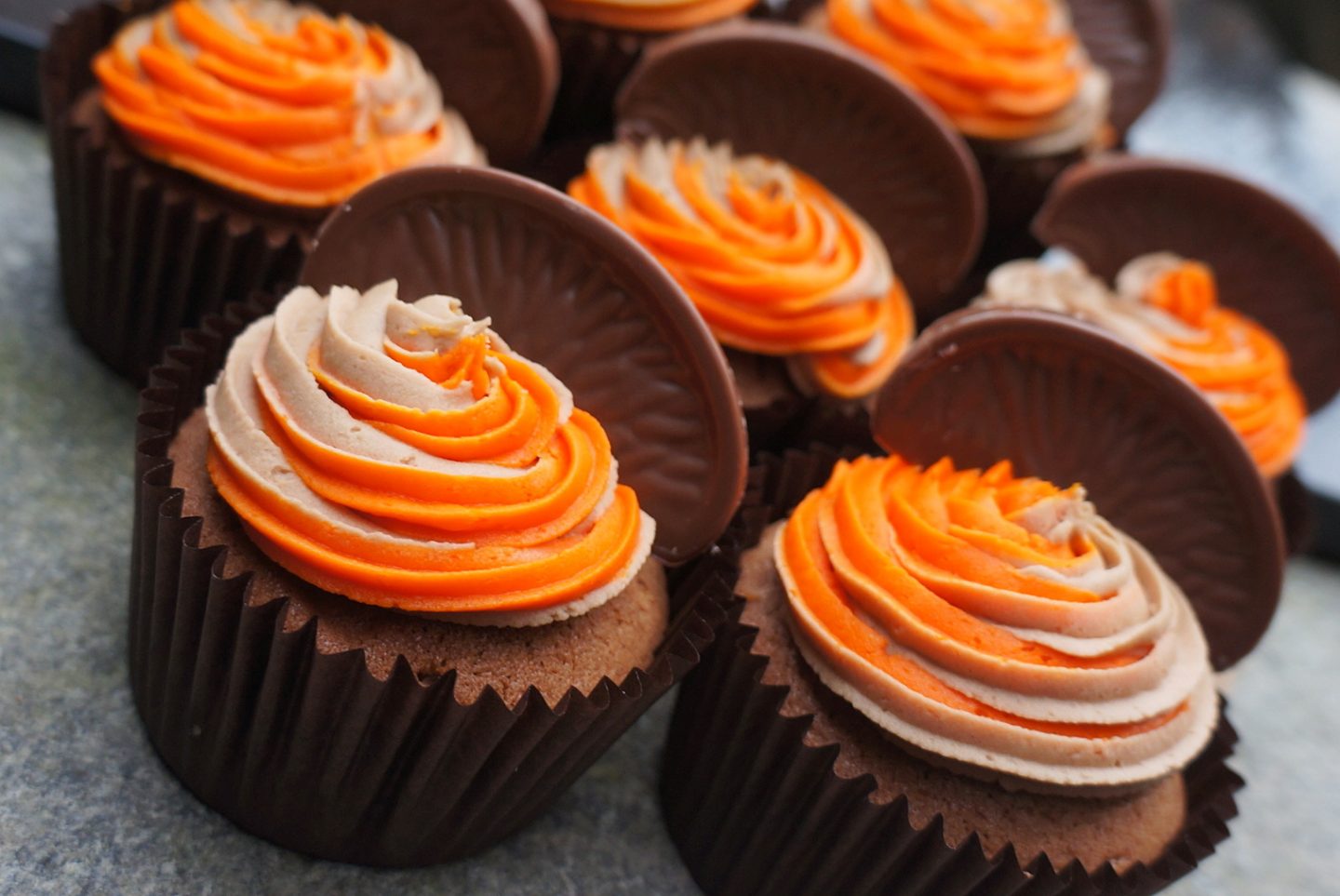 INGREDIENTS
For the cake
115g / 4oz Gluten Free Self Raising Flour (I am using Doves Farm)
115g / 4oz Caster Sugar
115g / 4oz Butter
2 Eggs
2 Tablespoons Cocoa Powder
2 Tablespoons Milk
 Zest & Juice of 1 Orange
For the chocolate icing
50g / 1.5oz Milk Chocolate (melted over a pan of boiling water)
100g / 3.5oz Unsalted Butter
200g / 7oz Icing Sugar
1tsp Vanilla Extract
For the orange icing
100g / 3.5oz Unsalted Butter
200g / 7oz Icing Sugar
1tsp Vanilla Extract
1tsp Orange Zest (or a few drops of orange extract)
Orange Food Colouring (I am using the gel ones from Lakeland HERE, mixing red and yellow)
For the topping
Any chocolate orange decoration you like!
METHOD
Preheat the oven to 180C / Gas Mark 4. Set out muffin or cupcake cases (depending on what size you would like your cakes, muffin cases will be larger but make a slightly fewer number).
Beat the butter and sugar with an electric whisk in a large bowl until light and fluffy.
Gradually beat in the eggs and vanilla extract, a little at a time.
Add the orange zest & juice, flour and cocoa powder and mix until a smooth batter is formed.
Distribute evenly into the cases, filling them about ¾ of the way.
Bake in the oven for 15-20 minutes (a bit less for cupcake size), until a skewer can be poked through the sponge and it comes out clean.
Remove from the oven and leave to cool on a wire rack.
Meanwhile start making the chocolate buttercream. Melt the chocolate in a pan over a bowl of boiling water (do not let the bowl touch the water).
Beat the butter well with an electric whisk, then slowly sift in the icing sugar. Next add the melted chocolate and stir well until smooth.
Repeat the same steps for the orange icing in a separate bowl, and instead of adding the chocolate, add orange food colouring until the desired colour is achieved (you shouldn't need much).
Fill half of the piping bag with chocolate icing and half with orange icing, to create the two tone effect. Pipe the icing on to the cooled cakes and decorate as you wish.
Enjoy!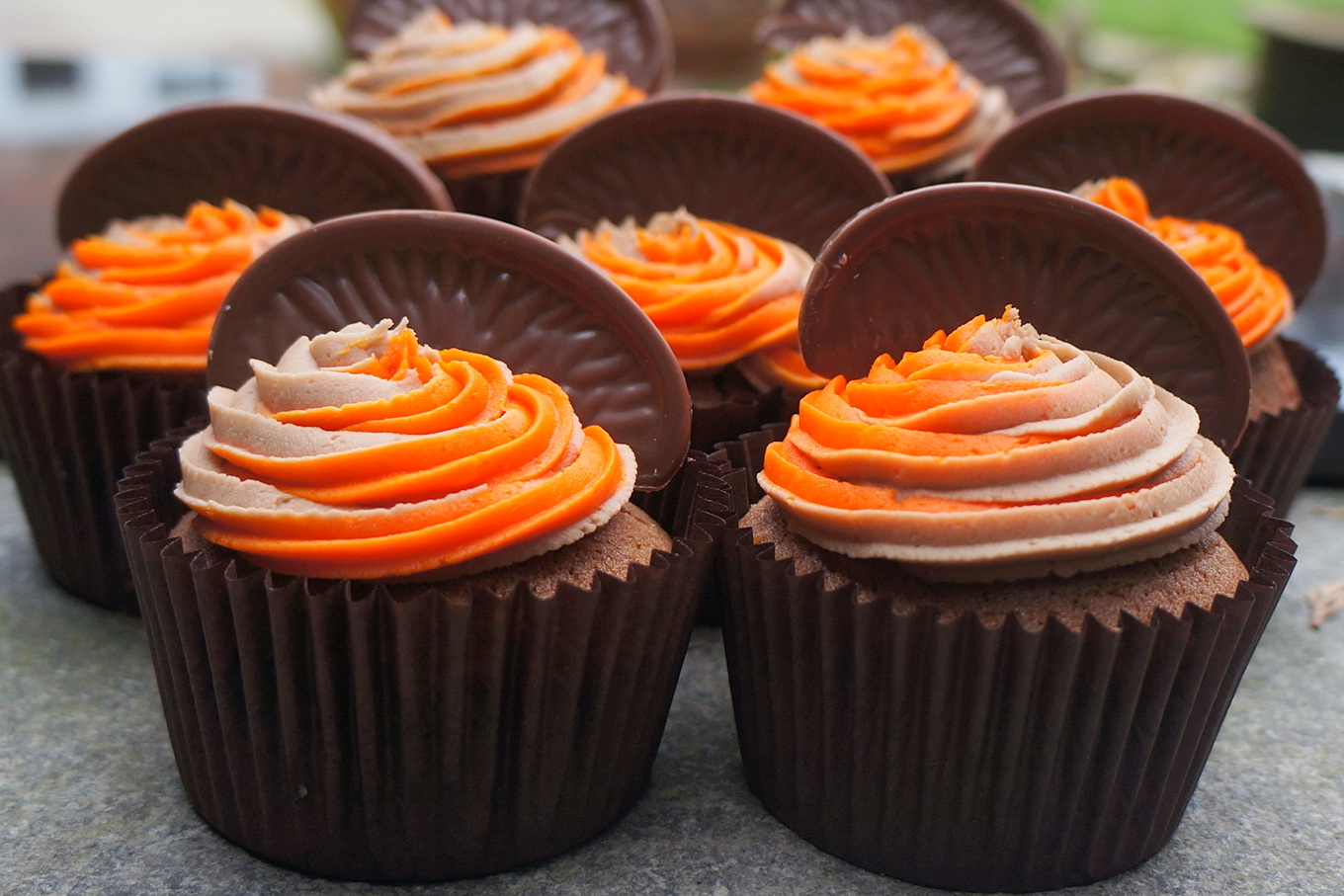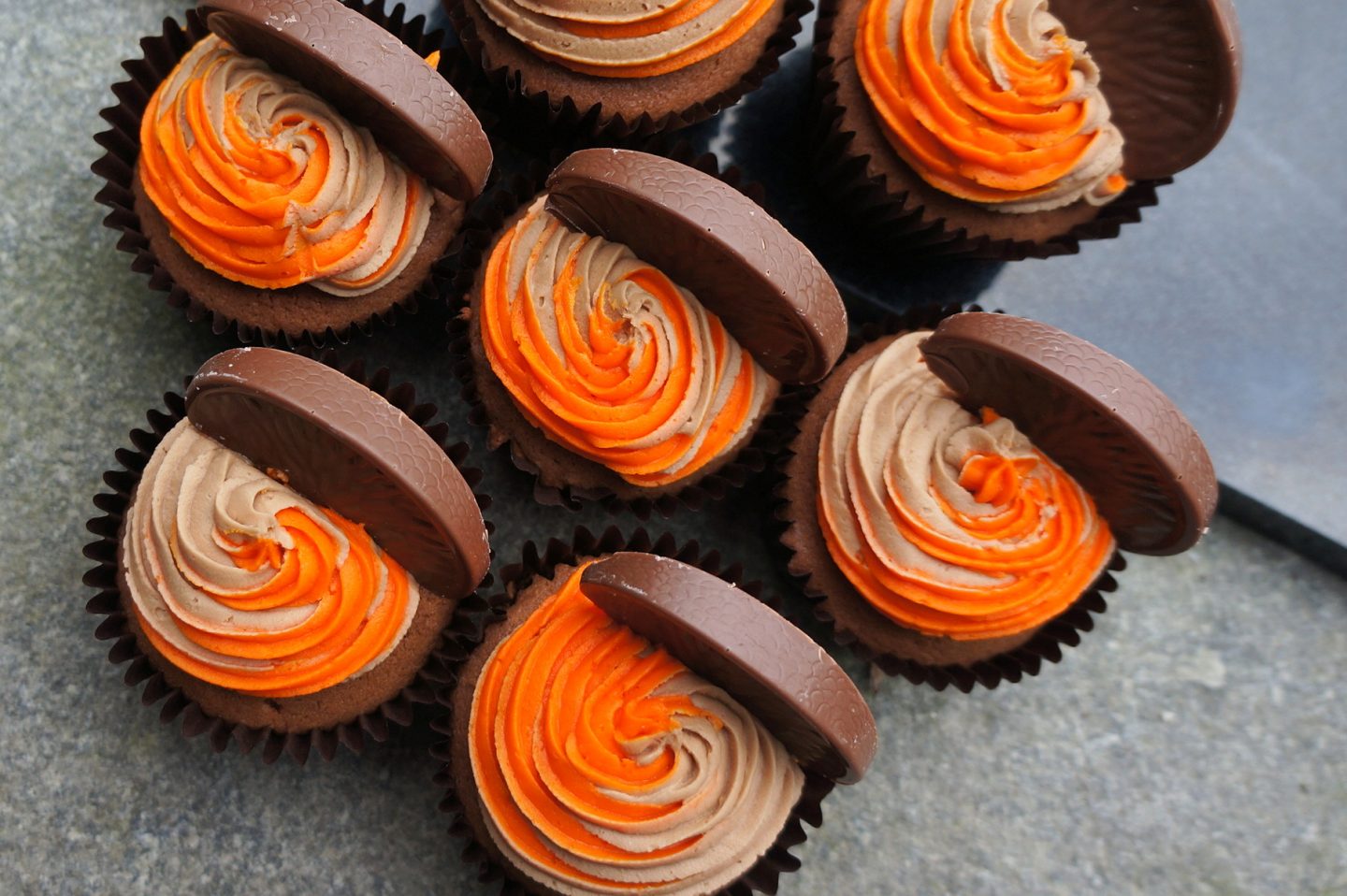 I hope you like this recipe and can enjoy making (and obviously eating) these tasty cupcakes over the festive period!
K
X