This traditional Indian snack is so simple to make gluten free and surprisingly quick, so you can impress any guest with this tasty starter! Crispy and full of flavour, you wouldn't know they were gluten free (as many are made naturally GF with chickpea or gram flour anyway!). I like to add lots of spices and herbs into mine for an extra depth of flavour.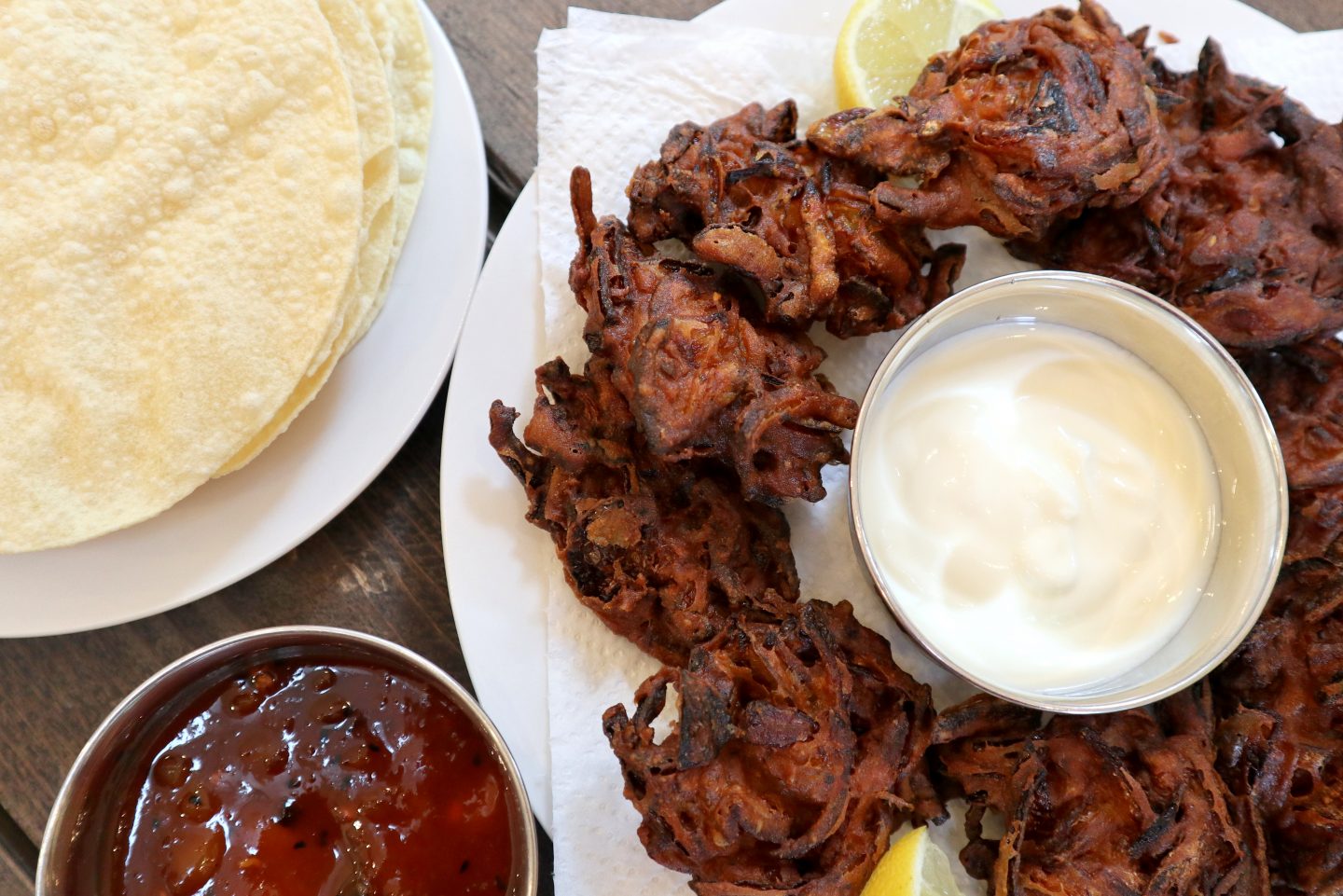 INGREDIENTS
2 onions
100g plain gluten free flour, chickpea or gram flour
½ teaspoon baking powder
1 teaspoon salt
1 teaspoon ground cumin
1 teaspoon turmeric
½ a teaspoon ground coriander
½ a teaspoon garlic powder
½ teaspoon chilli powder
Juice of half a lemon
8 tablespoons of water
1 medium bottle vegetable oil (for frying)
Mint yoghurt or mango chutney for serving
METHOD
Peel and chop the onions into fine slices and place to one side.
In a larger bowl, mix all the dry ingredients (spices, baking powder, flour etc) together with a spoon before adding the lemon juice and water and whisk well until you have a smooth but thick batter.
Add the onions and combine well.
In a large frying pan (with medium sides), fill half the way up with oil and set over a medium / high heat. Wait 5 minutes before testing the heat of the oil with a tiny bit of batter, when it sizzles upon hitting the oil, it is ready.
Take spoons of the onion mixture (about a tablespoon) and carefully spoon into the pan. Sizzle for 2-3 minutes each side. I prefer mine well done and crispy and dark on the outside as this makes them more done in the middle, but this is totally up to you. Once darker in colour and crispy all over, remove with a slotted spoon and let the bhaji drain on kitchen paper.
Repeat the process until all the bhajis are done. You can reheat in an oven if required later on – I would do them at 180C for 10 minutes!
Serve with your favourite condiments, for me it is mango chutney & mint yoghurt!
Enjoy!
Hope you love this recipe as much as we do!
K
X